Preparing Students and Faculty for Online Learning Success
July
2017
Innovation Showcase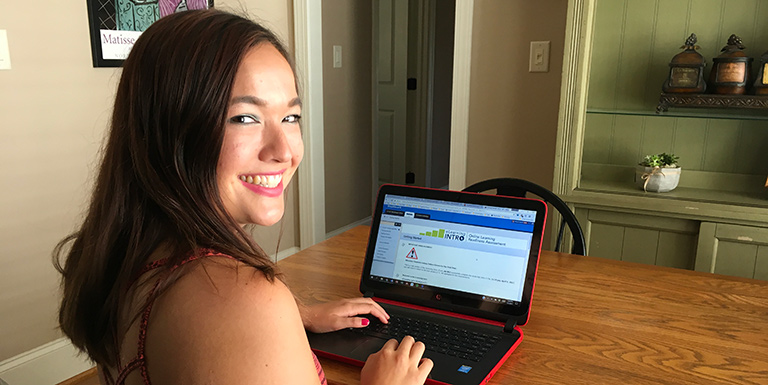 As part of the reaffirmation process of the Southern Association of Colleges and Schools Commission on Colleges, Wake Technical Community College launched a Quality Enhancement Plan (QEP) initiative based on best practices in eLearning. The goal of the eLearning Preparedness Initiative across the College (EPIC) is to remove learning barriers and better support online student learning, persistence, and success. A broad cross-functional and multidisciplinary team of faculty and staff developed and implemented eLearning Quality Standards, an online student orientation, and a faculty certification program.
Overview
EPIC directly relates to Wake Tech's institutional need to improve outcomes related to eLearning. During 2015-2016, 15,323 students took at least one online course at Wake Tech, making it the largest provider of online courses among community colleges in North Carolina. However, course statistics mirror the national trend: Average student success rates—percentage of grades A, B, and C among all grades, including withdrawals—for all online course sections are lower than success rates for face-to-face course sections. Success rates of online sections of the highest enrollment gateway courses are the lowest—at least 8 to 10 percent lower, on average, than the face-to-face sections of the same course. 
Faculty and staff from across the college worked together as a team to identify solutions, using the college's regular employee-led improvement/innovation initiative—Applied Benchmarking—and its Scaling Applied Benchmarking Innovations for Learning (SAIL). Researching promising practices to improve online learning, faculty discovered that when students complete orientation programs that assess online learner skills and characteristics, online learning outcomes improve (Jones, 2013; Koehnke, 2013). Further, while course organization, alignment of learning outcomes, and technology levers in online courses may enhance the learning experience, student-instructor interaction has the strongest influence on student outcomes (Jaggars & Xu, 2016). The faculty-led teams developed two key objectives and strategies for implementing them based on this and other research: (1) Student Preparedness and (2) Faculty Preparedness.
Student Preparedness
The student preparedness objective helps students overcome online learning barriers and gain the skills they need to be successful online learners. Through "eLearning Intro"—a mandatory, interactive student readiness assessment with remediation modules—students gain the skills, tools, and awareness they need to be successful in an online course. eLearning Intro focuses on the three skill areas necessary for a successful online student: expectation management, basic computer literacy, and familiarity with the learning management system (LMS). Students have an opportunity to self-assess and remediate within the course prior to registration.
Faculty Preparedness
The faculty preparedness objective helps faculty develop quality online courses. Faculty develop the course design and delivery skills they need through an online teaching certification program that provides instruction in the learning management system (LMS), pedagogy, instructional design, accessibility, and advanced training for teaching online. The program also offers mentorship through which seasoned online faculty lead the way for newcomers.
eLearning Intro: A Student Preparedness Strategy
Students new to Wake Tech or who have not successfully completed an online course with a grade of A, B, or C at Wake Tech in the past five years must complete eLearning Intro before they can register for an online course. eLearning Intro is a free orientation that provides a series of modules with quizzes to assess eLearning knowledge and to remediate differences in the following:
Online learning expectations (persistence and time management skills for success online)
Using the computer (for completing assignments and assessments online)
Blackboard bootcamp (how to navigate, communicate, and collaborate within Blackboard)

Figure 1: Screen Capture from eLearning Introduction Video
In each module, students can "comp out" of the module by taking a pre-test. If they score 90 percent or higher on their first attempt, they can move to the next module. If not, they engage in a series of module lessons, after which they must score 90 percent or higher on a post-test to move onto the next module; multiple attempts are allowed on the post-test. Each module takes between 20 minutes and three hours to complete; most students complete all three modules in one to five hours. After students have pass the tests for all three modules, they can register for an online course.
Module 1: Expectation Management and Transferable Skills
The Expectation Management and Transferable Skills Module addresses the soft skills students need to be successful online learners, emphasizing concepts such as effective time management, planning and prioritizing, goal setting, self-advocacy, professionalism, accountability, and effective communication when using electronic media. Informational videos, testimonials, FAQs, and an interactive platform to apply these skills are provided in the remediation lessons. Module 1 also gives students an overview of what they can expect in the online learning experience, including accountability and responsibility. In addition, students are introduced to Growth Mindset Theory (Yeager & Dwek, 2012), which emphasizes the importance of resilience and persistence through challenges.
Module 2: Basic Computer Skills
In module 2, students assess, learn, remediate, and acquire basic computer skills. Students who are deficient in these skills go through accelerated remediation within eLearning Intro, acquiring the basic computer skills necessary to enroll in and successfully complete an online course. To accommodate all students, module 2 is offered in both a PC and Mac version.
Module 3: Blackboard Boot Camp
In the Blackboard Boot Camp module, students assess, learn, remediate, and acquire an ability to navigate the LMS successfully. Students who are deficient in these skills go through accelerated remediation. Upon successful completion or remediation of module 3, students are able to navigate the LMS and successfully submit assignments, take assessments, and post discussions.
eLearning Intro Implementation
First launched in summer 2015, eLearning Intro has helped students remediate their online learning skills, but has had minimal impact on enrollment. For example, during fall 2016, 4,803 students were required to take eLearning Intro because they were new or had not scored an A, B or C in an online course at Wake Tech in the past five years; this number represents less than half of the 9,788 students who enrolled in at least one online course that semester. In addition, the overall pre- and post-test completion rate for students taking eLearning Intro was 88.2 percent, with about one-half passing by pre-test and the other half passing by engaging in the module lessons and taking post-tests. About two-thirds of the students who do not pass the eLearning Intro enroll in face-to-face sections instead. The eLearning Intro course has been and continues to be updated to meet the needs of students with a higher risk of non-completion.
Online Faculty Certification: A Faculty Preparedness Strategy
The EPIC Online Teaching Certification pathways provide faculty with training they want and need in pedagogy, andragogy, and technology. In 2015, a team of faculty and eLearning staff developed the EPIC eLearning Quality Standards and an associated rubric for evaluating online courses based on research into best practices, including Quality Matters (2015). In 2016, after the first year of implementation, the rubric and standards were updated to better clarify and organize the content. These tools provide the framework for the certification program.

Figure 2: EPIC Certified Badge
The first step was to implement a standardized menu for all online courses, with early adopters using this framework starting in spring 2015. The new menu was pushed out to all online course shells for the fall 2015 semester, with instruction to students on using it in eLearning Intro. The training and certification process implementation began in fall 2015, with all online faculty scheduled to receive their online teaching certification by fall 2017. The following paragraphs describe EPIC's three online teaching certification pathways.
Pathway 1: Online Teaching Certification Through Professional Development
Certification through professional development is one of three ways for faculty to earn their certificate in online teaching. This pathway includes 30 hours of professional development training—EPIC30—which concentrates on online teaching pedagogy and universal design for learning (UDL) principles. Pathway 1 certification is earned when a faculty member has obtained training in online teaching aligned with EPIC Quality eLearning Standards. Courses cover best practices in course navigation and design, online communication and collaboration, online assessments, UDL, pedagogy, andragogy, accessibility, and LMS skills training. The pathway culminates with a capstone course that requires mastery-level demonstration of design and delivery skills described in the EPIC Quality eLearning Standards tailored to match the subject matter taught.
Pathway 2: Certification by Review
Peer review is an option for experienced online faculty who have completed extensive training in LMS technology and online pedagogy and andragogy. If experienced online faculty are employing best practices, it will be observable in their existing courses. With supervisor approval, faculty may opt to put a course up for review. A team of three certified peer reviewers assess each course using the EPIC Quality eLearning Rubric. Certification is awarded when the majority of the peer review team members agree that the faculty member is already practicing online teaching aligned with EPIC Quality eLearning Standards.
Using pathway 1 or 2, all current online faculty who wish to continue teaching online are required to become certified by August 2017.
Pathway 3: Lateral Entry/Short Notice Hires
Faculty who are needed to teach online courses on short notice, as determined by supervisors, must complete eLearning Intro and agree to work with a mentor. Mentors must have earned the EPIC Master Online Teaching Certification; they also must be located within the faculty's department/program or, if none, the most relevant discipline area. The mentor-mentee relationship may last up to three 16-week semesters as these faculty members complete the EPIC Online Teaching Certification. The mentor's role is to provide developmental feedback to faculty to ensure that their course meets EPIC eLearning Quality Standards. A pilot program began in spring 2017 with mentors assigned to nine faculty new to online teaching. New faculty who begin teaching online after August 2017 and are not certified will be required to take pathway 3.
Currently, 392 Wake Tech employees have successfully completed the EPIC Online Teaching Certification. Of those, 20 elected to earn their certification through peer review. Of the 369 faculty who teach online, 82 percent have already earned their certification. Initial data indicate modest gains in student success: When comparing online priority courses—high enrollment/low success—from spring 2015 to spring 2016, Wake Tech saw a 4 percent increase in students earning A, B, C, or P grades.
Summary
Wake Technical Community College's EPIC Initiative interventions and strategies relate directly to students' online learning skills and online learning needs. By reducing learning barriers through the mandatory eLearning Intro readiness assessment, and by ensuring that faculty have the skills they need to intentionally design and deliver courses according to best practices that promote student success, the EPIC Initiative is supporting student learning, persistence, and success in online courses.
References
Jaggars, S. S., & Xu, D. (2016). How do online course design features influence student performance? Computers & Education, 95, 270-284. Retrieved from http://www.sciencedirect.com/science/article/pii/S0360131516300203
Jones, K. R. (2013). Developing and implementing a mandatory student orientation. Journal of Asynchronous Learning Networks, 17(1). Retrieved from http://sloanconsortium.org/jaln/v17n1/developing_and_implementing_mandatory_online_student_orientation
Koehnke, P. (2013). The Impact of an online orientation to improve community college student retention in online courses: An action research study. Retrieved from https://www.cpcc.edu/pd/leadership/doctoral-research-group/dissertations/koehnke-paul
Quality Matters. (2015). Higher ed rubric. Retrieved from https://www.qualitymatters.org/qa-resources/rubric-standards
Yeager, D. S., & Dwek, C. S. (2012). Mindsets that promote resilience: When students believe that personal characteristics can be developed. Educational Psychologist, 47(4), 302–314. doi: 10.1080/00461520.2012.7228
Carrie Bartek is the Dean of College Initiatives and Assessment and Alison Consol is a Professor/Program Director and EPIC Online Certification Coordinator at Wake Technical Community College, Raleigh, North Carolina.
Opinions expressed in Innovation Showcase are those of the author(s) and do not necessarily reflect those of the League for Innovation in the Community College.