Community College of Allegheny County: Give Honors A Try! Program Expands Opportunity for Academic and Personal Enrichment
October
2020
Member Spotlight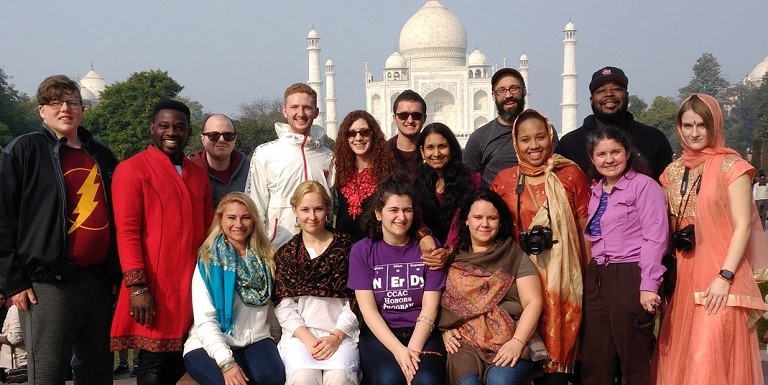 The Community College of Allegheny County (CCAC) Honors Council is offering a new pilot program called Give Honors A Try! The program permits non-honors students who meet certain criteria to take honors courses and engage in honors-related activities. Each year, CCAC's Honors Program provides a myriad of opportunities for scholastically minded students to develop leadership skills and to participate in a variety of conferences and community service projects that foster academic and personal enrichment. These include opportunities to hear from guest speakers, field trips, real-world application of theory, lectures and performances, student-centered discussions, independent learning, and study abroad tours.
"Honors Council is excited to extend the honors opportunity to more students beginning in the fall 2020 semester," said Julia Fennell, English Professor and Honors Program Director. "By widening the gate of access to honors enrichment, we hope to encourage more students to challenge themselves academically and engage more fully with all that CCAC offers."
To be eligible, students must have a CCAC institutional GPA of 3.0 or higher, be at least 18 years of age, have taken or be eligible to take English 101 and Mathematics 090 courses, and be enrolled in a degree-seeking program. Fall 2020 course offerings open to non-honors students are Honors Oral Communication, Honors Art Appreciation, Honors General Biology, Honors Psychology of Adjustment, and Honors American Literature to the Civil War. The students will also have opportunities to participate in honors events, including study abroad experiences, if all available spots are not taken by traditional honors students.
Study Abroad in India
Give Honors a Try! students may be able to participate in future study abroad experiences offered to CCAC honors students. The latest such trip occurred in January 2020, when a group of 12 students embarked on the adventure of a lifetime when they journeyed to India for an 11-day international study tour. It was the third time in four years that the college's Honors Program students have traveled to India. The students prepared by taking three honors courses: a political science course comparing the politics and cultures of the U.S. and India, a service learning course focused on community service projects for two nongovernmental organizations (NGOs) in India, and an art appreciation course conducted during the trip. The students visited many cultural and historical sites in the Golden Triangle cities of Delhi, Jaipur, and Agra in the northwest part of India. For example, in Agra, they visited the exquisite Taj Mahal, one of the New Seven Wonders of the World.
"The students were really excited and were in awe at the vastness and beauty of the monument," said Srujana Kanjula, CCAC Professor of Political Science and Sociology, who organized the trip and served as translator. She described the study tour as "transformative," in part because the students saw so many people living in poverty who appeared to be happy and living in harmony with one another. Another impressive cultural and historical site they visited was Amber Fort, where the travelers rode on elephants to reach the hilltop palace.

CCAC Honors students Aniekwe Chinedu Jude (left) and Adriana Venacto (middle) take elephant ride to hilltop palace at Amber Fort
As exciting as the sightseeing was, the highlight for many of the students was visiting the NGOs, where they performed community service. In Delhi, they visited Swami Sivananda Memorial Institute, an NGO devoted to empowering women and children to break the cycle of poverty. The students spent an entire day helping at the NGO, which provides hot food to about 20,000 impoverished children every day. The group also visited the world headquarters of Jaipur Foot, an NGO that has rehabilitated more than 1.78 million disabled individuals. There, they saw how artificial limbs are made and provided at no cost, thereby enabling amputees to walk again. In addition, the students volunteered in the community kitchen at Gurudwara, a Sikh temple that feeds thousands of disadvantaged people daily.

CCAC Honors students (from left: Samantha Graves, Melanie Kostopolos, and Adriana Venacto) roll out rotis (Indian bread) in community kitchen at Gurudwara Sikh temple
In the reflective essays they wrote upon returning to the United States, the students expressed a new appreciation for everything they have as well as a greater understanding and empathy for people of other cultures and socioeconomic status. "The vast differences between the United States and India left me in culture shock almost the entire time we were there," wrote Melanie Kostopolos, who recently graduated with an Associate of Science in mathematics and sciences. "The experiences I gained in India have left me deeply humbled, and I am forever changed. Education needs to include life experiences to be complete."
Lead image: CCAC Honors students and faculty members in front of Taj Mahal during their study tour of India, January 2020
Margaret Anderson is a Promotions Writer, Public Relations and Marketing, at Community College of Allegheny County in Pittsburgh, Pennsylvania.
Opinions expressed in Member Spotlight are those of the author(s) and do not necessarily reflect those of the League for Innovation in the Community College.