Arapahoe Community College: Collaborating to Establish Work-Based Learning Medical Assistant Apprenticeship
November
2018
Member Spotlight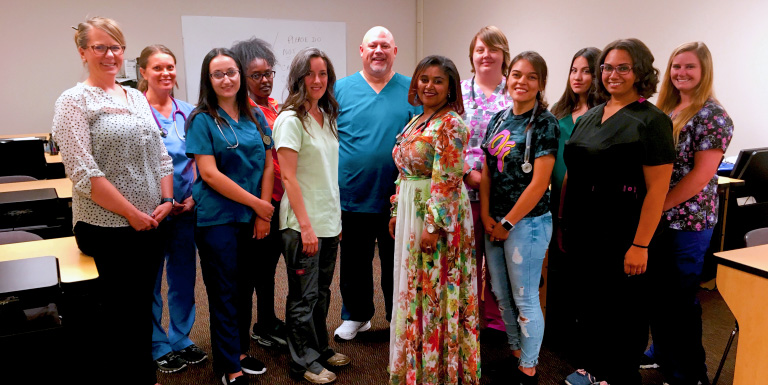 Arapahoe Community College (ACC) and Centura Health, the region's health care leader, launched Colorado's first registered Medical Assistant Apprenticeship Program designed to meet local workforce needs in July 2018. A dozen students are enrolled in the initial cohort of this innovative work-based learning program, which is made possible by funding from the Colorado Workforce Development Council, Colorado Department of Labor and Employment, Centura Health, Colorado First, and Existing Industry Grants (CFEI) jointly administered by Colorado Community College System and Colorado Office of Economic Development and International Trade.
"We are excited to embark upon this unique partnership with Centura Health to benefit both students and industry," said ACC President Diana M. Doyle, Ph.D. She continued,
We extend our gratitude to everyone at Centura Health, the Greater Metro Denver Health Care Partnership, and local workforce centers who are committed to supporting this program. Our efforts will provide a sustainable pipeline of talented medical assistants across the Centura network.
The six-month hybrid program is comprised of online, on-site, and hands-on laboratory components. Paid apprentices work collaboratively with Centura Health supervisors for 26 weeks (32 hours/week) prior to taking the National Healthcare Association Medical Assistant certification exam. Apprentices who successfully complete both components become full-time medical assistants with Centura. In light of the program's success this fall, Centura and ACC will launch the second cohort in January 2019.
While this is Centura Health's second program cohort, the partnership with ACC made it possible to condense what is normally a two-year education track into a focused six-month program that blends education and hands-on training. "Centura Health established this apprenticeship program as a way to creatively address today's supply and demand challenges for qualified health care talent," said Susie Artis, Associate Administrator for Professional Practice and Education, Centura Health Physician Group. "This apprenticeship demonstrates Centura Health's mission, values, and commitment to elevating people by providing opportunities for those who may not have been able to pursue a career in health care."
For more information about the apprenticeship, contact Eric Dunker, ACC Dean of Business, Technology, and Workforce Partnerships.
Jeff Duggan is the Communications Coordinator at Arapahoe Community College in Littleton, Colorado.
Opinions expressed in Member Spotlight are those of the author(s) and do not necessarily reflect those of the League for Innovation in the Community College.