Thinking Outside the Box, Literally
December
2016
Innovation Showcase
Bob Klepac is breaking down the notion that architecture means four walls and a roof. For example, he told a Del Mar College class one morning last summer that one of his former students is designing a meal tray for passenger jets at Boeing. "He's making over $120,000 a year doing that," he said.
Klepac, a technical drafting instructor, was a lively observer that day as students in his Technical Animation and Rendering class presented their final projects. The 12-week course introduced them to three-dimensional (3D) computer modeling and the software language of computer-aided design. Their assignment was to design their own virtual reality homes, in the vein of the popular home improvement shows Fixer Upper and Property Brothers, using an advanced program called 3D Studio Max.
"I'm really close to my family and I like big kitchens," said student Letty Alfaro, 23, as she led the class on an animated tour of her home, replete with a roomy kitchen and fully furnished rooms. One room featured beanbag chairs and a big-screen TV for her boyfriend, an avid gamer, she said. 
Taking his turn in front of the class, Ryan Gonzales described the elements in his cozy home, such as an Oriental rug, vertical-striped curtains, a wine rack, and even magazines on a coffee table. "It would be a nice place to have friends over," he said. Gonzales, 21, explained that he took the course to increase his value in the workforce.
Red-Hot Job Market
Students skilled in 3D modeling and its associated software will find a red-hot job market in the construction, manufacturing, and production industries, Klepac said. Many of those who took his summer course are pursuing certifications at Del Mar, such as Digital Design and Fabrication, or working toward an associate's degree in Architecture/Drafting Technology. Klepac's students learn that with 3D modeling, nearly anything, from a bolt to an airplane, can be designed by entering dimensions and data in a computer.
Three-dimensional printing is an especially popular part of the course, Klepac said. With 3D printers, computer models of objects can be transformed into precise, solid prototypes composed of various materials.
"When I came into this program, I didn't know what to expect," said student Max Sandoval, 30, a former structural welder and crane operator. "Architects make blueprints; we make them come to life."
Sandoval, wearing a prosthetic leg due to an oilfield accident three years ago, is inspired by the 3D technology. He hopes to use his newfound skills to design safer equipment for oilfield workers and low-cost or free prosthetic limbs for children. "That's my goal: to impact the community," Sandoval said.
Real-Life Concepts
"I teach out of the book, but you have to apply real-life concepts to the lessons," Klepac said. "I ask them, 'How could this benefit someone?' It's to get them thinking outside the box."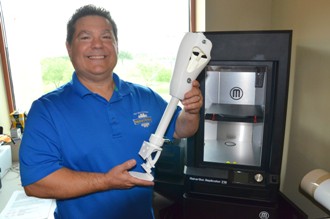 Klepac leads by example. Two years ago, he began collaborating with a local nonprofit that is working to restore a treasured theater in downtown Corpus Christi, Texas. The Ritz, built in 1929, was a first-run movie theater and vaudeville house that later served as a music hall before falling into disrepair. Each semester, Klepac's students are given an opportunity to digitally recreate the theater down to the finest detail, from felt on the seats to color tones on the walls. This summer's Technical Animation and Rendering students showcased their 3D rendering of The Ritz along with their home designs.
"We're redrawing and remeasuring the whole building," said Monica Sawyer, president of the nonprofit leading the restoration effort, who came to see the presentation. "It's a huge undertaking. We couldn't move forward without Del Mar's help. It's an amazing opportunity for students to see the whole process, from drawing to restoration."
Architectural plans for The Ritz are about 90 percent complete, Klepac said. "This is our way of the [Architecture/Drafting] program reaching out and getting involved in the community," he added. "There's so much out there that architecture leads you to. The world is out there for these students."
Michael Bratten is a Communications Specialist at Del Mar College, Texas.
Opinions expressed in Innovation Showcase are those of the author(s) and do not necessarily reflect those of the League for Innovation in the Community College.