Volunteer State Community College: Students Take Project to Nashville's Music Row
October
2016
Member Spotlight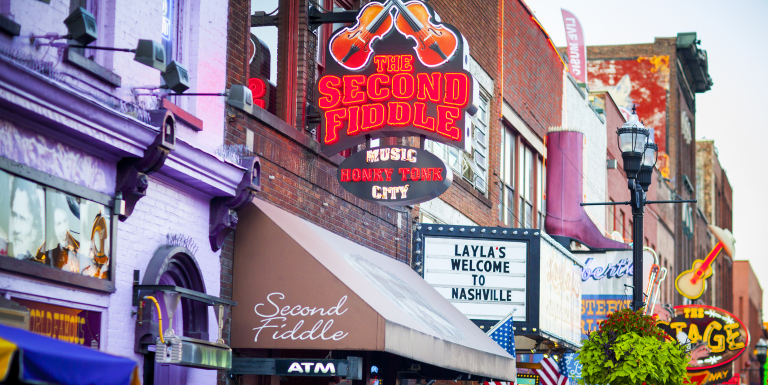 It's a pitch meeting on Music Row in Nashville, the center of the city's music industry. Young people are presenting a complete package for a new rap artist, Malik Deshaun, known professionally as Vantage. They screen a video, show features of a website, discuss the social media pages they have created for the release, and run through a business plan. Then, it's off to the listening room to play the tracks. The bass rumbles and the drum beats are sharp. Heads nod in the room in sync with the rhythm. But these aren't Nashville music pros presenting—they're students from Volunteer State Community College (Vol State) in nearby Gallatin, Tennessee. The capstone project is the culmination of student degree work in the Vol State Entertainment Media Production (EMP) program. They're pitching it to Nashville music professionals. Those professionals listen closely and offer criticism and tips for how the students can make it better. Afterwards, everyone is all smiles.
"It feels great," said Vantage, the Vol State student rapper that the campaign promotes. "I didn't know if they would like it or not. I'm glad they did."
"It was good to get that experience to work with a team," said producer Chris Feaster of Lebanon.

Vol State Entertainment Media Production students and
director relax after their Music Row pitch session.
Teamwork is a big part of the Vol State project. The idea is to provide a real-world project to show what students have learned in the classroom. The process is very similar to how professionals work in the music business every day.
"I wish I would have had this type of experience when I was young," said Starstruck Entertainment songwriter and producer, Dee Briggs, one of the professionals reviewing the project. "It gives them real-world exposure to the criticism they might face if they do get into this business. There was not a single defensive response to any of our criticisms. They were open to ideas."
"They're going to be heads and shoulders above the rest of the pack in terms of having experience with a complete package," said Lynn Morrow, partner with Adams and Reese LLP.
Cliff Williamson of Starstruck Entertainment hosted the students for their presentation. "We are at the beginning of a new order in music creation, promotion, and marketing," he said.
With computers, Internet access, and a team of passionate individuals, any performer has potential to be the next big thing. Aside from talent, the skill required is obtainable at Vol State. We witnessed that with the student presentation at Starstruck, where web design, video, audio and a business plan all came together to demonstrate what could be. Any one of them has the potential to be a part of the next big thing in entertainment.
"I think they did great," said Steve Bishir, Director of the Vol State Entertainment Media Production program and a five-time Grammy award winner for his recording work. "The students heard what was said and I think they will take it to heart. They were nervous and anxious, but they came through and did really well. I'm proud of them."
"I never expected to be able to do all of this," said singer Karlyn Coble, who recorded backup vocals and her own song for the project. "This is amazing."
The EMP program has recording, business, video production and multimedia, and web design tracks. It utilizes Vol State's state-of-the-art recording studio, which is going to get even better. The college will have a new, larger recording studio when the new Humanities building opens next fall. The EMP program offers an associate of science degree and can be a building block for students who want to pursue a bachelor's degree.
Click here for more information about the EMP program. Click on the Capstone Projects tab to view the project and listen to tracks.
Opinions expressed in Member Spotlight are those of the author(s) and/or submitting college and do not necessarily reflect those of the League for Innovation in the Community College.