Rio Salado College: Expanding Services to Students in Prison
January
2021
Member Spotlight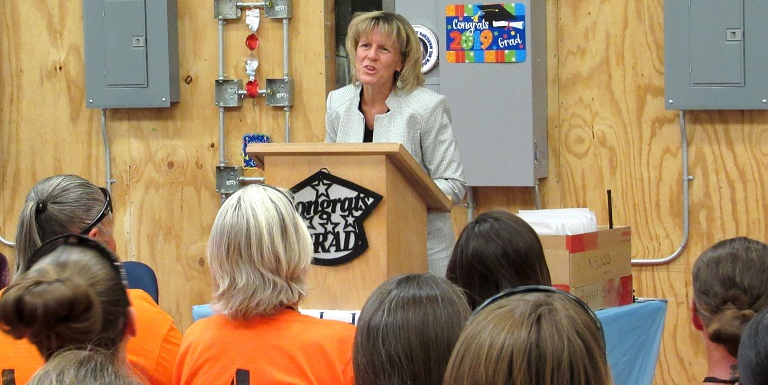 Rio Salado College is one of 67 postsecondary institutions to be included in an expansion of the U.S. Department of Education's Second Chance Pell Experimental Sites Initiative. One-hundred and thirty colleges in 42 states and the District of Columbia will now be involved in this initiative, which provides need-based Pell grants for people incarcerated in state and federal prisons to pursue higher learning. The majority of incarcerated individuals are Pell-eligible, but they have been banned from applying for assistance since 1994 as a result of the 1994 Violent Crime Control and Law Enforcement Act. The creation of the Second Chance Pell Initiative in 2015 provided new hope.
"We have been serving incarcerated populations for decades in a variety of ways, and we take great pride in being a college of second chances," said Rio Salado College Interim President Kate Smith. She continued,
Now, thanks to the Second Chance Pell program, the eligible students we serve will have the opportunity to apply for financial aid to continue their education. We believe this financial aid opportunity will enable others who have not had the means to pay for college to begin their educational journey, enrich their lives and prepare to thrive post incarceration.
Rio Salado's Incarcerated Re-Entry (IRE) Programs serve nearly 2,000 students at prison facilities across Arizona, thanks to a long-standing partnership with Arizona Department of Corrections, Rehabilitation and Reentry (ADCRR), which began in 1983. The college provides more than 90 distance learning, correspondence-based courses for incarcerated students in Arizona and across the nation. Approximately 750 students are taking in-person classes at Arizona facilities and approximately 1,200 students are completing their program of study through correspondence.\
Students can earn certificates and associate degrees in fields such as Small Business Start-Up and Addictions and Substance Use Disorders. Rio Salado also contracts with ADCRR to provide in-person Automotive, Construction Electrical, Construction Plumbing, and other types of career and technical training at Lewis and Perryville prisons. Some of these students have helped to fill high-demand jobs, including shortfalls in construction-related trades, as noted in a KJZZ radio broadcast (Jung, 2016).
"This opportunity is not lost on me; I have a newfound confidence that will assist on my continued journey to be better," said student Jonathan Sosnowicz in a letter to Rio Salado's IRE team. Sosnowicz is a Phi Theta Kappa honors student with a 4.0 grade point average who is three classes shy of earning an associate of arts degree. Rio Salado's IRE team is working with him to achieve his goal of transferring to a university to earn a bachelor's degree. "These accomplishments and goals have given me confidence and self-respect," said Sosnowicz. "Now people give me praise for achievement . . . , not judgement from a terrible incident over a decade ago. I feel prepared for the future."
"Programs like this are not only important for our community, but also for our society as a whole; providing accessible education to incarcerated students provides a new path and a fresh start," said Maricopa Community Colleges Interim Chancellor Steven R. Gonzales. "The Maricopa Community Colleges are in the business of helping people, and we are pleased that the U.S. Department of Education has included Rio Salado College in the Second Chance Pell program."
Providing access to postsecondary education in prison is proving to reduce recidivism (Davis et al., 2013) and better equip people to play productive and positive roles within their communities (Oakford et al., 2019). In addition, access to postsecondary education has demonstrated impact to improve prison safety (Duwe, 2017).
"This expansion of Second Chance Pell will improve lives and strengthen communities," said Nick Turner, President and Director of the Vera Institute of Justice. "The expansion is also a testament to the fact that broader access to college in prison is a strategy that works to improve safety and expand opportunity in our country."
The Vera Institute of Justice has been providing technical assistance to the participating colleges and corrections departments since the initiative's inception, working to ensure that the programs provide quality higher education in prison and post-release.
"I've had the pleasure of visiting several Second Chance Pell institutions and have seen firsthand the transformative impact this experiment has on the lives of individuals who are incarcerated," said U.S. Secretary of Education Betsy DeVos. She further stated,
By expanding this experiment, we are providing a meaningful opportunity for more students to set themselves up for future success in the workforce. The stories I've heard from students and institutions engaged in the experiment are very encouraging, and we look forward to seeing how this expansion will help even more students achieve a better future.
References
Davis, L. M., Bozick, R., Steele, J. L., Saunders, J., & Miles, J. N. V. (2013). Evaluating the effectiveness of correctional education: A meta-analysis of programs that provide education to incarcerated adults. Rand Corporation. https://www.rand.org/pubs/research_reports/RR266.html
Duwe, G. (2017, May 22). Effectiveness of prison‐based education programming and the implications for correctional policy and practice. Criminology and Public Policy, 16(2), 511-514. https://doi.org/10.1111/1745-9133.12296
Jung, C. (2016, October 24). Phoenix-area home builders look to refugees and former inmates to fill labor gap [Radio broadcast]. KJZZ. https://kjzz.org/content/385250/phoenix-area-home-builders-look-refugees-former-inmates-fill-labor-gap
Oakford, P., Brumfield, C., Goldvale, C., & Tatum, L. (2019, January). Investing in futures: Economic and fiscal benefits of postsecondary education in prison. Vera Institute of Justice. https://www.vera.org/publications/investing-in-futures-education-in-prison
Photo caption: President Smith congratulates 2019 Perryville IRE graduates.
Annette Flores is a Senior Public Relations Analyst at Rio Salado College in Tempe, Arizona.
Opinions expressed in Member Spotlight are those of the author(s) and do not necessarily reflect those of the League for Innovation in the Community College.