Midland College: College and Career Academies
February
2019
Member Spotlight
Last year, Midland College (MC) began a successful partnership with the Midland Independent School District (MISD) to prepare high school students for college and careers. As a result of this collaboration, three transformative academies—Petroleum Academy; Health Sciences Academy; and Business, Management, and Information Technology Academy—are now offered to high school students.
The College & Career Academies provide high school students with opportunities to learn valuable technological and academic skills. These academies are specifically designed to meet the current and future needs of the Permian Basin's thriving industries and to provide students with transferable college credit and the opportunity to enjoy rewarding careers in high-growth, high-wage fields. In each of the three academies, students regularly experience industry through hands-on state-of-the-art labs, industry site tours, guest speakers, and clinical/intern placements.
Each academy is an open-enrollment program that complements existing rigorous secondary and dual credit curriculum. As early as the 9th grade, students can embark on pathways that enable them to fulfill high school graduation requirements and earn college credits leading to industry certifications and university transfer programs.
During the 2018-2019 academic year, 868 high school students are enrolled in one of the three academies—567 more than the starting enrollment in fall 2017.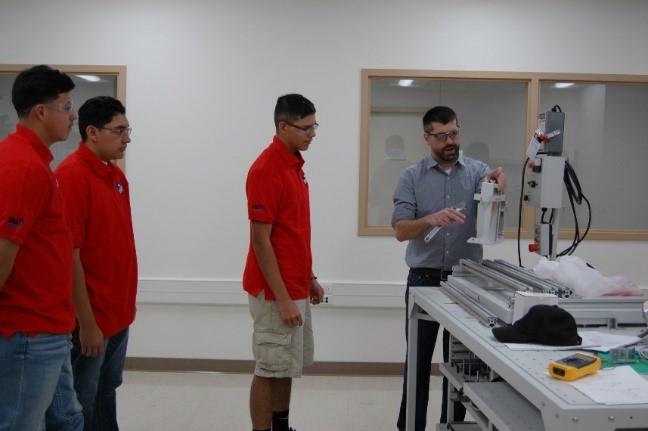 In the Petroleum Academy, MISD students who successfully complete energy technology classes while in high school will receive a Midland College Energy Technician Certificate. All credits from the certificate apply to an Associate of Applied Science degree. Students take classes that prepare them for vibrant careers in the petroleum industry requiring highly skilled individuals for multiple technician positions. Students may also begin their journey to careers in engineering with coursework in robotics, computer science, and engineering design, culminating in a first college-level transfer course in engineering.
A small group of students were enrolled in information technology classes during 2017-2018; however, it wasn't until fall 2018 that the Business, Management, and Information Technology Academy was fully implemented. Students develop business plans; design, develop, and test software solutions; develop expertise in project management and programming languages; simulate office management using essential computer software; develop culinary arts skills; and participate in simulated activities related to the hospitality and restaurant industries.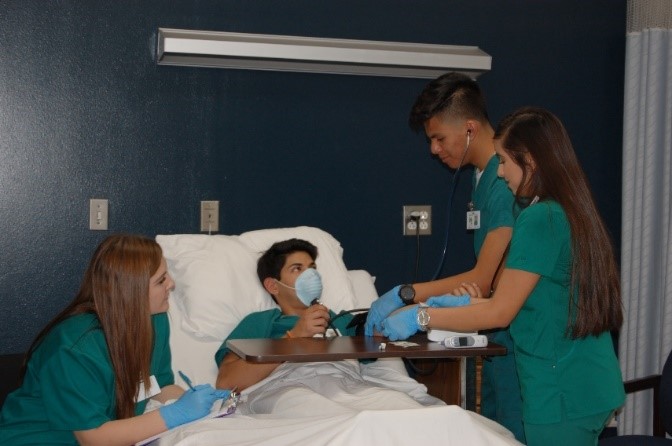 The most notable aspect of this year's activity is the increase in Health Sciences Academy enrollment—from 157 in 2017-2018 to 399 in spring 2019. During the 2017-2018 academic year, Midland College staff created an entry-level certificate—Health Science Foundations—and worked with Midland Memorial Hospital (MMH) to create a Patient Care Technician program. This year, MISD students are enrolled in the new Health Science Foundations certificate. In the 2019-2020 academic year, these students will enroll in the Patient Care Technician program; upon graduation, they will be prepared to become certified nurse aides as well as electrocardiography technicians, phlebotomists, and patient care technicians. MMH is actively engaged in working with Midland College to provide this new program and anticipates being a major employer of patient care technicians.
The College & Career Academies also includes criminal justice courses. While initial enrollment is modest—20 students—MC and MISD anticipate that the demand for these courses that prepare students for police academies or transfer to four-year criminal justice programs will grow substantially.
The creation of an Education/Public Service Academy is under discussion. This academy, if realized, will include a criminal justice component along with teacher preparation and other public service programs.
The College & Career Academies provides Midland College with an innovative approach to meet its goal of educating and training a new generation of employees who are prepared to meet the workforce demands of Permian Basin business and industry. Click here to learn more.
Rebecca Bell is Executive Director, Institutional Advancement, at Midland College in Midland, Texas.
Opinions expressed in Member Spotlight are those of the author(s) and do not necessarily reflect those of the League for Innovation in the Community College.