Mesa Community College: Immersive Patient Management Experience
December
2019
Member Spotlight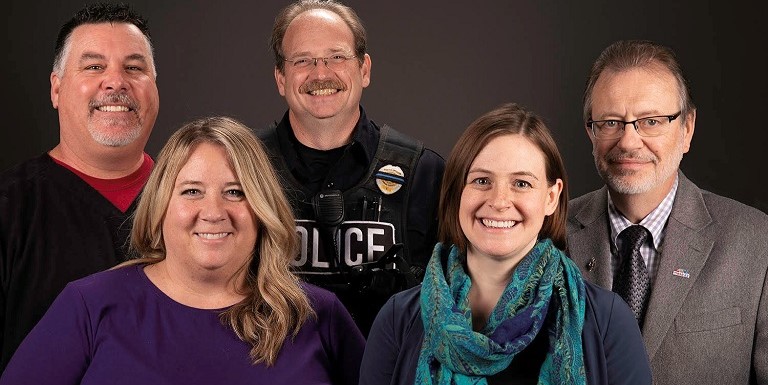 Students at Mesa Community College receive hands-on learning experiences each semester with two days of simulated emergency medical scenarios. MCC's Immersive Total Patient Management Experience (ITPME) is a multi-college, cross-disciplinary educational event exposing entry-level EMT, paramedic, nursing, psychology, and theatre/film arts students to potential real-life emergency scenarios and training.
In addition to providing workforce experience training, the event encourages a larger dialogue among educators about the nature of innovative collaboration to create the most comprehensive student learning experience possible.
"Many first responder and emergency personnel are involved in life and death situations. Their work can be richly rewarding, but also tremendously stressful," says Sean Newton, MCC Occupational Program Director, Paramedic Education. "One of the overarching objectives of ITPME is to provide a degree of stress inoculation to our future EMTs, paramedics, and nurses in order to better prepare them for the types of situations they may face in their careers."
Many MCC departments are involved in the event, including EMT, paramedic, nursing, psychology, and theatre/film arts. Members and organizations from the surrounding community also participate, including Grand Canyon University and Midwestern School of Osteopathic Medicine, as well as more than 50 faculty and staff members representing five college fields of study.
The MCC ITPME provides a rich learning experience to more than 150 MCC students each semester. Classroom instruction and video footage of the event are used to increase awareness of a broad range of issues such as suicide prevention and water safety.
In 2018, ITPME expanded from 16 to 20 immersive, simulated emergency medical scenarios depicting typical first responder calls, providing students with opportunities to apply their knowledge and skills in a variety of highly realistic emergency response scenarios during the two-day immersive learning experience. During scenario simulations, students demonstrate their acquired medical and clinical knowledge to care for patients while the theatre/film arts students use their moulage, set design, choreography, stage management, and acting skills to bring the scenarios to life.
Fully equipped engine and rescue companies, as well as crisis response teams of EMT/paramedic and psychology students, are dispatched to scenarios via the Virtual Incident Command Center (VICC). The VICC immerses students with the realistic sights and sound of an emergency response. Upon arrival at the simulated scene, students are led to a predetermined area by their faculty evaluator and continue to coordinate and communicate activities with dispatch and VICC. Students conduct patient interviews, interact with family and bystanders, perform assessments, establish a treatment plan, and make definitive transport decisions. Once stabilized, patients are placed on EMS gurneys and secured in the back of an actual operational ambulance unit to simulate the physicality and rigors of working in the confines of an ambulance. Paramedic students are required to establish communication with medical control and perform either a patch or a courtesy notification directly to a physician or nurse intermediary while en route to the simulated hospital. The patient is transported to a simulated emergency room where nursing students receive a report and take over patient care with oversight from a volunteer attending physician. Nursing students are evaluated and coached by nursing faculty while paramedic students proceed to the rehab room to complete their patient care forms, restock and rehab their EMS equipment, and prepare for the next emergency response. Students and faculty from the Psychological Sciences department provide simulated, on-scene psychological support for the victims, their families, bystanders, and first responders.
Ten different scenarios are reenacted simultaneously each day during morning and afternoon sessions, each lasting 30 to 60 minutes from dispatch to patient transfer in the simulated hospital emergency department. The various student-based teams receive performance critiques from faculty and debriefs following each scenario.
"We created ITPME to provide students with the highest quality experiential learning simulation in order to expose them to scenarios that they will encounter in the field of emergency medical services prior to deployment into the field internship phase of their education," says Newton. "We also wanted to establish a multi-college and cross-disciplinary connectivity to combine the strengths and skillsets present in both normally parallel occupational programs and those less commonly associative to create the most comprehensive student learning experience possible."
Click here for more information about Mesa Community College's ITPME.
Dawn Zimmer is Media Relations Coordinator at Mesa Community College in Mesa, Arizona.
Opinions expressed in Member Spotlight are those of the author(s) and do not necessarily reflect those of the League for Innovation in the Community College.