Jackson State Community College: Leading in Computer Information Technology and Cyber Defense
June
2019
Member Spotlight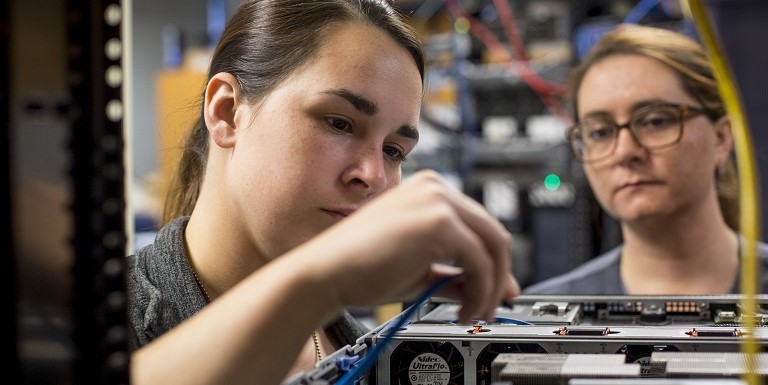 The Cyber Defense Program at Jackson State Community College is the only community college program in Tennessee to be certified as a National Center of Academic Excellence by the U.S. National Security Agency and Department of Homeland Security. The designation puts Jackson State among an elite group of institutions across the country offering computer information technology courses that meet rigorous federal standards and setting graduating students apart from others, said Dr. Tom Pigg, Jackson State's Dean of Health Sciences and Computer Information Technology. "It is very unique that we've been able to develop and offer a program of this magnitude that fills a current demand to defend our cyber infrastructure," said Pigg. "Not many colleges can say that."
Graduates often find work protecting national security information systems, commercial networks, and critical information infrastructure in both the private and public sectors. Students in the program get a good, solid understanding of computer technology and cyber defense systems, Pigg explained. He continued, "They must first understand the inner workings of the infrastructure and then they learn how to defend it. We are doing it at such a level of detail that we are getting national recognition." For example, Jackson State was one of only a handful of community colleges in the country to participate in the initial pilot of a prestigious scholarship program—CyberCorps Scholarship for Service. Students received scholarships that paid for most, if not all, of their education in return for service to a government agency like the FBI or CIA.
Jackson State has also partnered with Cisco Systems, a national manufacturer of network infrastructure hardware, to be an academic support center. With a curriculum created by Cisco, Jackson State trains teachers at other high schools and colleges. "We are the only program in Tennessee accredited to teach the instructors," Pigg said.
Jackson State continues to expand what it offers in the cyber defense program. A new Cyber Security Technical Certificate allows students to be certified as they work toward an associate degree.
Jackson State's leadership and growth in its cyber security program come at a time when the United States is facing a critical shortage of cyber security professionals and educators in all sectors. Some estimates place the national shortfall at more than 250,000 in 2020.
In a whitepaper written about the importance of the Cyber Center of Excellence Program and the need for more colleges like Jackson State to participate in the program, the National Security Agency said, "Developing and maintaining this workforce for national and homeland security is particularly difficult. The shortage of these professionals has impacted every critical infrastructure sector and specifically national security. Our adversaries are investing in not only cyber defense, but also developing the cyber warriors and offense capabilities."
For more information, visit Jackson State's Cyber Security Center website at www.jscc.edu/cybercenter.
John McCommon is the Public Relations and Marketing Director at Jackson State Community College in Jackson, Tennessee.
Opinions expressed in Member Spotlight are those of the author(s) and do not necessarily reflect those of the League for Innovation in the Community College.