Enhancing Health Services for Students
July
2019
Innovation Showcase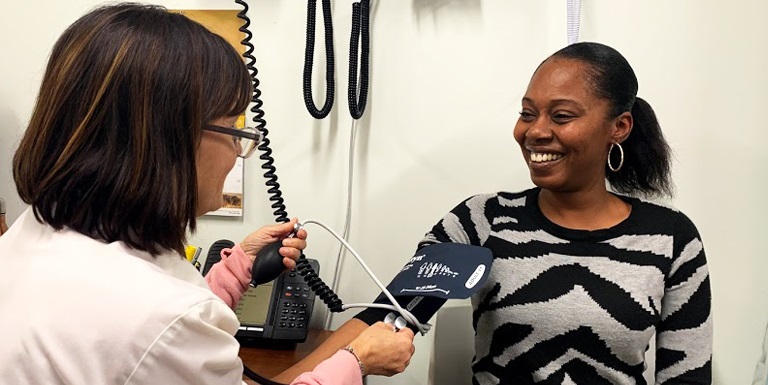 As much as the faculty, classified professionals, and administration at San Diego City College take pride in the 1,500 classes and 200+ degree and certificate programs offered at the 60-acre urban campus, they also understand that the college's role in supporting and empowering students goes far beyond the classroom. For instance, thirty-nine percent of college students experience significant mental health issues, yet two-thirds with anxiety or depression do not seek treatment (Active Minds, n.d.). Even more alarming is the fact that suicide is the second leading cause of death among college students. On a positive note, for every dollar invested in mental health services for community college students, the net benefit is estimated to be $11.39 (Stein et al., 2016).
San Diego City College's commitment to a holistic approach to education was the driving force behind a major overhaul of mental and medical health services at the new Student Health Center, which opened its doors in January 2019. In designing the center, the college's aim was not only to increase access to all health care services, but also to reduce the stigma associated with seeking mental health care.
A Comprehensive Health Center Is Realized
When San Diego City College began major campus renovations in 2016, staff advocated for increased access to care by co-locating mental health services with physical health care services. This emphasis on wraparound service provision resulted in a state-of-the-art Student Health Center with more than twice the square footage than the previous facility to accommodate additional staff, care areas, training, and professional development opportunities. The center's medical health care area grew from two exam rooms to four exam rooms, a triage room, an observation room for very ill students, and a procedure room. Space for mental health services expanded from four counseling offices to seven counseling rooms, a relaxation and meditation room, a group room, and a family therapy room.
Building It So They Will Come
Health care staff and design experts collaborated extensively to ensure that the new Student Health Center would best serve students' needs. In order to meet those needs, students first need to feel that the space is a safe one. One of the barriers to seeking mental health services is patient concern over confidentiality (Gulliver, Griffiths, & Christensen, 2010). Conscious of this, the design team created one main entry for students seeking services, whether for a skateboard tumble or test-taking anxiety. Today, when San Diego City College students present at the health center, their peers in the reception area have no idea why they are there. 
Numerous studies suggest that both the exterior and interior design of a health care facility can also impact patient outcomes (Srivastava, 2017). Creating a space that is clean, bright, and professional can inspire confidence and ease anxiety among patients seeking both physical and mental health services. In addition to designing the new center with this in mind, San Diego City College incorporated its core values of diversity and health care justice into the space. Patients seeking care immediately see the word "Diversity" mounted on the wall in rich wood lettering with photos of City College's students beneath it; this design element was added to help the culturally rich student body feel represented, respected, and welcome.

Mental Health Services
As part of intake, all patients who present for physical complaints are screened for mental health concerns by the medical team using the Patient Health Questionnaire (PHQ2), a tool that has been proven reliable and valid in screening students for depression and anxiety (Kroenke, Spitzer, & Williams, 2001). If a student shows elevated scores on either or both scales of depression, medical and nursing health clinicians can do what is called a "warm hand-off" to mental health staff. This means that the patient is introduced by one staff member to another, a practice that reduces the risk of the student being too fearful or preoccupied to engage in mental health care and improves the likelihood of the student keeping future appointments and following up on care (Peek & Heinrich, 2000). In fact, in just two months, mental health referrals from the medical staff at the Student Health Center increased by 9 percent.
The center currently offers individual counseling as well as support groups for veterans and military, LGBTQIA community members, Smart Recovery participants, and mindful self-compassion practitioners. Mental health services staff members are also actively engaged in the community and on campus in raising awareness around suicide prevention, stress management, healthy relationships, domestic violence, substance abuse, and mental health literacy and advocacy. Additionally, mental health services staff members reach out to students who may benefit from support because of their sexual orientation, family responsibilities, or immigration or first-generation college student status.
Training New Providers
San Diego City College is known for its robust and well-respected graduate student intern training program. Graduate nursing students from University of San Diego Hahn School of Nursing and Azusa Pacific University can fulfill their clinical practicum under the mentorship of the licensed nurse practitioners at City College. Graduate students from University of San Diego, University of Southern California, San Diego State University, California State University San Marcos, and Alliant International University can fulfill their practicum placement for their master's in social work, marriage and family therapy, or professional clinical counselor.
With its status as a training college in mind, one-way mirrors were installed in counseling offices at the new health center so that staff can supervise graduate students' counseling sessions in real time, offer immediate feedback, and reduce the number of sessions that need to be recorded for supervision purposes.
"San Diego City College is one of the most sought-after practicum placements for mental health, and with this new clinic, it is even more so," said Janisha Street, MFT Trainee from Alliant International University. She continued,
The diversity of clientele, presenting problems, and approach to treatment, the innovation with the behavioral health provider role, along with the diversity of education and amongst the treatment team, is beyond what one would hope for in a training environment. Working in the Health Center at San Diego City College has prepared me for rigorous and impactful clinical work in the community. The innovative approach to treatment and diversity of thought at San Diego City's Student Health Center have stretched me as a trainee and encouraged me to develop into the best therapist I can be.
Building Community Partnerships for Student Health Care
San Diego City College successfully advocated for an on-campus health care facility that can serve the complex needs of its 25,000 enrolled students. Partnerships with community organizations such as Planned Parenthood, San Diego Blood Bank, Jane Westin Center, and San Diego Health and Human Services were forged and strengthened to enrich service provision. As a result, the college is well prepared to address students' ever-increasing need for medical and mental health care services. Moving forward, the Student Health Center will fully implement an electronic medical records system to further analyze care delivery processes and create evidence-based, data-driven approaches to improving outcomes.
"Every day students come to the Health Center with health conditions that they have had trouble addressing due to lack of insurance, resources, or access to traditional health care systems. Concomitant with their physical issue is often overlaid financial, academic, or family stress," said Debbie Helm, a nurse practitioner at the Student Health Center. "I am gratified to know that all of our clinicians do everything they can to meet the student where he/she is and help them find solutions and options for their health care needs. It is rewarding, meaningful work."
The City College community is proud to boast a health center which honors and reflects its students, who deserve only the best on their academic journey.
References
Active Minds. (n.d.). Statistics. Retrieved from www.activeminds.org/about-mental-health/statistics
Gulliver, A., Griffiths, K. M., & Christensen, H. (2010, December 30). Perceived barriers and facilitators to mental health help-seeking in young people: A systematic review. BMC Psychiatry, 10(113). Retrieved from www.ncbi.nlm.nih.gov/pmc/articles/PMC3022639
Kroenke, K., Spitzer, R. L., & Williams, J. B. W. (2001). The PHQ-9: Validity of a brief depression severity measure. Journal General Internal Medicine, 16(9), 606–613.
Peek, C. J., & Heinrich, R. (2000). Integrating behavioral health and primary care. In M. E. Maruish (Ed.), Handbook of psychological assessment in primary care settings (pp. 43-91). Mahwah, NJ: Lawrence Erlbaum Associates.
Stein, B. D., Sontag-Padilla, L., Ashwood, J. S., Woodbridge, M. W., Eberhart, N. K., May, L., . . . Burnam, M. A. (2016). Campus climate matters: Changing the mental health climate on college campuses improves student outcomes and benefits society. Retrieved from www.rand.org/pubs/research_briefs/RB9904.html
Srivastava, C. (2017). Effect of clinic design on patient care: Perceptions of medical staff and patients. Intersect, 10(2). Retrieved from ojs.stanford.edu/ojs/index.php/intersect/article/view/955
Dotti Cordell, EdD, MPH, RN, is Director, Student Health Services, and Leslie Easton, LCSW, is Coordinator, Mental Health Counseling, at San Diego City College in San Diego, California.
Opinions expressed in Innovation Showcase are those of the author(s) and do not necessarily reflect those of the League for Innovation in the Community College.