Peninsula College: Leading the Way in Training for Recycling Composites
July
2014
Member Spotlight
The proliferation of composite materials used in our aerospace, transportation, infrastructure, and recreation sectors is creating a growing need for waste management and sustainable practices. Couple this with current and pending legislation, and it becomes clear why businesses need to focus on new recycling technologies. Although many companies have extensive research and development efforts underway, including both reclamation and re-use of composite materials, training people for careers that utilize recycling technologies is new for educational institutions.
One college helping to lead the way is Peninsula College (PC) in Port Angeles, WA. Located on the Olympic Peninsula of Washington State, PC has long been a forerunner in developing workforce training programs that meet local and regional industry needs. Thus, it is no surprise that PC should also be breaking new ground in the development of composite recycling training and working with industry and other educational partners to do so.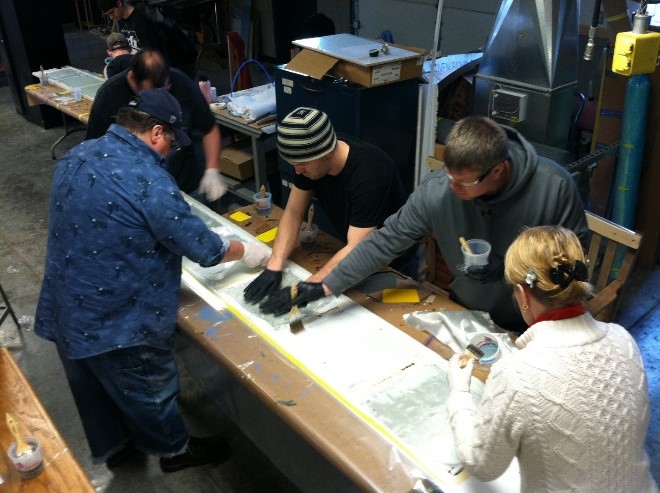 In partnership with the Center of Excellence (COE) for Marine Manufacturing and Technology at Skagit Valley College, also in Washington State, and the University of Alabama at Birmingham (UAB), PC is engaged in a multiyear composite material recycling project focused on technical training. The training seeks to expose students to the challenges and opportunities involved in the reclamation and reuse of composite materials, coupling fabrication and design with lifecycle studies and research.
With funding from COE, PC offered an introductory course on recycling composites during the 2012-2013 academic year. Dr. Brian Pillay, professor of materials science and engineering at UAB's Materials Processing and Applications Development Center, traveled to Port Angeles to conduct a seminar with PC students during the spring quarter. 
After the introductory seminar, PC instructor Norm Nelson took over the course and continues to collaborate with Dr. Pillay and UAB graduate students on course content.  Curriculum includes composite material lifecycle analysis, a survey of re-use innovations and university research, and a case study on an Olympic Peninsula company that is the largest domestic producer of snowboards and skis and an industry leader in the use of sustainable materials. 
The initial course was the outgrowth of collaborative efforts by the American Composites Manufacturers Association and its Green Composites Council (GCC), which helped facilitate national conversations on composite recycling challenges. PC is a member of GCC and the only two-year institution on the council, providing it with a unique opportunity to align workforce training with current and future industry needs.
Other partners include Janicki Industries (Sedro Woolly, WA), Angeles Composite Technologies Inc. (Port Angeles), and New World Yachts (Anacortes, WA). The port of Port Angeles also plays an important role as an advocate for economic development and a leader in the Advanced Composites Center initiative, a statewide partnership of business, government, and educational organizations focused on supporting the composites industry. 
With continued funding from COE, PC offered an expanded course during spring quarter of 2014, which included multiple visits to industry manufacturing sites.  During these visits, PC students assessed waste stream production and collected scrap materials for analysis and processing in collaboration with UAB. By combining PC's workforce training expertise with UAB's research capabilities, students will continue to learn practical and theoretical issues and be exposed to engineering breakthroughs redefining work environments. This combination is invaluable for students seeking to understand where the industry is headed, while simultaneously seeking a place within it. 
Contact instructor Norm Nelson for additional information about PC's Composites Technology program.