Miami Dade College Wolfson Campus: Cutting-Edge Animation and Gaming International Complex in Heart of Downtown Miami
January
2016
Member Spotlight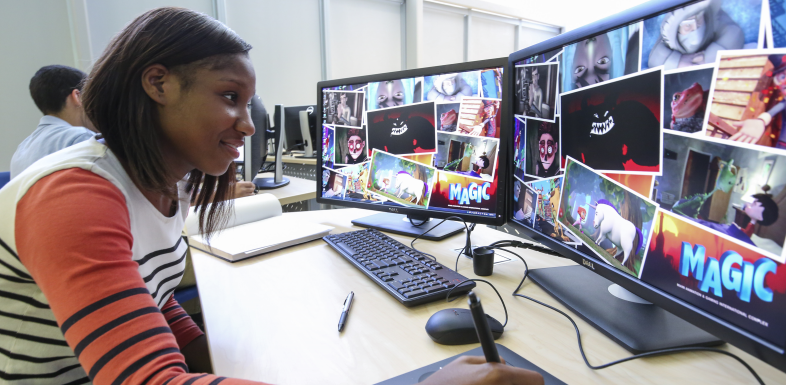 Gamers, animators, and filmmakers now have an unparalleled training ground with the August opening of the Miami Animation and Gaming International Complex (MAGIC) at Miami Dade College Wolfson Campus. 
It is the first facility of its kind at a public higher education institution in Florida and one of only a handful in the nation. MAGIC is a game-changer for animators, gamers, filmmakers, health care professionals, and many others, serving as a training center in the bourgeoning area of 3-D animation used in so many industries and fields.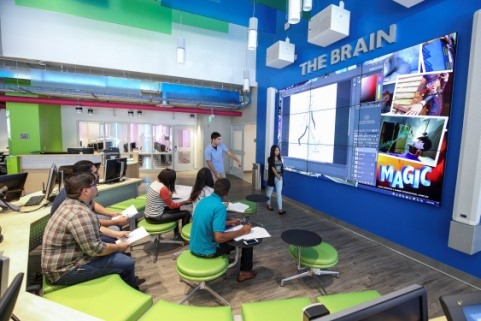 "This new state-of-the-art facility will be the groundbreaking epicenter of developments in cutting-edge animation and gaming, where students and enthusiasts will be inspired and fully immersed in hands-on learning experiences," said MDC Wolfson President Dr. José A. Vicente. "Once again, we at MDC are excited to facilitate access to this world of opportunities and provide a trained workforce that will certainly revolutionize industries across various sectors."
MAGIC will introduce an Associate in Science in Computer Programming and Analysis with concentrations in Animation and Game Art or Game Development and Design. Students will learn to tell a story visually and develop skills in modeling, lightening, motion, and sound.  They will gain the technical skills required to succeed in today's lucrative animation and gaming industry.
The production pipeline at MAGIC matches those of the world's top animation studios.  Amenities include:
The Gallery, a space that features students' projects in animation and video games, and in which visitors will have the opportunity to play demo video games created by MDC students
The Open Lab, an interdisciplinary living laboratory featuring the Brain, a gigantic screen that is connected to every work station and room in the complex, where projects and features can be screened instantly
A motion capture studio where imagination comes to life
State-of-the-art classrooms equipped with dual monitors and industry-standard software
Audio engineering and color suites with the latest sound, recording, and color correction technologies
The  Incubator, a sleek and contemporary conference room where MAGIC students can seek personalized advice and support from dedicated and experienced faculty and industry experts 
MAGIC students will also benefit from a myriad of key partnerships and mentorships, including alliances with Alienware, Cartoon Network, Museu do Amanhã, Pixar's RenderMan, Univision Communications, and many more, that will put them in contact with industry professionals through exchange programs and internships. 
"Miami is my home and the birthplace of Alienware; it's a privilege to give back to this community," said Frank Azor, Executive Director of Alienware and XPS, Dell. "The opportunity that Miami Dade College is giving these kids is incredible and we are proud to provide the PC solutions that help their design creativity come to life."
MAGIC hosted the acclaimed MIA Animation Conference and Festival—an industry symposium focused on computer animation, gaming, visual effects, motion graphics, film, web design, and visual arts—this fall.
Opinions expressed in Member Spotlight are those of the author(s) and/or submitting college and do not necessarily reflect those of the League for Innovation in the Community College.