Dallas College: Reviving the Restaurant Industry During a Time of Crisis
December
2020
Member Spotlight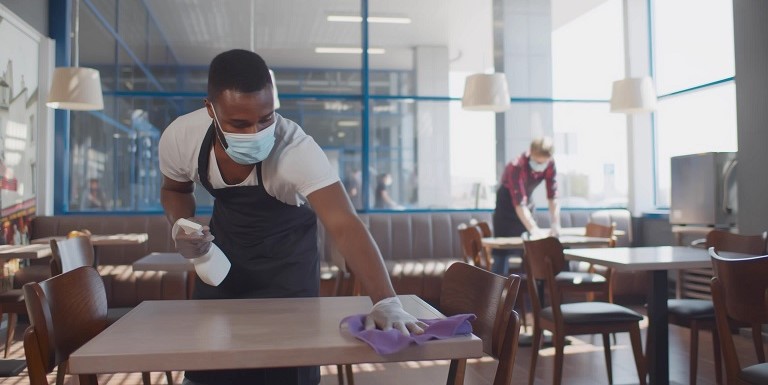 Amid the COVID-19 pandemic, many of the bars, cafés, and eateries we so casually take for granted have been forced to close or drastically alter the way they conduct business. Stories of restaurant employees being furloughed, or worse, laid off completely, have been too numerous to count. And then there is the bleak reality of what the future may hold for the restaurant and hospitality industry's new normal. According to a recent study by the Independent Restaurant Coalition (Amel et al., 2020), 85 percent of independent restaurants could permanently close by the end of this year. Imagine, one day your business or employer is thriving, and the next, you are left to pick up the pieces of an interrupted career or shattered business endeavor.
Nationwide, this industry and its people are always here for us, present and forever ready to serve—whether we are looking for a night out on the town or simply choose not to prepare a meal ourselves—and now it is time to return the favor. Without further intervention or assistance, the downturn of the restaurant industry could soon spawn dismal realities for other industries as well. As good stewards of higher education, Dallas College has stepped up to help retrain the sector's workforce and, ultimately, to help rebuild the restaurant and hospitality industry.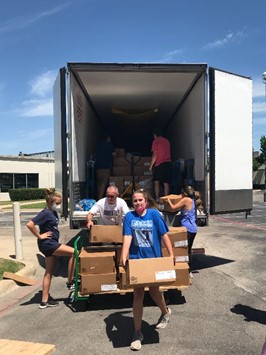 At the onset of the pandemic, complete with closures, shelter-in-place orders, and social distancing, Dallas College's focus was on supporting restaurant workers. The college's initial efforts were supported through a partnership with Tyson Foods, Inc., Texas Restaurant Association (TRA), and El Centro Campus. The support for employees of the Dallas/Fort Worth metroplex's pandemic-plagued food industry came in the form of 40,000 pounds of chicken. Utilizing a makeshift setup outside of the El Centro Campus, one-by-one, dozens of volunteers unloaded a refrigerated truck filled with over 800 boxes, each containing 50 pounds of chicken provided by Tyson. From truck to trunk, each restaurant employee drove away not only with a box of poultry, but a renewed sense of certainty during a time when so much remains unknown.
Rebuilding Consumer Confidence
In Texas alone, the food service industry is responsible for billions of dollars in economic activity, supported by 1.2 million restaurant employees across the state (Texas Restaurant Association, 2020). Nearly 700,000, or 61 percent, of these workers have been furloughed or laid off due to COVID-19 (Texas Restaurant Association, 2020). Based on the number of those negatively impacted by the pandemic, it became clear that the college's mission should be not only to support the industry's out-of-work employees, but also to restore customers' faith in the industry—to assure consumers that they would not be sacrificing their safety and wellbeing by dining out and supporting the economy.
When restaurants across the state began announcing plans to reopen dining rooms in summer 2020, 77 percent of consumers said they planned to reduce future restaurant visits (Texas Restaurant Association, 2020). The solution had to be a safe reopening that truly placed health and wellness at the forefront of operations . . . but how? Dallas College's proven partnership with TRA and A Closer Look, a mystery shopping and customer experience company, would prove essential.
With a $500,000 grant from the Texas Workforce Commission (TWC), Dallas College and TRA collaborated to build an online training and certification program for restaurant workers and owners. With both safety and efficiency in mind, the goal of the Texas Restaurant Promise Certification was to provide businesses the opportunity to examine and improve their operating protocols and, ultimately, to prove to patrons that dining out is safe.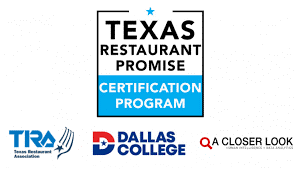 The training program consists of five courses with a focus on each role within a restaurant: New Protocols for Owners and Operators; Take Out, Delivery and Food Trucks; Front of House Staff; and Cleaning Crew. Certification is only awarded after a restaurant completes all five courses. A member of A Closer Look's team then visits participating restaurants and provides feedback directly to the owner for more focused training. Upon completion, restaurants are given an easily recognizable decal, to be placed on doors and windows in full view of consumers, similar to food safety letter grade signs used in New York.
This rigorous program gives restaurant owners and their staff the chance to clearly demonstrate to the public that they are taking the severity of and subsequent concern over this pandemic seriously. More importantly, it signals that participating restaurants are doing everything in their power to safely welcome guests back into their dining rooms.
Two Dallas College campuses, El Centro and North Lake, are participating in the Texas Restaurant Promise in conjunction with Texas Restaurant Association. To date, three restaurants have successfully completed all requirements and have earned decals. Additionally, a total of 83 restaurants—25 at El Centro and 58 at North Lake—have been approved by TWC to begin the program.
What Lies Ahead
The initial grant from TWC provided funding for 500 restaurants to be evaluated and certified, and 2,500 of their employees to receive training. Dallas College continues to work with TRA and to evaluate ways to expand TWC grant monies to ensure that all interested restaurants and employees can participate.
In some form or another, every sector of the economy has been negatively impacted by COVID-19. Many of us are working from home. We are caring for our children and acting as surrogate teachers. We are spending less time with the extended family members and friends we love. And, for too many of us, we are struggling to make ends meet as we try to adjust to reduced income and job loss. Every one of these circumstances affects our ability to eat out and enjoy meals with loved ones. It also affects the livelihoods of thousands of food service workers.
Simply put, restauranteurs and their workers desperately need support. In this unprecedented moment in our nation's history, innovations such as the Texas Restaurant Certification Promise will not only support rebuilding the food industry of yesterday, but lay the groundwork for the food industry of tomorrow—a move sure to benefit generations to come. While there is certainly more work to be done, Dallas College is tremendously proud to play a role in helping this industry thrive again.
References
Amel, E., Lee, D., Secatore, E., & Singer, E. (2020). Independent restaurants are a nexus of small businesses in the united states and drive billions of dollars of economic activity that is at risk of being lost due to the covid-19 pandemic. Independent Restaurant Coalition. https://media-cdn.
getbento.com/accounts/cf190ba55959ba5052ae23ba6d98e6de/media/EmH1JsVMRNylmKAeF2FJ_Report.pdf
Texas Restaurant Association. (2020, April 20). Without immediate financial relief, one of the most important industries in Texas may disappear. https://www.txrestaurant.org/news/texas-restaurant-industry-has-lost-nearly-700000-jobs-due-covid-19
Texas Restaurant Association. (2020, June 23). Texas Restaurant Association launches COVID-19 Health & Safety Training Certification and Restaurant Verification Program.
https://www.txrestaurant.org/news/texas-restaurant-association-launches-covid-19-health-safety-training-certification-and
Malcolm Hornsby is a News Writer at Dallas College, in Dallas, Texas.
Opinions expressed in Innovation Showcase are those of the author(s) and do not necessarily reflect those of the League for Innovation in the Community College.