Community College of Allegheny County: Electronics Engineering Technology Student Uses 3D Printer to Make Much-Needed Medical Supplies
June
2020
Member Spotlight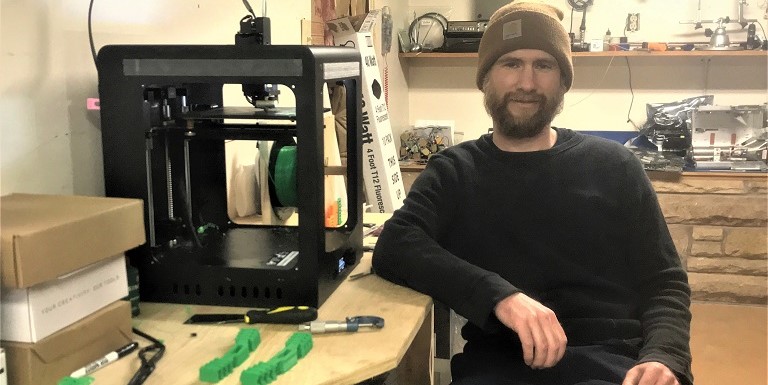 Community College of Allegheny County (CCAC) was quick to modify college operations in response to the COVID­­–19 pandemic to ensure both academic continuity and the safety of students, faculty, and staff. With the closure of all facilities, hundreds of credit courses were converted from face-to-face to online or alternative delivery formats—an enormous undertaking and a collaborative effort by individuals across the college that was accomplished in a relatively short period of time. Since March 25, every student has been attending classes remotely through a computer or device.
Justin Starr, Assistant Professor of Robotics at CCAC South Campus, is pleased with the progress of the students in his class, who are now building virtual robots through online programs, thus acquiring advanced programming skills. A common theme that Starr emphasizes with his students is using electronics to design and build things that solve problems, and one of his students has taken that to heart. Dave Majetich, an electronics engineering technology major, is putting his skills to good use by making parts for face shields for medical personnel using his home 3D printer, thus helping to address the national shortage of critical personal protective equipment (PPE) created by the COVID–19 pandemic.
"Dave has a real creative streak; he's always coming up with inventive things to design at home, and he has great ideas," said Starr. "His 3D printing project is just one of the ways he's really going above and beyond what we have learned in class."
Majetich, who works full-time at Bayer HealthCare as a service technician while taking classes at CCAC, got involved with micro-manufacturing a few years ago. When he learned of the lack of medical equipment for health care workers, he was confident that 3D printing was a viable response to the PPE shortage. Starr directed him to 3D Printing Pittsburgh (3DPPGH) to volunteer his 3D printing capabilities, and it was a perfect match. Since mid-March, Majetich has been spending his weekends printing headbands for the face shields. He is part of a growing group of more than 200 volunteers assisting with the effort. Those in the group with laser cutters produce the face shields, and all the parts are assembled into kits that are sent to doctors' offices around the region. The group has also received requests from North Carolina and Connecticut.
According to its website, 3DPPGH is utilizing a network of 3D printing volunteers across the region to fabricate open source PPE such as face shields to aid medical personnel on the front lines. The group is consulting with medical professionals in the region and across the nation to better understand the type of plastics required as well as the sterilization procedures.
Although it took Majetich, a father of four, a little while to get a good print, he is now producing the headbands consistently and making adjustments to comply with specific requests. He is happy to be learning more about the 3D printing process, but even more pleased to be able to aid those in need during the crisis.
"To a certain degree, I feel it's my duty as a human being to help other people if I have the ability, and it just feels good. How can I not contribute when I have the means?" said Majetich. Following graduation from CCAC in the fall, he plans to transfer to an electrical engineering program at a four-year university.
Majetich's ability to contribute to the effort is about to increase ten-fold, as he is getting another 3D printer that will enable him to print 10 headbands at a time, instead of just one. He and other volunteers have been using their own materials; however, through GoFundMe, 3DPPGH has raised more than $17,000 to purchase more supplies.
Margaret Anderson is Promotions Writer, Public Relations and Marketing, at Community College of Allegheny County in Pittsburgh, Pennsylvania.
Opinions expressed in Member Spotlight are those of the author(s) and do not necessarily reflect those of the League for Innovation in the Community College.