Valencia Technology Club: Innovation at Work
November
2018
Innovation Showcase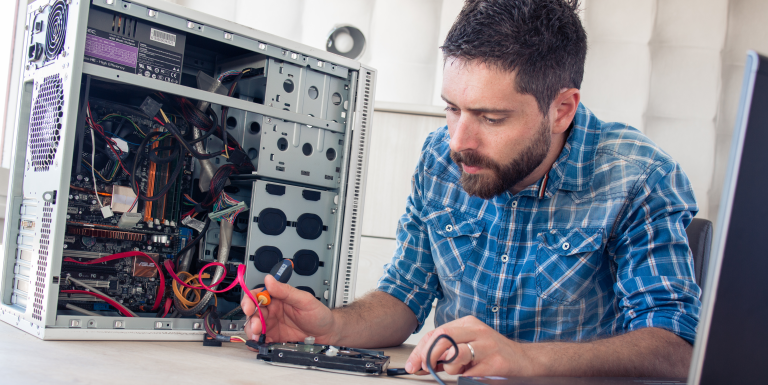 Two years ago, student and Valencia Technology Club member Richard Haynes asked if club members could take Valencia College's obsolete computers and refurbish them for students who need a computer and can't afford to purchase one. At the time, the project did not move forward. A year later, however, representatives from the Information Technology (IT), Legal, and Finance departments; the Louis Stokes Alliances for Minority Participation (LSAMP); and the Valencia Technology Club met, and, collaboratively, developed the club's computer donation and repair programs. Now, selected LSAMP students can enjoy increased flexibility as they complete their coursework on their own laptops, while technology club students receive hands-on experience working with computer hardware and software as they help refurbish and troubleshoot these devices. For this innovation, the Valencia Technology Club has won the Valencia Foundation's Innovation of the Year Award for the past two years.
What Is the Central Florida STEM Alliance LSAMP?
The Central Florida STEM Alliance (CFSA) is a LSAMP partnership funded by the National Science Foundation. Comprised of Lake-Sumter State College, Seminole State College of Florida, and Valencia College (lead institution), CFSA is committed to doubling the number of underrepresented minority (URM) students who complete associate degrees at Alliance institutions and enroll in bachelor's degree programs with STEM majors. Through a range of program offerings, the goal of LSAMP is to significantly increase the number of minority students who complete baccalaureate and doctoral degrees in STEM.
Computer Donation Program
Before refurbishing laptops for the donation program, technology club students complete a rigorous assignment—Build Your Dream Computer—to learn the foundations of troubleshooting. For this assignment, students must research prices for a computer part, part compatibility, and how the part works. This experience leads to quality student technicians who fully understand the computer repair field and ensures that refurbished computers will be useful to the students who receive them.
To qualify to receive a computer through this program, students are required to complete an application that demonstrates their participation in the LSAMP program, access to a computer at home, financial need, and military service. The application is then scored on each of these criteria as well as the quality of the application.
Students who receive donated laptops enjoy increased flexibility as they pursue their academic and professional goals. "The laptop is significant for a student receiving one because, in many cases, it means having access to a computer and school assignments while away from a campus of Valencia," explained STEM Programs Director Eda Davis-Lowe.
Students Stephanie Torres-Vargas and Michael Virella, who were recently provided a laptop through the program, agree. "Having this laptop will help me utilize other resources while I study, research, or work toward my educational goals," Torres-Vargas said. Virella added, "I will be able to do research and my programming homework without having to go to campus every time. This will allow me to get more studying in and more time with my homework."
During the first six months of this program, the Valencia Technology Club refurbished and donated 100 computers. 
Computer Repair Service
In addition to the computer donation program, the Valencia Technology Club offers a computer repair program. Club students learn how to repair computers in the most effective way and offer their services to Valencia College students and employees free of cost (or for a donation).
In traditional computer maintenance classes, students are taught troubleshooting skills and how to diagnose issues. However, they do not get the opportunity to solve real-life computer problems. Because students wanted hands-on experience, another former student, Christian Paredes, suggested to faculty the development of a student-led computer repair service. The faculty member worked with college administration to get approval, and the program utilized Valencia Technology Club funds to get started. 
Students go through a rigorous process to become eligible to work on the computers, learning technical documenting skills, customer engagement, and technical processes related to the systems development life cycle. Students also developed a scheduling system to take appointments for computer repair. Technology club students work under faculty guidance to repair and diagnose computer problems. Students earn volunteer hours, learn valuable skills, and gain crucial experience. In the past year, the students have repaired more than 350 devices.
The program provides the following services:
Hard drive installation
Laptop/PC hardware repair
Memory install
Hard drive upgrade
General troubleshooting software services
App and OS install
Antivirus software install
Basic computer setup (Bloatware removal)
Wi-Fi setup
Data backup
Already, this experience has led to internships and jobs at local companies such as Firefox, Deloitte, and the Dr. Phillips Center for the Performing Arts for club students.
IT Field Trip
To expand Valencia Technology Club offerings, club advisors implemented the LEGOLAND IT field trip. In 2017, 15 club students visited the park, located in Winter Haven, Florida, to study how the theme park implements its IT strategy. The students toured the facilities to learn how Wi-Fi is offered for all resort guests. They also were exposed to real-life IT environments where a small number of employees responded to multiple needs, such as fixing point-of-sale systems, working with vendors, and implementing projects.
During the trip, Steven Hopke, IT team leader at LEGOLAND, discussed the effect technology has on the company's operation. He shared insight about the corporate culture of LEGOLAND and how its parent company, Merlin Entertainment, headquartered in the United Kingdom, faces IT challenges due to its numerous attractions and hotels operating in multiple time zones. Hopke stressed the important traits necessary for employees to be a valuable asset in the IT industry, such as being a committed team player and possessing strong problem-solving and communication skills. Afterward, student Francesca Fey stated, "I never knew the difference between computer science and IT, and, because of this trip, I now have a thorough understanding."
The types of programs implemented by the Valencia Technology Club are easy to replicate and demonstrate that higher education institutions can be part of the local community while helping to bridge the digital divide for low-income students and supporting overall student success. It is the hope of Valencia College faculty and staff that these efforts make a difference in people's lives.
Those interested in learning more about these projects are encouraged to contact Jerry Hensel.
Jerry Hensel is a Computer Programming and Analysis professor at Valencia College in Orlando, Florida.
Opinions expressed in Innovation Showcase are those of the author(s) and do not necessarily reflect those of the League for Innovation in the Community College.