New Cannabis Program at Moraine Valley Community College Trains Students for Emerging Industry
September
2021
Innovation Showcase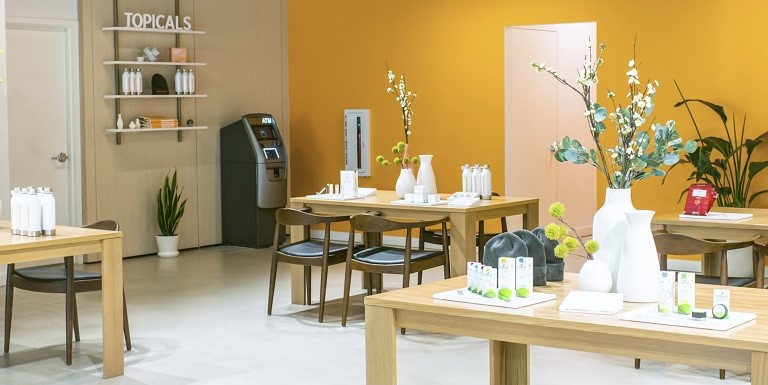 Moraine Valley Community College introduced its new Cannabis Retail Specialist Certificate program in fall 2020 to attract students to the cannabis industry during its infancy in Illinois. In spring 2019, a retired Moraine Valley professor and department chair approached his former colleague, Dr. Margaret Lehner, Vice President for Institutional Advancement and Executive Assistant to the President, to gauge the college's interest in developing a program in this emerging field on behalf of a vice president at Cresco Labs. Lehner discussed the issue with President Dr. Sylvia M. Jenkins and the college's leadership team, who, with Board of Trustees support, formed a committee to explore the idea of creating a cannabis program.
Program Development
Steve Pappageorge, Executive Director, Corporate, Community and Continuing Education, worked closely with a team from Cresco Labs to develop an educational option for Moraine Valley students. Jason Nelson, a senior vice president at Cresco Labs who collaborated with Pappageorge, noted,
Moraine Valley does excellent work educating their communities, and they're passionate about benefitting their students. As a willing partner, with the motivation to consider the subject matter very early in the process, they were well positioned to take our expertise and leverage it into curricula building.
Cannabis is still considered a controlled substance by the federal government, so the program would not qualify for federal financial aid. To minimize funding challenges for students while addressing industry needs, the key players felt that a certificate program was the best option. "We wanted a short-term certificate that included a basic understanding of what cannabis is from a pharmacological and legal perspective, along with basic business and technology skills," Pappageorge said.
Moraine Valley and Cresco Labs worked together on the initial curriculum. "We are fortunate to work directly with Cresco," said Diana Medina, coordinator of the cannabis program. "Our faculty have been able to pick up the phone and say, 'Can you provide me with some guidance or content?' They gave us syllabi, podcasts, and other resources. It's been a good collaboration." In addition, the lab's Human Resources department was instrumental in helping the college team to understand what skills they would look for in a potential employee. "That information helped us put together the Cannabis Introduction course," Pappageorge said. The course, taught by three biology faculty members, is the prerequisite for two additional cannabis-related courses.
The Cannabis Retail Specialist Certificate program consists of three cannabis courses, two business courses, and an information technology course. Although the focus of Moraine Valley's certificate is on preparing students to work in a dispensary, it can be useful for those seeking one of the industry's ancillary opportunities. "All of the business operations that exist at any company, such as sales, marketing, accounting, finance, logistics, etc., exist in the cannabis industry," Pappageorge said. In addition to coursework, guest speakers are invited to discuss topics such as legal issues, testing processes, cultivation, and the use of alternative medical therapies.
Faculty and Students
Faculty members were identified to teach the cannabis courses based on their experience in their respective disciplines and interest in learning the subject matter. Dr. Jeannine Christensen, a chemistry professor and Physical Sciences Department Chair, who has a master's degree in forensic drug chemistry, took the Illinois Vendor Dispensary Agent Training through the Illinois Cannabis Training Center and earned certificates from the Cannabis Training University and The Highly Educated. "I wanted to make sure my students get what they need to be successful in this field," she said. "They need to know people aren't just going into a dispensary to get high but also to treat themselves medically, so it's very important they understand the difference between the adult use side and the medical side."
David O'Connor, Assistant Professor of Criminal Justice, teaches the Cannabis Laws and Regulations course. As a former prosecutor with over 20 years' experience in the Cook County State's Attorney's Office, including as a supervisor in the narcotics bureau, he feels it's somewhat ironic to be teaching a cannabis course. Now a defense attorney in private practice, he said, "I've had the fortune of being on the prosecution side, the defense side, and now the teaching side, which is kind of unique."
Nearly 150 students have taken the Cannabis Introduction course in the seven sections that were offered during the fall 2020, winter 2020, and spring 2021 sessions, and 44 students have taken the Cannabis Laws and Regulations and Cannabis Pharmacology courses. One characteristic common to many of the students in the program, according to O'Connor, is an entrepreneurial spirit. "They understand this is a unique set of circumstances—a new law and a brand-new industry in Illinois. They know they have the opportunity to be in at the ground floor," he said.
Christensen comments on students' passion for the subject matter:
At the beginning of the semester, I have them share why they're taking the course. I've had single moms who didn't have school agree with them in the past—but found their passion in cannabis. I had a plumber who's retiring, and thinks cannabis is going to be 'a thing.' I also have a woman who never thought of cannabis, but once it became legal, she became interested in it.
Paul Romano, a returning adult student, has a passion for the burgeoning industry. He said, "When the cannabis industry opened up in Illinois, I wanted to work in it." When he learned that Moraine Valley was offering a cannabis program, he enrolled. "While I was taking [the courses], I felt I should start applying for cannabis jobs because that's what I wanted to get into. I put on my resume that I was taking courses at Moraine Valley." He was hired for a sales position by Kiva Confections, a company that produces and sells cannabis edibles. Even though he had several years of sales experience, he believes taking the cannabis classes at Moraine Valley set him apart.
Advisory Board and Scholarships
To ensure the program stays up-to-date, Moraine Valley reached out to several professionals to serve on its advisory board. "We wanted a mix of people who had an interest in cannabis as a legitimate consumer product so we could get a broad perspective," Pappageorge said. The advisors have directed Medina to resources such as virtual events, networking groups, and mentorship opportunities that she shares with faculty, who in turn pass them on to their students. O'Connor believes the advisory board makes the program stronger. "The more information we have, the better instructors we will be. If we can tap into various resources, including industry experts, that allows our students to be well versed on what the cutting edge in the industry might be," he said.

Founder and CEO, Maribis and Bedford Grow, Laurel Dineff (second from left), donates $80,000 for an endowed
scholarship to Dr. Sylvia M. Jenkins, President, Moraine Valley Community College. Also pictured: Thomas Kantas, President,
Moraine Valley Foundation Board (far left) and Paul Chialdikas, Vice President, Bedford Grow.
Recently, endowed scholarships were created by the Bedford Grow and Maribis cannabis companies, who chose to donate their state-mandated contributions to Moraine Valley because it offers an approved certificate program. "The market is exploding with opportunities and jobs, and we need trained individuals who have an idea of what they're getting into. It's a very compliant industry," said Paul Chialdikas, Bedford Grow's Vice President. The two companies donated $165,000 to provide 10 $1,000 annual scholarships to students in the certificate program for many years to come.
Mari Unzueta, one of the first recipients of the Maribis Lou Dineff Memorial Scholarship, hopes to earn the Cannabis Retail Specialist Certificate and get a job in a dispensary. "After I've gotten some experience there, I'd like to go back to school for more classes to get a business degree and possibly open my own business," she said. Unzueta has family members who were helped by cannabis, and she wants to see others benefit.
Moraine Valley will continue to look for ways to enhance its cannabis program as the industry evolves. "There are going to be many new jobs opening, and, as a community college, our goal is to help the community; this program is going to be a wonderful asset," Christensen said. Romano added, "Education is going to be key in the next 10 to 15 years in cannabis. I think Moraine Valley is doing a great job helping people gain knowledge about cannabis and will help break the stigma associated with it."
Lead image: Students who receive the Cannabis Retail Specialist Certificate will be prepared to work in a medical cannabis or retail setting, such as this Cresco retail facility.
Karen Town is a Communications Specialist at Moraine Valley Community College in Palos Hills, Illinois.
Opinions expressed in Innovation Showcase are those of the author(s) and do not necessarily reflect those of the League for Innovation in the Community College.