Nashville Area College Launches Cyber Defense Degree Program
October
2016
Innovation Showcase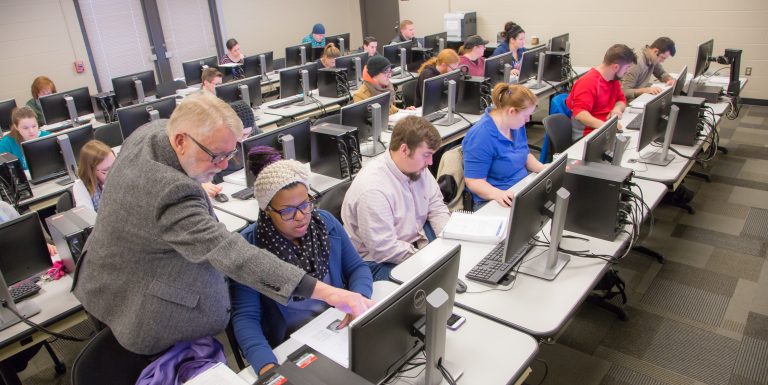 The computer hacking of major corporations, government offices, and banks is a growing threat. Dozens of high profile cases in the news recently highlight the issue, but there is a solution: cyber defense. Companies across the world are expanding and refining their security systems. Volunteer State Community College (Vol State) in Gallatin, Tennessee, is responding to the need for cyber defense expertise with a new degree concentration as part of a rapidly growing realm of information technology education being offered at the college. The reason for the expansion is based on employment prospects; companies are desperately looking for qualified applicants. Cisco (2015) estimates there are one million open cyber-related positions worldwide. A Georgetown University study (Carnevale, Smith, & Stohl, 2013) estimated that approximately 7,000 computer and mathematical science jobs in Tennessee will require at least an associate degree by 2018. Tech job openings in Middle Tennessee have climbed from 872 in 2014, to 1,548 in 2015, according to a Nashville Technology Council report (Curtis, 2015). The Brookings Institution now ranks Nashville as the top metro area in the United States for tech employment growth (Muro, Kulkarni, & Hart, 2016).
"Vol State prides itself on being responsive to the workforce needs of our community," said president, Jerry Faulkner. "Every evening newscast and daily paper demonstrates that there is a demand for qualified technicians in the cyber defense field."
IT jobs have been in demand for some time, and increasing cybersecurity issues make cyber defense a lucrative career for people with the proper training. According to the Bureau of Labor Statistics (O*Net OnLine, n.d.), cyber defense analysts in Tennessee can make from $50,000 a year to $67,000 a year with a degree and $100,000 or more with a degree and certifications. The national median salary for Information Security Analysts is $90,120.
"Cyber defense impacts every person on the planet, from the home user with email and online banking to the corporate world and government agencies," said associate professor Teresa Moore. "This degree will provide students the opportunity to develop the skills and knowledge required to protect information and assets."
Vol State offers a comprehensive program that combines the foundation of the Computer Information Technology (CIT) degree program with specific cyber defense courses. It gives students the preparation they need to enter the workplace or expand their learning. The program is proving popular. Dozens of students signed up for the Cyber Defense degree concentration before it was even publicized. Courses in the concentration include Network Security, Digital Forensics and Penetration Testing, and Network Defense.
Recent Vol State CIT graduate John Deering is taking his education to the next level by transferring with a full scholarship to the well-respected cybersecurity program at Capitol Technology University in Maryland.
"In cyber defense you're looking for someone who is digging around where they're not supposed to be," said Deering. "You find them and you can go get them. If I can help protect people from having their lives turned upside down, that's something I want to do." Deering was voted Outstanding Vol State Graduate for fall 2015. "In this program you learn about real world situations. That is invaluable information to prepare you for what you will see. It's a real eye opener."
Cyber defense includes elements of computer detective work and relies heavily on problem solving. In the Vol State program, students learn how to fortify computer networks in order to prevent security breaches from cyber terrorists or other intruders. They also learn how to recover data using digital forensics techniques. It is hoped that students will develop strong critical thinking skills along the way. In addition to the theoretical education, there is a hands-on component to the coursework. Students in the Vol State program will work in a specially designed Cyber Lab with network virtualization and other relevant tools. The lab was funded by a workforce development grant from the Tennessee Governor's office.
"Currently, only 32 percent of Tennesseans have certificates or degrees beyond high school, and studies show that by 2025 that number must be 55 percent to meet workforce demands," Governor Bill Haslam said when announcing the grant in 2015. "We must have qualified Tennesseans to fill those positions, and these grants are going to have an immediate impact because these programs have high placement rates in fields that are looking to fill jobs now."
The Cyber Lab at Vol State may look like an ordinary computer lab, but the important part is the state-of-the-art hardware and servers behind the scenes. The lab is separated from the college network for safety reasons, and network virtualization allows instructors to design scenarios that older systems could not accomplish. The Cyber Lab also provides the platform for teaching data analysis, mobile application programming, and Voice Over Internet Protocol.
Aside from Cyber Defense, the Vol State CIT program has four other concentrations for the associate of applied science degree: Networking, Programming, System Analyst, and Systems Administration and Management. Vol State has been listening to employers to determine what specific skills students will need. That has led to several computer certification exam prep courses, including Security+, Network+, Mobility+, A+, Cisco CCENT, Cisco CCNA, and several Microsoft exams which can lead towards MCP, MCSA, and MCSE certifications.
"Certifications provide an employer or prospective employer proof of specific knowledge and skills," said Moore. "That's a real bonus for our students headed out into the workplace."
"When people apply for a job holding the right certifications, they will be heads above other candidates," said associate professor, Rob Morris.
"[Our CIT education]…has closed the gap between what colleges offer and what employers need," said assistant professor Samuel Said. "We will make students knowledgeable and give them the hands-on skills to help them excel in the workplace."
The certifications touch on another rapidly expanding field: mobile IT. Google says that wireless device searches now surpass PC-based searches.
"Wireless networks are leading the way in the evolution of technology and its role in delivering the fast answers, quick data, and smooth connectivity that the consumer is requiring," said Business and Technology dean, Patty Anderson. "Our Wireless Networks course helps students understand the deployment, integration, support, and management of a mobile environment while integrating proper security measures."
The Vol State CIT programs feature what is called a capstone course. It can be used by students to create an internship showcasing their skills at a local company, further strengthening Vol State's ties to the business community. Vol State students have access to all sorts of extra learning opportunities. For instance, in September 2015 students and faculty traveled to a hacking conference in Atlanta, where experts discussed the latest in cybersecurity.
"It really opens your eyes as to what you'll be facing in the real world," said student Robert Berard of Cottontown, who attended the conference. "It's an awesome world in computing. It's dynamic. There is always something changing."
That change means that Vol State faculty members and administrators are already looking into new CIT certifications, courses, and programs for the college.
"We will continue to evaluate and expand our programs to give our students the preparation they need to be the premier candidate in a job search," said Anderson.
Click here for more information on the Cyber Defense program at Vol State.
References
Carnevale, A., Smith, N., & Stohl, J. (2013). Recovery: Job growth and education requirements through 2020. Georgetown University: Washington DC. Retrieved from https://cew.georgetown.edu/wp-content/uploads/2014/11/Recovery2020.SR_.Web_.pdf
Cisco. (2015). Mitigating the cybersecurity skills shortage: Top insights and actions from Cisco Security Advisory Services. Retrieved from http://www.cisco.com/c/dam/en/us/products/collateral/security/cybersecurity-talent.pdf
Curtis, A. (2015, January 1). Technology employment spotlight: Nashville. Retrieved from https://technologycouncil.com/2015/01/2015-jobs-report/
Muro, M., Kulkarni, S., & Hart, D. (2016, August 4). America's advanced industries: New trends. Retrieved from https://www.brookings.edu/research/americas-advanced-industries-new-trends/
O*Net OnLine. (n.d.). Summary report for information security analysts. Retrieved from http://www.onetonline.org/link/summary/15-1122.00
Eric Melcher is Coordinator of Communications and Public Relations at Volunteer State Community College, Tennessee.
Opinions expressed in Innovation Showcase are those of the author(s) and do not necessarily reflect those of the League for Innovation in the Community College.