Leveraging Sinclair Community College's Unmanned Aerial Systems Capabilities as Part of a Natural Disaster Response
June
2020
Innovation Showcase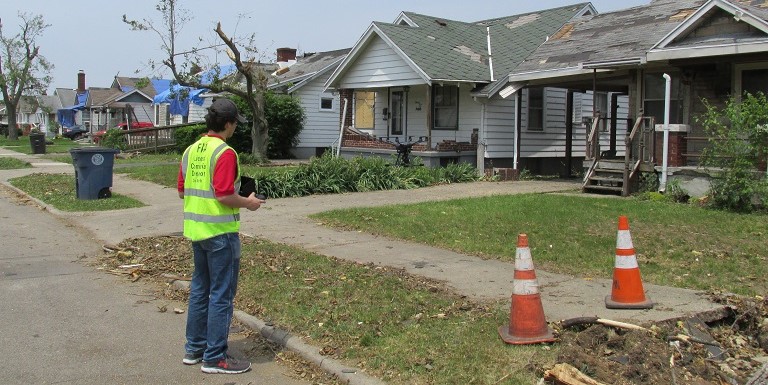 The Unmanned Aerial Systems (UAS) team at Sinclair Community College is dedicated to creating one of the most comprehensive and pioneering facilities in the nation for the advancement of the UAS industry. Since 2008, Sinclair has been at the forefront of UAS innovation, creating partnerships, developing leading curriculum, and investing significantly to establish a nationally prominent program dedicated to meeting workforce needs. The team members never dreamed they would be called upon to respond to one of the most devastating storms to ever to affect the Greater Miami Valley in southwest Ohio.
The college provides students and researchers the opportunity to work with new UAS technologies in an immersive and hands-on environment. Sinclair's primary National UAS Training and Certification Center facility offers 28,000 square feet of dedicated space, supporting applied research and development, modeling and simulation, data analytics, commercialization and technology transfer, and education and training. Efforts leverage vehicles and components through advanced unmanned and manned simulation, sensors, avionics, maintenance, engine test, advanced manufacturing and rapid prototyping, data analytics, and wind tunnel labs. Additionally, indoor flight training and testing are made possible in both the UAS Indoor Flight Range and the custom-built UAS Indoor Flying Pavilion. Sinclair actively operates UAS in the National Airspace System, originally solely through Certificates of Authorization, then leveraging Section 333 exemptions, and now nationally in operations enabled through the 14 CFR Part 107 regulations and various granted waivers. Notably, Sinclair has invested significant resources in the development and execution of live, virtual, constructive (LVC) simulation and traditional emergency and first responder concept of operations (ConOps) development and training initiatives across Montgomery County.
Regional Devastation
On the evening of May 27 and early morning of May 28, 2019, 19 tornadoes touched down throughout Ohio, affecting approximately 35 square miles on the ground. Several hit the densely populated areas of Dayton and other nearby communities (National Weather Service, 2019), causing catastrophic damage to thousands of buildings and trees. By May 30, the National Weather Service (NWS) had confirmed that 15 tornadoes had reached the surface in and around the Dayton area. The major impacts of the tornados in the county were reported as follows:
EF-4 (170 mph) maximum tornado strength, lasting 30 minutes (National Weather Service, 2019)
20-mile maximum single tornado path length, averaging 0.6-mile-wide (National Weather Service, 2019)
4,434 parcels affected, 5,699 structures damaged, and 1,177 structures destroyed (Bethel, 2019, June 25)
$46.3 million property value deduction (Bethel, 2019, November 18)
420+ reported injuries (Breaking News Staff, 2019)
The most significant tornado traveled through Brookville, Trotwood, Dayton, and Riverside (National Weather Service, 2019). According to the NWS, Montgomery County had never before experienced four confirmed tornadoes from the same weather event. 
             
Damaged and destroyed residential buildings following May 2019 tornados in Dayton, Ohio 
Launch of a senseFly eBee X UAS supporting damage assessment efforts following May 2019 tornados in Trotwood, Ohio
Sinclair Community College's Response
Sinclair has maintained a deep commitment to serving the Dayton Region since the institution's founding in 1887. President and CEO Steven Lee Johnson, through authorization granted by the Sinclair Board of Trustees, approved $750,000 to be used for disaster relief efforts. This funding enabled
Removal of downed trees and debris throughout the region leveraging Sinclair's maintenance equipment and vehicles;
Distribution of food boxes, personal hygiene bags, water, pet food, and other essentials; and
Deployment of UAS and data analysis capabilities provided by expert college personnel from Sinclair's National UAS Training and Certification Center.
The growing use of UAS enables emergency managers and first responders to quickly and safely gather information from dangerous and inaccessible locations, thereby improving response and recovery efforts following a disaster. Sinclair deployed flight teams across many of the affected areas of the Greater Miami Valley, often in zones with limited or no functioning communications, electricity, water, or other vital infrastructure, particularly in the days immediately following the storms. Large trees and debris were blocking hundreds of roads and driveways, which made it difficult for relief teams to conduct operations.
Sinclair's UAS teams provided invaluable insight by using UAS to collect video and imagery over and beyond obstructions, helping decision-makers, response teams, and volunteers to accomplish their work. The crews, which included Sinclair staff and student interns, were able to fly over affected areas to check the conditions of homes and businesses, which informed initial determinations of immediate need. The operations also helped Sinclair to develop and refine tactics for search and rescue and damage assessment missions, which will benefit future deployments; the real-world experience gained through the response is already being leveraged in credit and workforce training programs.
Sinclair shared raw data and processed information collected by UAS with partners, including the Ohio Department of Transportation, Ohio Emergency Management Agency, Montgomery County Engineer's Office, Montgomery County Soil and Water Conservation District, Montgomery County Sheriff's Office, Five Rivers Metroparks, and City of Dayton. Data and processed products included high-resolution still images and videos, orthomosaics/maps, and 3D models. These data and processed results were vital tools in the community's response to the unprecedented storms and widespread damage.
Looking Toward the Future
In 2017, the Binational Industrial Research and Development (BIRD) Foundation approved a three-year grant-funded project to Simlat, an Israeli simulation and training solutions company, and Sinclair Community College to develop and field a revolutionary solution for UAS search and rescue missions. The project harnesses autonomous flight capabilities, smart sensors, and advanced algorithms to enable UAS to perform search and rescue tasks with a greater likelihood of success and with lower risk to search and rescue teams. Notably, the developed payload enables both onboard and cloud processing of collected video and audio, and allows two-way audio communication with potential missing persons or those affected in a disaster scenario. The system, when it is fully developed, will be able to act autonomously and semi-autonomously; detect and accurately locate people at risk; ensure flight safety and suggest flight patterns suitable for high-risk environments; and include decision support tools and support compliance to all applicable regulations. The developed search and rescue solution will be more effective, efficient, and safe than current solutions.
The field experience gained by the response of Sinclair's UAS team to the May 2019 tornados has better informed the BIRD project, driving additional development and technological refinement to provide an improved tool for first responders. The project directly addresses points of public interest, including a requirement of the U.S. Department of Homeland Security related to development of UAS capabilities to support first responders, and has significant commercial potential. Once completed, the product and capability produced through the project will undoubtedly benefit operations as first responders meet the challenges of future search and rescue and disaster response missions.
References
Bethel, B. J. (2019, June 25). Latest: Tornado outbreak destroyed over 1,100 structures in Montgomery Co. 2 News WDTN. Retrieved from www.wdtn.com/news/local-news/latest-montgomery-co-outbreak-destroyed-1200-structures-damaged-5700
Bethel, B. J. (2019, November 18). Tornado outbreak costs Montgomery Co. $1.7 million in tax dollars. 2 News WDTN. www.wdtn.com/tornado-recovery/montgomery-county-details-impact-of-tornado-damage-to-properties
Breaking News Staff (2019, June 5). At least 420 storm-related injuries reported at Dayton-area hospitals from tornado outbreak. News Center 7 WHIO. Retrieved from www.whio.com/news/local/least-370-storm-related-injuries-reported-dayton-area-hospitals-from-tornado-outbreak/je0ZnWgBlF3OsTelttFu0H
National Weather Service. (2019). Tornado Outbreak - May 27-28, 2019. Retrieved from www.weather.gov/iln/20190527
Lead image: Assessment flight with a Yuneec Typhoon H UAS at damaged residential buildings following May 2019 tornados in Dayton, Ohio
Jeffrey A. Miller is Vice President, Administration, and Dr. Andrew D. Shepherd is Executive Director and Chief Scientist, Unmanned Aerial Systems, at Sinclair Community College in Dayton, Ohio.
Opinions expressed in Project Highlight are those of the author(s) and/or submitting college and do not necessarily reflect those of the League for Innovation in the Community College.