Cuyahoga Community College: Help Is Here
February
2020
Innovation Showcase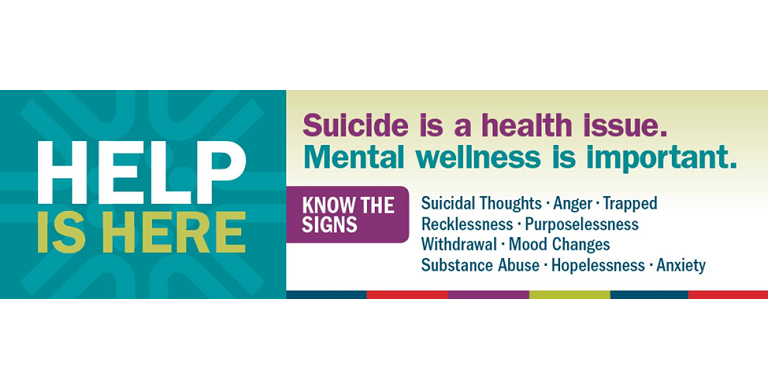 Community college faculty, staff, and administrators face many challenges as they work to support student success, and the mental health of students ranks high on the list of concerns. In fact, suicide is the second leading cause of death among 10- to 34-year-olds (Centers for Disease Control and Prevention, 2019) and the tenth leading cause of death across all age groups in the U.S. (National Institute of Mental Health, 2019). Colleges have a unique opportunity to support student success through targeted efforts to reduce the suicide rate.
House Bill 28 (Anielski, R-Walton Hills, OH), passed in 2015, requires all institutions of higher education (IHEs) in the state of Ohio to provide students and employees access to the following:
Crisis intervention services
Mental health counseling/programming
Multimedia addressing suicide, mental health, and wellness and treatment for addiction to substances/alcohol
Student communication plans
Postvention plans
This issue of Innovation Showcase describes the steps Cuyahoga Community College (Tri-C) took to comply with legislation and how the institution went beyond the legal requirements to create Help Is Here—a collegewide suicide prevention and mental wellness initiative.
Need for Behavioral Health Services
In today's social media and technology-driven world, navigating life can be challenging. Many individuals struggle to balance personal and professional expectations as they strive to achieve a successful life experience. Behavioral health concerns are a national issue, particularly on college campuses. According to a 2016 American College Health Association survey, 37 percent of students reported feeling so depressed within the last 12 months that it was difficult to function, and 21 percent felt overwhelming anxiety. While these numbers may seem alarming, it is likely the data is understated (e.g., accidental versus intentional overdose).
Alcohol and drug use among college students also warrants attention and resources on campuses across the country. Current statistics show that 22.2 percent of full-time college students in the U.S. report using illicit drugs and 39.2 percent engage in binge drinking (Lipari & Jean-Francois, 2016). College students' substance use can lead to additional negative consequences, including legal problems, physical assault, sexual assault, and death (National Institute on Alcohol Abuse and Alcoholism, 2019).
The counselors, faculty, and administrators at Tri-C have seen students struggling with issues such as food and/or housing insecurity, substance abuse, mental illness, and suicidal ideation, all of which impact their ability to be successful in college. One critical aspect of suicide prevention and treatment is to educate staff and students and provide valuable resources to those who need them. This begins by building awareness of the following:
Risk factors, warning signs, and symptoms
Effective communication approaches
Helpful campus and community resources, including 24-hour contacts
Tri-C's Response and Innovation
Tri-C assembled a task force immediately after the issuance of House Bill 28 to address and implement each of its sections. While Tri-C had been conducting suicide prevention workshops for college staff and students for nearly a decade, the committee worked diligently to ensure that all state-mandated services were up-to-date and active. The counseling faculty and IT team revised the suicide awareness and prevention resource web pages and renamed the section Help Is Here (HIH) to echo institutional efforts to improve access and completion. The Help Is Here web pages provide information for students, faculty, staff, and the community at large, including suicide risk factors, warning signs, and symptoms, as well as focused information for specific populations such as veterans, the LGBTQ+ community, and survivors of suicide.
While House Bill 28 provided the directive, Tri-C sought to move past the basic recommendations of the law to provide an array of services and resources across various modalities. The HIH team collected resources to address topics such as suicide prevention, depression, anxiety, wellness, veteran's issues, and drug use/abuse. Beyond these resources, Help Is Here provides mental wellness information to employees and students, including links to online self-assessments, overviews of common mental health diagnoses, resources to practice mental wellness (e.g., free apps for relaxation), and substance abuse information. The HIH team also created an online suicide awareness training program and offers face-to-face workshops throughout the year.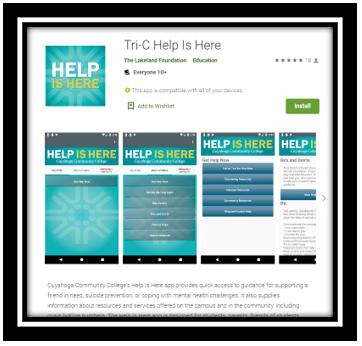 In addition to print, web, and video resources, the HIH team felt it was imperative to ensure that national and local resources were available to our college community 24/7. Tri-C counseling faculty, administration, and staff, in collaboration with Lakeland Community College and our Integrated Communications Department, developed the Help Is Here mobile app. The app contains information, resources, and direct links for suicide prevention, anxiety, drug and alcohol abuse, and other behavioral health needs that students and other users can access with the push of a button. Some examples of resources include local 24-hour crisis emergency numbers, links to health care and shelter, and national crisis/text lines.
In addition to the app, resource guides for both employees and students, modified with permission from Kent State University, include helpful campus and community resources and crisis contact information. The Employee Resource Guide includes examples of situations employees may encounter and how to address them. Also included is Tri-C's Employee Assistance Program for addressing personal needs and reporting concerns about students. For example, Tri-C counseling and English faculty created a written guide for navigating how to report distressed, disturbed, or threatening student writing. The Student Resource Guide has the same helpful resources and crisis contact information as the employee guide, but also includes healthy personal habits; how to help a friend, including what to say and not to say; facts about mental illness; and suicide warning signs.
Showcasing Help Is Here resources at new student convocation, new student orientation, Faculty Colloquium, Employee Campus Day, and in Tri-C's first-year experience course and other course syllabi increases the reach of our programs. This resource is embedded in every Blackboard course site for immediate and easy access by our students and faculty. Help Is Here is included in the Provost's and Campus Presidents' newsletters with consistent messaging throughout the academic year. Collegewide emails to students and employees are sent at least once every semester to highlight the available web, print, and app resources. Marketing materials are displayed on foam boards, posters, and flyers across all campuses. Staffed Help Is Here tables with initiative-branded tablecloths appear at various Tri-C events (e.g., faculty convocation and colloquium, counseling-sponsored mental health and wellness days, LGBTQ+ campus events). To ensure integrity and quality, the Help Is Here faculty committee reviews the materials and resources throughout the year and updates them as needed.
Faculty are also provided with a brief video outlining Help Is Here resources, which they are encouraged to play in class. The video is accompanied by three optional activities that help students navigate the website, mobile app, and student resource guide to get answers. The video and classroom activities are especially encouraged in Tri-C's first-year experience classes. The same video is used collegewide at New Student Convocation to show Tri-C's commitment to mental well-being for all students and to introduce new community members to the Help Is Here initiative.
Next Steps
While the Help Is Here website and mobile app are currently providing important resources and information to Tri-C students, there are several exciting next steps in the works. First, the HIH team will review the analytics surrounding which links are receiving the most clicks. With this knowledge, the team may be able to provide more on-ground services that coincide with data garnered from the app. Information in both the mobile app and website needs to be updated on a continuous basis with additional resources and links, more local resources, and new categories, such as eating disorder resources. The Help Is Here team would also like to partner with students to identify additional apps, websites, and other resources to help Tri-C students be successful.
The Help Is Here initiative was created to enhance awareness around mental health and suicide prevention. Our college community agrees that when we approach students holistically, their chances of success increase. Community college students are more than academic beings; they have personal and private lives that affect their academic performance. It is critical for us, as educators, to have mental health and personal health resources readily available to increase a student's potential for success. The HIH team hopes that by creating awareness and a safe environment, the Tri-C community can feel more comfortable talking and learning about mental health/wellness and suicide prevention.
References
American College Health Association. (2016). National College Health Assessment II, spring 2016 reference group executive summary. Retrieved from www.acha.org/documents/ncha/NCHA-II%20SPRING%202016%20US%20REFERENCE%20GROUP%20EXECUTIVE%20SUMMARY.pdf
Centers for Disease Control and Prevention. (2019). Preventing suicide. Retrieved from www.cdc.gov/violenceprevention/suicide/fastfact.html
Lipari, R. N., & Jean-Francois, B. A. (2016). Day in the life of college students aged 18 to 22: Substance use facts. Center for Behavioral Health Statistics and Quality. Retrieved from www.samhsa.gov/data/sites/default/files/report_2361/ShortReport-2361.pdf
National Institute of Mental Health. (2019). Suicide. Retrieved from www.nimh.nih.gov/health/statistics/suicide.shtml
National Institute on Alcohol Abuse and Alcoholism. (2019). Fall semester: A time for parents to discuss the risks of college drinking (NIH Publication No. 16-5640). Retrieved from www.niaaa.nih.gov/sites/default/files/publications/NIAAA_BacktoCollege_Fact_sheet.pdf
Substance Abuse and Mental Health Services Administration. (2019). Behavioral health among college students information & resource kit. Retrieved from store.samhsa.gov/system/files/sma19-5052.pdf
The authors' positions at Cuyahoga Community College in Cleveland, Ohio, are as follows: Kevin Berg and Kellee Ellis, Assistant Professors, Counseling; Courtney Clarke, Associate Dean, Social Sciences; Brittany Hanek, Manager, Interactive Marketing; Kathleen Heinlen, Associate Professor, Counseling; Robert Johnson, Professor, Counseling; Katie Khoury and Katie Ramunni, Project Manager/Writer; Kevin Kuntz, Associate Professor, Counseling; David Nardecchia, Assistant Professor, Counseling; Michelle Nicopolis, Professor, Psychology; Ann Proudfit, Dean, Access and Completion; Michelle Thomas, Coordinator, Interactive Marketing.
Opinions expressed in Innovation Showcase are those of the author(s) and do not necessarily reflect those of the League for Innovation in the Community College.