Aspiring Chefs Get a Taste of Restaurant Life at Norwalk Community College
May
2019
Innovation Showcase
Culinary Arts and Hospitality Management students at Norwalk Community College (NCC) often make meals for college meetings and VIP guests. Now, they're dishing them up for paying customers, too.
The college recently launched a Café Dining "restaurant" that is open to the public for lunch on Thursdays during the spring semester. The program is designed to give students work experience in all phases of running a restaurant or food-service operation—from setting pricing to preparing entrees to serving as waiters and managers.
Café Dining at NCC features a la carte ordering and sit-down service. Despite the academic location, the mood is upscale dining, with blue tablecloths, cloth napkins, and fresh flowers.   
"Two years ago, when we were expanding our Culinary Arts program from only a certificate to also an associate degree, it was decided that we needed more classes, especially an a la carte style class that students need to advance in the field," said professor and chef Jeff Trombetta. The Café Dining program has become both an extension of the academic class and a revenue generator for the college. Meals paid by credit card are processed through the NCC Foundation, a nonprofit organization, with proceeds benefitting a Culinary Fund to further support the academic program. Cash sales go back into the program's operating budget.
During a recent Café Dining luncheon, most of the 65 seats in the Culinary Arts dining room were filled. In true bistro style, the menu was hand-written on a chalkboard and perched outside the dining room to attract walk-ins. Student waiters took orders while student chefs cooked meals in the adjacent kitchen. Professor Trombetta, dressed in kitchen whites and a chef's toque, was circling between the diners ("How's your meal?") and the students behind the scenes.
"We price our food to be about 60 percent food cost. The excess revenue covers incidental costs incurred with the operation. This means the price is about half of what a restaurant charges," Trombetta said. "Students learn about pricing when we plan the menu." 
Menu entrees range from $3-10; beverages are $1-2. Choices include steamed salmon with boiled potatoes, New England clam chowder, fried chicken on a baguette, goat cheese and fresh tomato pizza, penne primavera, beef tips with mushrooms and pepper stir-fry, and mixed green salads with protein add-on choices. Beverage options include espresso, cappuccino, Pellegrino, and juices. The homemade desserts are best sellers and the lunch menu includes gluten-free and vegan options.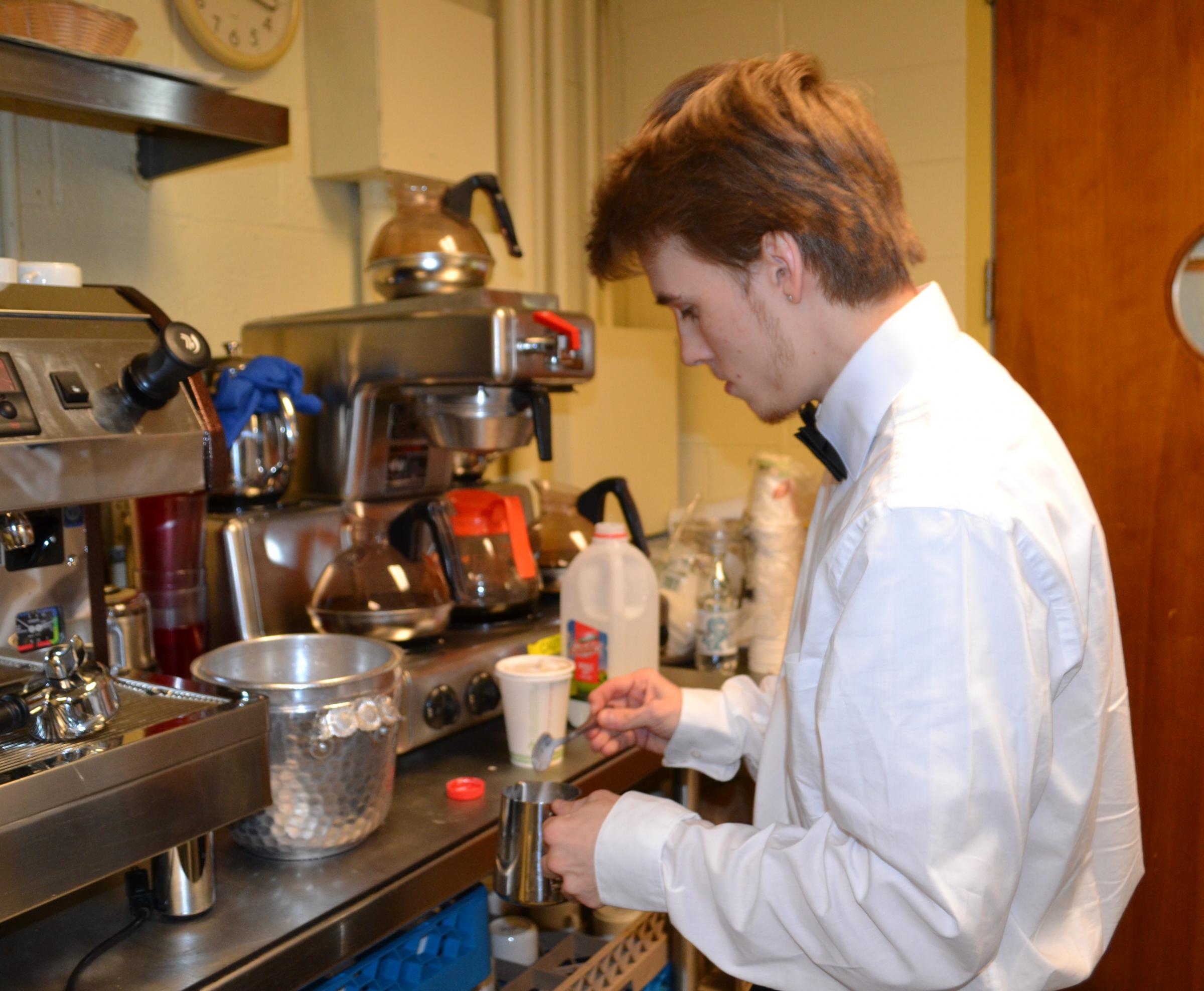 Culinary major Jon Albrecht was recently in the kitchen tending the coffee station. While frothing milk for a cappuccino, he said, "I'm taking a Service Management class and learning all the finite details about how to professionally serve [customers]. We rotate throughout the jobs. I love the whole culinary program in general. This is what I want to do!"
"One spinach salad, one pizza!" yelled a student in charge of announcing food orders. "Let's go!" As each order was announced, classmates cooked or put the finishing touches on their assigned item.
At the soup station, student Elizabeth Louis was stirring a simmering pot of clam chowder. "It has to thicken a little more," she said. "Doing Café Dining feels like we're working in a real restaurant. I hope we get more customers." Classmate student Susan Murphy, who was composing spinach salads nearby, said, "Haven't you seen the dining room? It's packed!"
Approximately 30 students participate in the Café Dining program, both in the back and front of the house. They've learned that paying customers can be demanding (all those requests for substitutions) and that making change and handling charge card transactions is not exactly a piece of cake. "This is the closest practical school-work experience that will prepare them for a job in this field," Professor Trombetta said. "This gives them confidence and the ability to get a job."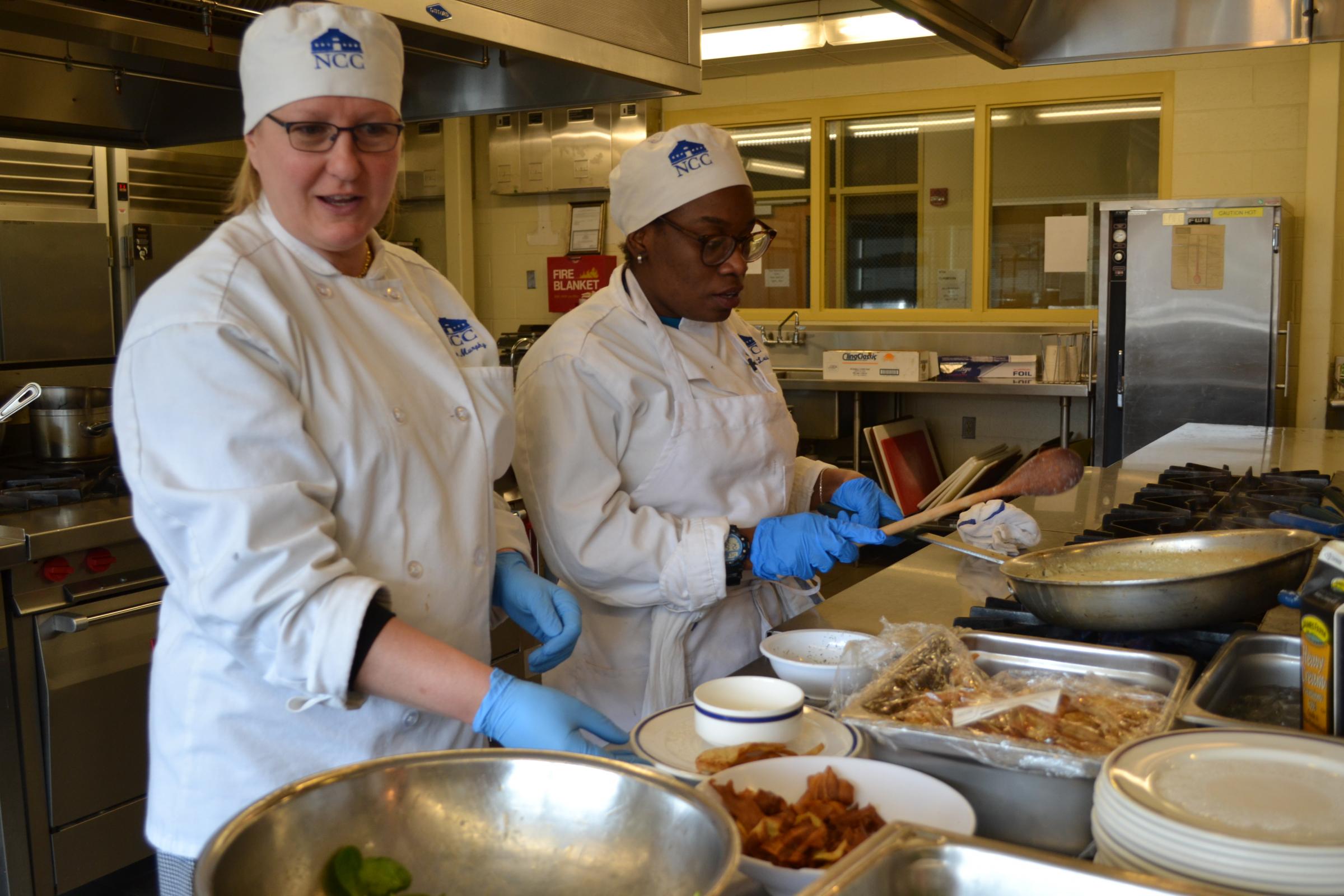 Many other NCC academic programs also incorporate work experience into the curriculum. NCC has formed a partnership with the ONS Foundation for Clinical Research and Education that enables students to study human cadavers under the supervision of neurosurgeons.  NCC's nursing students do rotations in area hospitals and clinics. And students in the Veterinary Technology degree program gain work experience at animal hospitals, spay and neuter clinics, and veterinary practices. The college also has a Live Animal Laboratory where students practice noninvasive procedures on pets brought in by staff and faculty. 
But gaining work experience in the college's kitchen is by far the most delicious, the students say. NCC is one of four community colleges in Connecticut offering culinary and hospitality management programs. These subjects are also taught at Manchester Community College, Naugatuck Community College, and Gateway Community College. However, according to Trombetta, "We are unique. I think we are the only [program] to do a la carte pricing and a menu you order from."
NCC hopes to slowly expand the Café Dining program to be open multiple days and/or nights of the week. Regular customers have asked for take-out options and an expanded menu. Susan Murphy said she was learning a lot doing Café Dining. "I love this! We cook all the time, but for this we are actually preparing for people who are paying. This experience is more like working in a real restaurant."
Madeline Barillo is Director of Marketing and Public Relations at Norwalk Community College in Norwalk, Connecticut.
Opinions expressed in Innovation Showcase are those of the author(s) and do not necessarily reflect those of the League for Innovation in the Community College.