Achieving Collegiate Excellence and Success With Pathways and Partnerships
July
2018
Innovation Showcase
Higher education practitioners have long examined the challenges underrepresented student populations face within the postsecondary system. The factors that contribute to this problem are multifaceted and vary to some degree, but they are recognizable. For example, many underrepresented students begin their college careers academically unprepared, working full-time jobs to support families, and struggling with undiagnosed learning disabilities. The disparities are similar across some ethnic and racial underrepresented groups, but there are distinctions. Specifically, it is widely documented that Blacks, Latinos, Native Americans, and several Asian American subgroups underperform relative to their White American counterparts (Aud et al., 2010). In addition, the rates of transfer to four-year institutions for Black, Latino, low-income, and first-generation community college students are significantly lower than the general population (Bailey, Jenkins, & Leinbach, 2005).
The Maryland Higher Education Commission (2015) released a report noting that of the 238,564 White, Latino, and Black students who enrolled as undergraduate students in 2015, 55 percent identified as White, 34 percent as Latino, and 11 percent as Black. The disproportionate numbers increase for students who began at a community college and successfully transferred in two years, with nearly 70 percent of those transfer students identifying as White, 23 percent as Latino, and 7 percent as Black (Maryland Higher Education Commission, 2015). Numbers remain relatively consistent for both associate's and bachelor's degrees awarded, with approximately 65 percent of White students awarded a degree in 2015, but only 26 percent of Latinos and 8.5 percent of Black students awarded a degree in the same year (Maryland Higher Education Commission, 2015). These disparities cry out for immediate, sustained, and profound attention.
As student enrollment continues to increase in community colleges across the country, so does the need for academic advisement, resources, and career support (Ma & Baum, 2016). While navigating the complex process of enrolling in and attending college, students may become lost and confused without the consistent and direct support services found in a guided pathway program. Additionally, failure to connect with others on campus, including peers, student organizations, faculty, and/or staff, contributes to voluntary withdrawal more than almost any other factor (Brittenham et al., 2003). This is particularly true for students of color and low-income students, who tend to arrive at college less academically prepared than their counterparts, socially immature, and lacking financial resources; these students may, ultimately, be harmed by the confusing environment and its inefficiencies (Bailey, Jaggers, & Jenkins 2015). Pathway programs between community colleges and four-year institutions help to eliminate confusion and ambiguity, thus assisting students' transition from one educational system to the next.
According to a report on the first year of guided pathways implementation by the Community College Research Center's (CCRC), participating colleges are overcoming challenges and finding innovative ways of adapting guided pathways principles to their schools and to the circumstances of their students (Jenkins, Lahr, & Fink, 2017). Fundamental efforts include simplifying pathways to program completion, career development, and further education attainment as well as creating opportunities for students to explore college and career options, choose a program of study, make steady advancement on their academic plans, and build vital skills.
Achieving Collegiate Excellence and Success Program
Montgomery County's response to help close achievement gaps is the Achieving Collegiate Excellence and Success (ACES) program. ACES is a collaborative pathway program from Montgomery County Public Schools (MCPS) to Montgomery College, and eventually to the Universities at Shady Grove (USG)—a consortium of nine Maryland public universities on one campus in Montgomery County. ACES provides students who typically face barriers to higher education with access to an affordable, seamless pathway to a bachelor's degree, offering individualized, student-centered support every step of the way. ACES provides front-line service and macro-level policy work to promote equity in the lives of nearly 3,000 (and counting) high school and college students in Montgomery County. ACES specifically targets students who are first-generation, low-income, underrepresented, wards of the state, English language learners, and who have an IEP or 504 plan. Furthermore, ACES provides academic coaching, individualized academic and student support, and interventions to aid in increasing college enrollment and completion, especially among underrepresented student groups.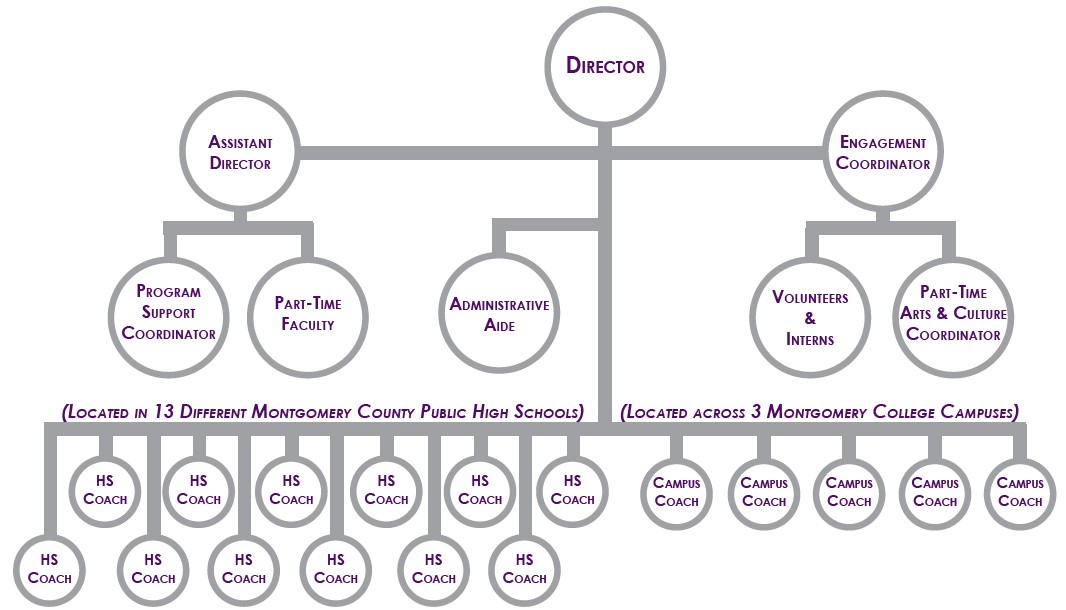 The ACES program began in 2013 with a director, 10 high school academic coaches, and one administrative support staff member. The program now has academic coaches at 13 high schools, all three Montgomery College campuses (Takoma Park, Rockville, and Germantown), and USG. The administrative team consists of a director, assistant director, community engagement coordinator, two administrative support staff members, and a part-time arts and culture coordinator. The program currently serves approximately 120 students at each high school, 785 students at Montgomery College, and 41 students at USG.
ACES provides students with personalized advisement and a wide array of programming to help ensure they are well equipped for their postsecondary plans and beyond. This includes monthly academic success workshops, one-on-one academic planning, career inventories, college trips, math and English remediation courses, and job shadowing opportunities. In addition, a series of summer programs is offered every year:
Mission Possible (college preparation) - summer before 11th grade
Why Not Me (career exploration) - summer before 12th grade
Make Your Move (high school to college transition) - summer before entering Montgomery College as a first-year student
Built around a one-stop case management model for student services and academic support, ACES fosters a holistic approach to help students matriculate to, persist through, and graduate from college. ACES academic coaches are available at each pathway partner institution to provide one-on-one intrusive support in academic planning, career exploration, leadership development, social skill building, financial aid and scholarship guidance, as well as overall mentorship.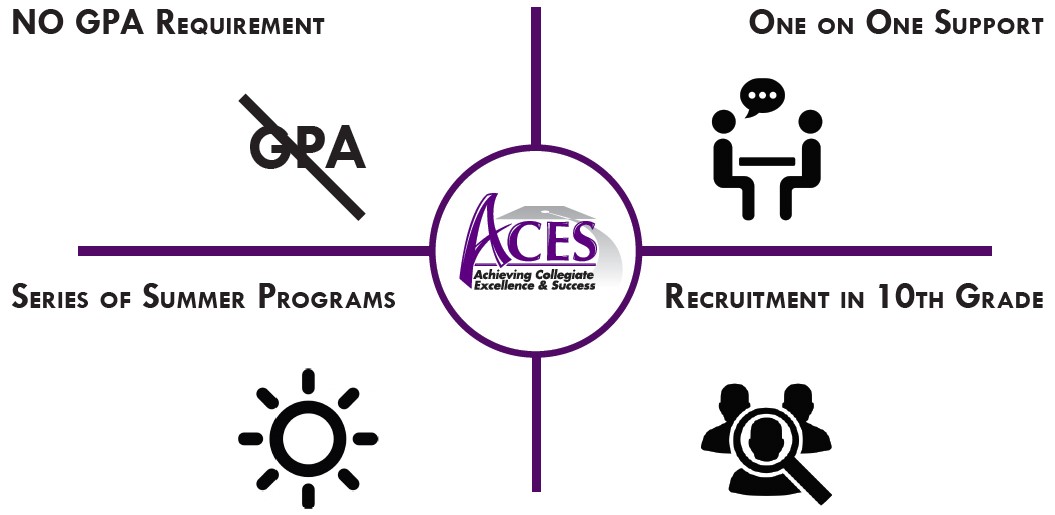 Recent data indicate that ACES experienced success in its first three years. The average GPA for Montgomery College ACES students is 2.41 compared to 2.19 for non-ACES students. In addition, fall to fall retention for ACES students over the past three years is 82.6 percent compared to 64.2 percent for non-ACES students. However, the program had to overcome some early challenges and addressing those that were an immediate barrier to student success were of utmost importance. Through research and collaboration with stakeholders, the program took a nuanced approach to addressing the two challenges that posed the biggest threat to student success: academic preparation and career exposure.
Academic Preparation
Prior to entering Montgomery College, students must take the ACCUPLACER placement exam unless they meet specific exclusion criteria. Students who score below college level must take one or more developmental courses before qualifying for college-level courses. According to recent data, 89 percent of ACES students enter the college requiring some form of remediation. This signifies that students will take longer to complete their degree program and meet transfer criteria, and will have limited access to college-level classes. In addition, these students may not have financial support for developmental courses, as many do not meet federal financial aid standards.
While investigating this issue, Academic Coaches at the high school sites learned that some students did not understand the purpose of the ACCUPLACER test and its importance to their successful matriculation into the college. Many students considered it a basic requirement for admission and, as a result, did not test well. ACES coaches addressed this problem early on by emphasizing to students the importance of the exam and the long-term impact of their scores on their degree program. Through the partnership with the public school system, ACES has been able to provide students with access to ACCUPLACER in the fall term of their senior year of high school. This early exposure familiarizes students with the format and content. Furthermore, academic coaches can assess students' areas of weakness and provide appropriate resources and interventions.
In addition to early exam exposure, students have the opportunity complete an ACES math or English Fast Track course during the Make your Move summer program. The Fast Track courses are accelerated and faculty-led with the intent to help students place at the college level. Upon completion of the course, many students retest into college-level courses or test into developmental courses covered by financial aid.
Career Exposure
Initially, the ACES program focused on academic support and interventions. However, as students continued to matriculate through the pathway, it became apparent they were also in need of real-world job experience and skill development. While the mission of the program is to provide a seamless pathway to a baccalaureate degree, it is equally important that students have the skills required to enter the workforce upon graduation.
In 2015, ACES received $500,000 from the HESS Corporation to develop a career exposure program—Career Experience Opportunities (CEO)—for a group of 100 ACES students. Enrolled students work with a career coach from their senior year in high school through the completion of their baccalaureate degree and have exclusive access to internships, job shadowing opportunities, and workshops that teach 21st century job skills. Recent data show students in the CEO program performing academically better than other students in the ACES Program: 57 percent of CEO students earn a grade point average of at least 3.0 compared to 29 percent of their ACES counterparts, and CEO students earn 59 percent of credits attempted compared to 53 percent for ACES students (Edgar, 2017). As a result, every student in the ACES program will have access to the CEO program beginning in fall 2018.
While the program may still face some challenges, it has made significant strides in addressing student academic achievement. The complexities of each educational institution require innovative thinking and action to provide the support students need to get to the finish line. Montgomery College's ACES program has the support of executive leadership, the community, and, most importantly, its students. As the program grows, so will knowledge of how to address achievement gaps. In the near future, the program seeks to expand its reach to more students as well as add more partners to enrich the experience of each stakeholder in the pathway. Pathway programs like ACES are becoming the new norm to address student success. As the conversation and energy grow around this method of supporting students, we predict an increase in student success.
References
Aud, S., Hussar, W., Planty, M., Snyder, T., Bianco, K., Fox, M., . . . & Drake, L. (2010). The Condition of Education 2010 (NCES 2010-028). National Center for Education Statistics, Institute of Education Sciences, U.S. Department of Education. Retrieved from nces.ed.gov/pubs2010/2010028.pdf
Bailey, T. R., Jenkins, D., & Leinbach, T. (2005). What we know about community college low-income and minority student outcomes: Descriptive statistics from national surveys. New York: Community College Research Center, Teachers College, Columbia University. Retrieved from ccrc.tc.columbia.edu/publications/low-income-minority-student-outcomes.html
Brittenham, R., Cook, R., Hall, J. B., Moore-Whitesell, P., Ruhl-Smith, C., Shafii-Mousavi, M., & White, K. (2003). Connections: An integrated community of learners. Journal of Developmental Education, 27(1), 18-25.
Edgar, J. (2017). Career experience opportunities (1st ed, vol 1, ser. 1, pp. 1-25, rep no. 1). Rockville, MD: Universities at Shady Grove.
Jenkins, D., Lahr, H., & Fink, J. (2017). Implementing guided pathways: Early insights from the AACC pathways colleges. New York: Community College Research Center, Teachers College, Columbia University. Retrieved from. ccrc.tc.columbia.edu/media/k2/attachments/implementing-guided-pathways-aacc.pdf
Ma, J., & Baum, S. (2016). Trends in community colleges: Enrollment, prices, student completion. New York, NY: The College Board. 
Maryland Higher Education Commission. (2015). Performance accountability report Maryland public colleges and universities. Retrieved from www.mhec.state.md.us/publications/Documents/Research/AnnualReports/2015PerfAcctRepVolume%201MSAR_709.pdf
Sampson, J. P., Hooley, T., & Marriot, J. (2011). Fostering college and career readiness: How career development activities in schools impact on graduation rates and students' life success. Derby: International Centre for Guidance Studies, University of Derby. Retrieved from hdl.handle.net/10545/196698
Shulock, N., & Moore, C. (2005). Diminished access to the baccalaureate for low-income and minority students in California: The impact of budget and capacity constraints on the transfer function. Educational Policy, 19(2), 418–442.
Damien Robinson is the ACES Program Assistant Director and Andres Maldonado and Andrea Rodriguez are ACES Academic Coaches at Montgomery College in Takoma Park, Maryland.
Opinions expressed in Innovation Showcase are those of the author(s) and do not necessarily reflect those of the League for Innovation in the Community College.