San Diego Miramar College: Revamped Academic Success Center Leads the Way to Greater Student Success
August
2018
Member Spotlight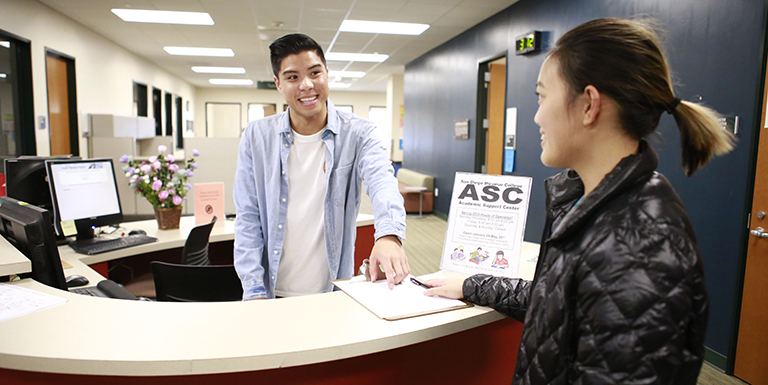 San Diego Miramar College is literally tearing down walls for student success. In October of 2017, a construction crew took a hammer to the plaster walls separating the college's student computing lab—the Independent Learning Center (ILC)—from its tutoring center. The end result is a more encompassing Academic Success Center (ASC) dedicated to student success.
"We knocked down the wall so that we could have a continuation of services," said Donnie Tran, ASC faculty coordinator.
Students can now move more freely between the Independent Learning Center and the area that was formerly known as The PLACe, or Personal Learning Assistance Center. But more than anything, this should be seen as a collaboration of services among Academic Support and Student Services to expand resources to address student needs.
The renovated area is now equipped with seven study rooms, dozens of computers in the ILC, and more tutors than ever before. "The ASC makeover isn't about just remodeling a building," said Tran. "It is more about expanding resources available to students."
In addition to facilities changes, Miramar College has hired more tutors, especially Supplemental Instruction tutors (SIs) focused on providing tutoring for individual programs. A year ago, the college's tutoring services employed just four SIs; this year, the Academic Success Center has close to 100 tutors, with nearly 30 percent designated as SIs. "The addition of the SIs is big for us," says Tran.
These are experts from a number of different subjects and they work closely with our students to provide tutoring services in almost all disciplines. For example, we recently hired an SI for our Emergency Medical Technician students . . . and the students seem to be more engaged in their coursework.
A reorganization this summer added the English Center, Math Lab, ILC, and The PLACe under the ASC's umbrella of services. Austin Adzima, a third-year Miramar College student studying engineering, spends two days a week in the ASC working on his pre-calculus assignments. "I struggle with math and I am an engineering major, so I am trying not to let the math get in the way of getting a degree," said Adzima. "I have seen a marked improvement in my grades since I started coming here. I get to work with the same tutor each time and I feel like I am more prepared for class."
The English Center utilizes graduate students from nearby universities to serve as tutors. Students may come and receive tutoring, provided by an English or ESOL faculty member, graduate student, or peer tutor, without an appointment. As a result of the renovation, the English Center can now access the ASC's conference and training rooms to hold weekly workshops. Before the renovation, the center only had use of one study room in the ILC. The English Center also provides counselors to ESOL students. These counselors were able to move out of the study suite and into one of the offices at the ASC.
The ASC is working in collaboration with the Career Center and Outreach to provide additional services to students. Using space within the ASC, the Career Center is hosting monthly Coffee Chats where students can meet with potential employers in a more relaxed setting and practice their soft skills. Outreach peer mentors meet with students in study rooms at the ASC to check on their progress and offer guidance throughout the semester. Another perk provided by the ASC includes space to accommodate adjunct faculty office hours.
While it is too early to measure the overall success of the new ASC, early data show that for the spring 2018 semester, 977 students used 8,183 hours of services. The top five subjects tutored are math, biology, chemistry, English and history.
Steve Quis is a Public Information Officer at San Diego Miramar College in San Diego, California.
Opinions expressed in Member Spotlight are those of the author(s) and do not necessarily reflect those of the League for Innovation in the Community College.