Cuyahoga Community College: Faculty Showcases Highlight Innovative Work to Board of Trustees
September
2023
Member Spotlight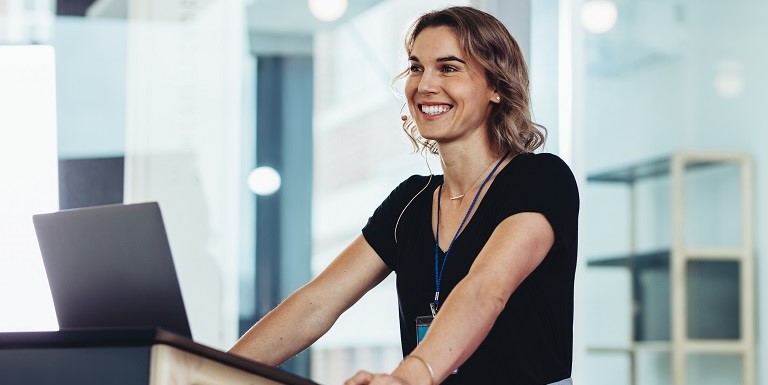 Community colleges serve their local communities by providing quality, affordable, and accessible education, transfer opportunities, workforce training, and career credentials for the benefit of all those who live and work in the region. To ensure that they provide the education and training needed by businesses, governments, and individuals in their local areas, community colleges must build strong partnerships with local employers, civic leaders, P-12 educational institutions, potential donors, chambers of commerce, and other entities that promote individual and community growth. Very often, these connections are strengthened when community leaders serve as trustees on community college boards.
At Cuyahoga Community College (Tri-C), there is a long history of individuals from outside of the higher education sphere dedicated to Tri-C's mission of improving the overall quality of life for Northeast Ohio. Many community representatives lend their time, talent, and expertise to the institution by serving as a member of the board of trustees. Three of Tri-C's nine trustees are appointed by Ohio's governor, with the remaining six appointed by the Cuyahoga County Executive. In addition to service on the full board, each member sits on one or more of Tri-C's board subcommittees. These trustees bring their external experience to each decision they make about the financial, strategic, academic, workforce, and community relations directions of the institution.
As Tri-C's Provost and Executive Vice President, Dr. Karen Miller serves as the administrative lead for the board's access, learning, and success (AL&C) committee, working with the Committee Chair Trustee to plan and approve each meeting's agenda. The committee's work includes reviewing and recommending approval for curriculum changes and providing initial review and approval for faculty processes, including tenure, advancement in rank, professional improvement leaves, and emeritus decisions. While trustees may be leaders in business and civic communities, they are often less familiar with issues applicable to academics in community colleges, such as pedagogy, curriculum development, student success and completion, and accreditation. To ensure that AL&S committee trustees can make an informed decision about each formal resolution presented, Miller and her team provide them with the background needed to understand these topics.
Ensuring that trustees are well-informed about the academic issues the institution faces, however, is generally not enough for them to fully comprehend the day-to-day work of both faculty and students in the classroom. For instance, Tri-C faculty have created innovative and highly effective programs and initiatives that focus on matters such as increasing student engagement, helping students succeed inside and outside of the classroom, and increasing the level of teaching for all faculty at the college. To help trustees connect with these efforts and advance their understanding of the student journey, Tri-C academic executives created a Faculty Showcase series for presentation at AL&S committee meetings.
"It is important for our trustees to learn about all the great work our faculty do with students that helps them succeed both in the classroom and beyond," said Miller. "I want the trustees on the AL&S committee to understand how our faculty put students first and are always learning more about teaching and their discipline and creating new ways to support students academically and with other student needs." Dr. Lindsay English, Associate Provost, noted that there are benefits for faculty presenters as well: "Faculty are eager to show our trustees their work and to know that faculty work is valued and understood by those helping make strategic decisions for the college."

Professor Brian Hall, Kara DePaul, and Professor Lindsay Milam podcasting the first
Creating a Disruption episode from Metro Campus Studio 101
During 2022-2023, faculty presented directly to trustees at the AL&S committee meetings that took place during the academic year. Topics ranged from academic technology to applying math concepts in the real world.
The use of technology in the classroom is something with which trustees may not be familiar. Dr. Michele Hampton, Professor of Business Administration, presented at the November 2022 AL&S committee meeting on adaptive learning systems. He explained how faculty modify course content based on an individual student's performance data to create a personalized learning pathway. This presentation also helped trustees understand how this type of technology supports Tri-C's commitment to equity and inclusion, as courses using adaptive learning saw the grades of students of color increase by half a letter grade after introducing this technology.
In March 2023, Dr. Derrick Williams, Professor of Communication Studies, presented "Sojourning Songs: Students, Stories & Speech." Williams encourages students to reflect on their own personal stories and journeys as they move through their coursework. He uses spoken word activities, writing assignments, or other means of expressive communications to connect students to their own academic journeys through personal reflection. He also connects this work with civil rights and diversity topics, such as incorporating active student participation into his introductory communications courses by focusing on the 1963 Birmingham Children's Crusade.
Many community college trustees are not aware of the challenges students face in math, so Tri-C asked Erin Susick, Assistant Professor of Mathematics, to visit the committee in May 2023 to present on her unique teaching strategy of combining math with real-life applications. Susick's statistics students learn math concepts by applying them to baseball statistics. Her students follow the Cleveland Guardians season, which makes statistics more applied and approachable, and less intimidating. The course wraps up with her students attending a Cleveland Guardians game to see statistics at work in a professional baseball game.
Artificial intelligence (AI) is making headlines in numerous industries, including higher education, so it is only natural that community college trustees should be kept up to date on the latest issues, concerns, and benefits. In June 2023, Jason Mullin, Assistant Professor of English, presented "Responding to the AI Moment: A Collaborative Approach." The presentation showed trustees the power of AI and introduced AI tools, from software that can create text for students and faculty to programs designed to detect AI-generated text in papers and homework. Mullin encouraged the college to work with faculty and administration in navigating this new technology, especially as policies and procedures are developed and will subsequently be approved by the board.
Trustees also need to understand the importance of professional development work around pedagogy, discipline specific studies, and inclusivity and equity. Brian Hall, Associate Professor of English, spoke to the trustees about his podcast Creating a Disruption, which highlights faculty projects and opportunities and allows these initiatives to connect with students, colleagues, staff, and the community. Hall created this program in partnership with Kara DePaul, Director of Academic Professional Development, who also serves as a Tri-C adjunct faculty member. In fact, one of the faculty members highlighted in the series was Professor Susick and her use of baseball in statistics. Trustees were encouraged to listen to some of the first season's podcasts, which can be found on all streaming services and on Tri-C's website here.
Trustees on the AL&S committee have been impressed by the faculty's innovative work, and appreciated the opportunity to meet faculty in person to hear first-hand stories about their work and what it means to our students and community. Miller thinks the Faculty Showcases have also deepened the connection trustees have with the daily work of educating students. "The trustees on the AL&S committee have appreciated these faculty presentations and have felt that they are more closely aware of how our faculty teach and support students and each other every single day," she stated. "This deepens our trustees' engagement with the college and can support deeper community partnerships now and into Tri-C's future."
Karen Miller is Provost and Executive Vice President at Cuyahoga Community College in Cleveland, Ohio.
Opinions expressed in Member Spotlight are those of the author(s) and do not necessarily reflect those of the League for Innovation in the Community College.