Aims Community College: Future Farmers Learn About Agriculture
June
2018
Member Spotlight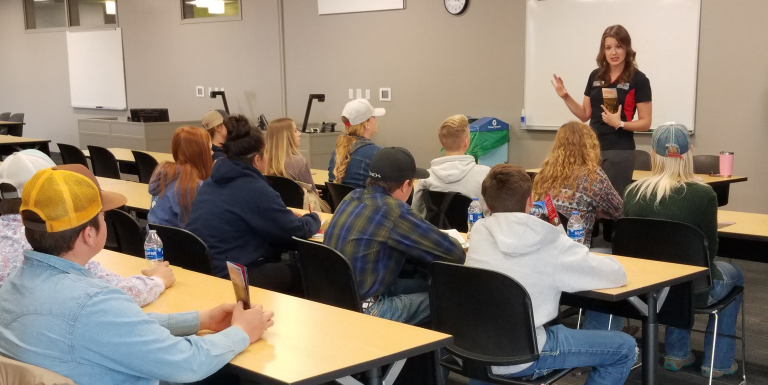 Students and community members were invited to the Aims Community College Fort Lupton campus to celebrate National Agriculture Day and participate in the Future Farmers of America (FFA) career development event in March 2018.
Guests who attended the National Ag Day event saw baby chicks hatch; rode on the Precision Agriculture Mobile Educational Technology Unit (a John Deere gator equipped with auto-steer and GPS technologies); learned about dairy farming from June the Cow, an animatronic full-sized fiberglass Holstein that was provided by the Western Dairy Association; and interacted with the West Greeley Conservation riparian trailer.

June the Cow, provided by the Western Dairy Association
"It was wonderful to share what Aims has to offer at our Fort Lupton campus with the community and the Future Farmers of America, while celebrating National Agriculture Day," said Aims CEO and President Dr. Leah L. Bornstein. "I hope these events encourage the community to consider coming to Aims for the technology, support, and quality education they'll find here."
Aims Agricultural Sciences and Technology program chair and instructor Amy McFarland said students were able to participate hands-on, showing potential students and the community what they could experience at Aims. "Current students who are a part of the agriculture programs at Aims helped to organize the event, gave tours, and were able to interact with potential students and the public," she noted. "Events like Ag Day allow us to open our doors and show off exactly what we have to offer. We have many phenomenal students in our program who helped pull off such successful events!"
Aims also partnered with Weld Central High School to host a career development event for FFA later that week. Approximately 350 students from across the state came to participate in activities that covered job skills in communications, mechanics, and more.
"The partnership with the Future Farmers of America gave us a great opportunity to invite hundreds of FFA members to our Fort Lupton campus," said McFarland. "These are students who are pursuing careers in agriculture, and it gives Aims the chance to show them what we can offer to kick-start their career paths. Students are able to use our facilities and equipment as a preview of what they would see as students at Aims."
McFarland added that many people don't realize that Aims offers degrees and certificates in agriculture. "At Aims, we have six degrees with transferability through articulation agreements with Colorado State University," she said. "We also offer numerous certificate programs, including the only Precision Agriculture certificate in the state of Colorado."
The agriculture program is based at the Fort Lupton campus, where students can learn on the most up-to-date equipment and technology. Located one and a half miles east of downtown Fort Lupton, the campus is comprised of two state-of-the-art buildings. In addition to agriculture, students can also choose from Welding Technology, Nurse Aide, and associate of arts programs. Students can fine-tune their professional skills, take general education classes before transferring to a university, or earn a certificate to enter the job market right away.
Click here for more information about the Aims Agricultural Sciences and Technology program and our Fort Lupton campus. Click here to view a video of the Ag Day event. A video of the FFA event can be viewed here.
Top photo caption: Aims Agricultural Sciences and Technology Chair and Instructor Amy McFarland talks with high school students at Ag Day in Fort Lupton.
Opinions expressed in Member Spotlight are those of the author(s) and do not necessarily reflect those of the League for Innovation in the Community College.