Aims Community College: College 101
September
2018
Member Spotlight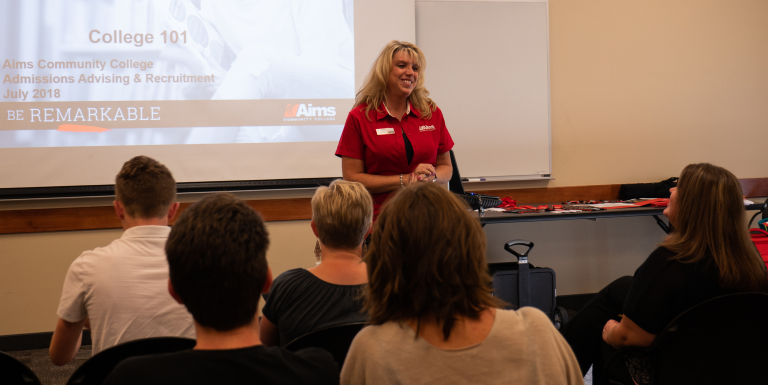 Only 25.9 percent of individuals residing in Aims Community College's taxing district in Northern Colorado have earned a college degree or credential. In order to assist parents, families, and prospective students who are interested in college, but have no experience with the application process, Aims Community College hosts College 101 for anyone who would like to learn more about going to college. The free one-hour session is held at various locations, including the college campuses, local libraries, and community outreach centers. Dinner is provided.
At College 101, attendees learn about types of colleges, things to consider when exploring colleges, and common acronyms. The majority of the presentation is dedicated to community college benefits and offerings as well as an overview of financial aid, including types of financial aid: grants, loans, work-study, and scholarships available through the college, college foundation, and local agencies. Time is spent explaining the Free Application for Federal Student Aid (FAFSA).
"In our community, we have many potential first-generation college students," says Jody Margheim, Executive Director of Admissions Advising and Recruitment. She continues:
Hosting College 101 sessions is a community service providing people the opportunity to learn more about going to college in a very casual and nonthreatening environment. This type of community outreach is why we all do the work we do. It is very exciting to help educate our community about their choices around going to college and how to be a smart consumer. I believe this truly makes a difference for the families we serve.
Individuals who have not attended higher education institutions are very interested in the admissions process and checklist, placement assessment process, tuition, and learning how to pay for college.
The evening ends with specific information about Aims Community College, including college and program orientation information, student benefits, and Aims locations. Prospective students complete an interest inventory as the first step to selecting a major.
For more information about College 101, contact Jody Margheim.
Photo caption: Admissions Counselor Kim Joiner presents College 101 at Loveland Public Library in July 2018.
Jody Margheim is Executive Director of Admissions Advising and Recruitment at Aims Community College in Greeley, Colorado.
Opinions expressed in Member Spotlight are those of the author(s) and do not necessarily reflect those of the League for Innovation in the Community College.