Learning Summit
The 2016 Learning Summit will be held at the Omni Montelucia in Paradise Valley, Arizona, June 12-15 and is hosted by the Maricopa County Community College District.
The Learning Summit is a working retreat for college teams to connect with colleagues and to share experiences, discuss issues, and explore strategies for overcoming obstacles and meeting challenges related to learning. The 2016 Learning Summit theme is Student Success and Completion. Participants examine effective practices in five topic areas that are the focus of the program.
Click here to download a copy of the Learning Summit draft program.
LEARNING SUMMIT TOPIC AREAS
• Student Learning Outcomes
• Student Engagement
• Faculty and Staff Engagement

• Organizational Culture
• Quality, Inquiry, and Accountability
SUMMIT FORMAT
After an opening plenary session on the first evening, the program devotes a half-day to each topic over the next two-and-a-half days. An interactive Symposium kicks off each half-day session, followed by a set of concurrent Forums and Roundtables led by community college educators and scholars. Summit participants are engaged as full partners in the Summit since plenary and concurrent sessions are designed to be interactive.
Each half-day session ends with Conversations about Learning, time designated for college teams to meet and discuss what they have learned and how it may apply to their institutions. Individual participants who are not with a college team are invited to join a facilitated conversation during this time.
Opening General Session
No Greater Odds Documentary Screening
Special Q&A Panel with Featured Cast and Producers
Join us for a special screening of the acclaimed documentary, No Greater Odds, which follows the inspirational stories of five community college students. Their stories – of complicated family issues, financial difficulties and other personal obstacles – are the stories of millions of students who attend community college in the hopes of bettering their lives and futures through higher education. By sharing these stories of struggle and triumph, these students understand that the way their story ends depends on how it begins – because for them, there are No Greater Odds. Highlighting the mission of access and student success of community colleges everywhere, No Greater Odds underscores the unique and integral role of these higher education institutions.
Immediately following the special screening of No Greater Odds, members of the cast and producers of the film will provide a more intimate look at each of the students' inspiring stories featured in this powerful documentary. Learn more about the No Greater Odds movement and how the film was created, and ask the cast and producers your questions about this enlightening and impactful film. View the trailer and share your story at http://nogreaterodds.com.
Who Attends Learning Summit?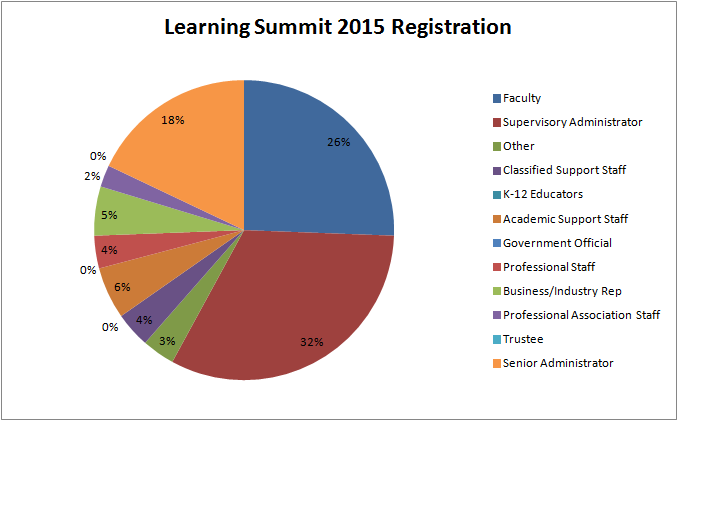 Conference Contacts
Registration

Judy Greenfield

(480) 705-8200, x200

Travel & Hotel and Presenters

Robin Picirilli

(480) 705-8200, x232

Exhibitors

Chris Hennessey

(480) 705-8200, x237