Providing 24/7 Service for Community College Students and Employees
December
2017
Innovation Showcase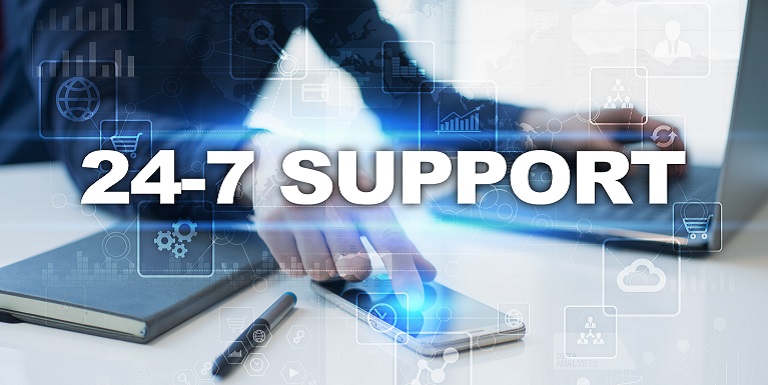 Every department at a community college has a responsibility to provide the type of customer experience that will contribute to student success. All too often, managers hear questions like, "How does my job really contribute to student success?" from employees who rarely, if ever, work directly with students. When these questions come from Information Technology (IT) personnel, what managers are sometimes hearing is a lack of understanding about how technology influences and impacts what instructors do in their classrooms, online, and after hours. In addition, many students are very technologically driven and their means of learning and staying connected are tied to technology. The issue we at community colleges face is making the technology available 24/7 and providing some level of service during that same timeframe.
Unfortunately, most community colleges in Illinois, and possibly across the United States, do not offer 24/7 support. Based on website information from the 48 community colleges in Illinois, only three (6.25 percent) provide after-hours support. Customer service seems to be an afterthought once the college campus closes. Because students who work full-time and who are balancing busy schedules may require access or support after the campus is closed, they do not always get the support they need when they need it. Even prospective students may not get time until after hours or on the weekends to begin looking for information about how to apply or register at the college. The lack of after-hours support was a concern for Harper College, so the IT department set out to determine what it could do to help students when the campus is closed.
IT department personnel began by brainstorming and collecting data to determine the best course of action. They knew there was a need for some type of after-hours support but there were cost-related restrictions, and most of the after-hours calls were about issues current or prospective students could potentially resolve with little to no help from college staff. The simplest idea, and one that was not going to be a cost hindrance, was the creation of short, simple-to-follow customer service videos. Students today are part of the technology age and are often familiar and comfortable with this type of assistance. Harper College IT decided that this would be a quick and relatively easy way to help students and employees on a 24/7 basis.
Throughout this process, Harper College recognized that many students have a choice about where they attend college; if they are unhappy with the service they receive—or do not receive—at one institution, they may go to another. With this in mind, the IT department took the old saying, "The customer is always right" a step further, stating, "The customer is always right now."
Offering 24/7 Assistance
In order to develop effective customer service videos, the IT department first needed to determine what information the majority of students and employees who contacted the college after hours sought. To do so, the Service Desk ran multiple reports based on after-hours email and voicemail messages. Tickets were created, marked as "after hours," and either resolved by the Service Desk or sent to upper-level support groups that could assist. Data from these reports helped the college determine the top five issues and what the initial topics of the how-to videos would be.
The IT department then had to determine what type of software or freeware was available to assist in recording the videos, and if any specific hardware would be required. Camtasia software was already available on campus and the team determined that it could easily be used to record short instructional videos with a voiceover recording. An IT team member was willing to learn how to use the software and do the recordings, and a high-quality recording microphone with pop-filter was purchased to ensure that the voice recording quality was clear.
The top five issues were discussed, and video and audio scripts were created. The Service Desk team did several voice test runs to ensure clarity of speech and determined who would be the best fit for the voice on the recordings. The videos were recorded, edited by a staff member, and uploaded to YouTube for closed captioning and link creation for posting. Links were posted on the Harper College Tech Support Quick Tips for Students and Quick Tips for Employees pages.
Results
Harper College's help videos were featured in the monthly student and employee newsletters. Feedback on the videos was excellent and other departments began reaching out to the IT department to have videos recorded for their areas as well. This simple means of providing directions or help for students and employees on a 24/7 platform has resulted in a nearly 30 percent decrease in after-hours emails and voicemails. Since implementation, IT has collaborated with several other departments to create how-to and help videos, including Registration, Financial Aid, the Student One-Stop Center, and the Business Office.
Lessons Learned
During and after implementation of the videos, the Service Desk team determined that customer service should be a key focus for Harper College IT. When students and employees feel as if they are important and that the videos were created with their needs in mind, they believe the college really cares about helping them resolve their issues in a timely fashion. It is also important to communicate the types of help that are offered to students and employees in relation to technology as well as other services of the college. For example, the Service Desk made certain that links to the help videos were included in automatic email responses from the ticketing system.
Another lesson learned is that a little help goes a long way. Something as simple as a short how-to or help video can empower students and employees to try to resolve less complex issues on their own. This type of service not only saves time for students and employees, but also reduces frustration for everyone involved. Overall, a little effort and time on the college's part can help provide a more cost-effective and improved customer service experience for students and employees.
Recommendations
Some of the recommendations that have come from Harper College's experience developing how-to and help videos include:
If you do not currently have any how-to or help videos, start the process now. It will help cut down on student frustration and increase student loyalty and, more importantly, student success.
Keep videos current based on any system upgrades; remember, sometimes screen images change.
Keep the videos as short as possible, holding viewers' attention with a one-to-two-minute presentation.
Work with other departments to create helpful videos for their Web pages. Building partnerships between IT and other departments opens up lines of communication and creates a win-win relationship.
Closing
As the use of technology increases at community colleges, it is important to provide technology-related customer service as a way to increase student success and teaching success. Students need to have their questions answered quickly and conveniently. Often, this is outside of regular business hours. As systems change and online registration increases, the need for quick, easy-to-find assistance is a certainty that colleges cannot ignore. Something as simple as customer service videos can change how students and employees view the college. It is also important that all departments, including IT, understand that they play a big part in student success. If all employees can see the value of providing some type of support 24/7, students will feel more valued as their needs are being addressed in real time. This creates a win-win situation: The college provides a customer-friendly solution that helps students when they need it, in a highly cost-effective way.
Tammie Mahoney is Manager, Business Process Improvement and Project Management Office, at Harper College, Palatine, Illinois.
Opinions expressed in Innovation Showcase are those of the author(s) and/or submitting college and do not necessarily reflect those of the League for Innovation in the Community College.