Degree Disenchantment: Quest for Job Security and Lucrative Pay Drives Bachelor's Degree Holders to Del Mar College
February
2016
Innovation Showcase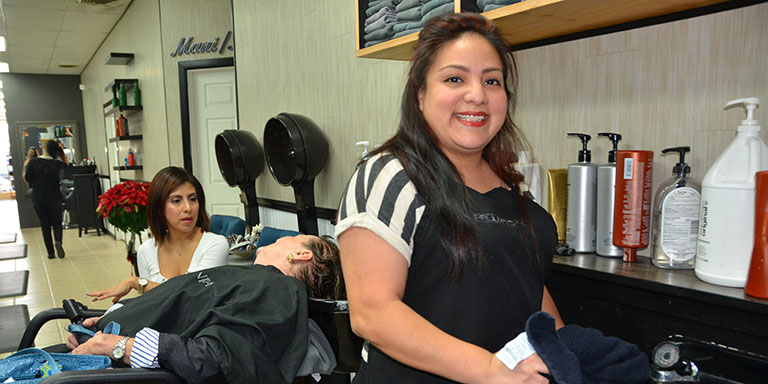 A bachelor's degree in criminal justice paved the way for Leticia Cervantes to become a licensed private investigator. But after a few years in the business, usually checking on unfaithful spouses for local attorneys, she craved a more reliable income and regular work hours. Her solution: Go back to school and learn cosmetology.
"I made the move because the economy is so unpredictable," said Cervantes, 37, who in December received a certificate in cosmetology from Del Mar College. "My sister has always taught me that in times of economic crisis, people won't hire a private investigator, but women will always get their hair and makeup done."
Cervantes took and passed the state cosmetology exam this month, she said. Her older sister, with whom she partnered in private investigations, bought a beauty salon in 2014. The two will run the business together and take occasional sleuthing jobs on the side.
Cervantes' story isn't unusual at Del Mar. The college enrolls several hundred students each year who already have a bachelor's degree, consistent with a national trend.
One out of every 14 people who attend community colleges has already earned a bachelor's degree, according to the American Association of Community Colleges (U.S. News & World Report, 2015). An October 2015 article by U.S. News & World Report attributes the phenomenon in part to a failure by some four-year universities to prepare their graduates for jobs that are in demand locally (para. 6).
Community colleges like Del Mar, which maintains a laser focus on local industry needs, welcome degree holders seeking more marketable job skills.
The Money Factor
There are many incentives for degree holders to retool. In the Texas Coastal Bend, career fields with promising job growth, such as the healthcare and oil and gas industries, often come with comfortable salaries.
"My goal is to make some darn money!" said Matthew Cavazos, 28, who enrolled in Del Mar's Environmental/Petrochemical Lab Technology program last summer.
In 2010, as a wide-eyed young actor with a bachelor's degree in theater arts, Cavazos wasn't motivated by income potential, he said. His attitude changed last summer. Broke and soul-searching, he decided to channel his aptitude for chemistry into a career as a lab technician at a local refinery or petrochemical plant.
"I went from no future to an incredibly bright future," Cavazos said. "With a few thousand dollars in tuition at Del Mar, I can go out and make about $50,000 a year starting out. After five years you're looking at making six figures. You can't beat the economic leverage. It's a no-brainer."
No Regrets
Cavazos said while he doesn't regret his earlier choices, he's convinced that a two-year program at a community college will command the income and job opportunities that his four-year degree doesn't.
He's right, considering the existing industries and influx of new ones in the Coastal Bend, said Gwynell Westervelt, associate professor of Chemical Laboratory and Electroplating Technology at Del Mar. Thirty-eight billion dollars in direct investment is fueling growth in the region, including the construction of new iron manufacturing and liquefied natural gas plants.
"There is definitely an increased demand in the local market with all the new industry," Westervelt said. "Also, the refinery labs have an aging workforce that will need to be replaced in the next five years or so. Probably as much as 50 percent of their workforce will be retiring."
Demand is so high for people with an associate's degree in Environmental/Petrochemical Lab Technology—the degree Cavazos is pursuing—that most of Westervelt's students are employed by graduation, she said. 
Job Outlook
Westervelt believes fewer degree holders would find themselves returning to colleges and universities to gain marketable job skills if they were better informed in the initial advising process.
"We need to make these students aware of everything that is available to them and tell them what the job outlook is for the major they're exploring," she said. "Colleges and universities aren't producing nearly enough graduates with in-demand job skills."
Career counselors at Del Mar use a battery of tools to help students choose a suitable major and gauge the pay range and outlook for occupations they're interested in. This includes online resources like Focus 2, O*NET OnLine, and the Bureau of Labor Statistic's Occupational Outlook Handbook.
"Our focus is to look at things realistically," said Del Mar Career Counselor Fred Barrientos, M.A. "We guide students so they're not wandering blindly."
Career Advancement
Ben Gregory said he was "kind of lost" after graduating from a large Texas university with a bachelor's degree in business administration. The degree, he thought, would be the key to advancing his career beyond the oilfield equipment sales and auto payment collections jobs he had held.
"I was very disappointed," Gregory said. "I graduated with this grandiose idea that a B.A. would open doors. There really weren't many opening."
With a growing family, Gregory said he pondered his father-in-law's advice to learn the air conditioning trade. He enrolled in Del Mar's Air Conditioning Applied Technology program and excelled. In 2004, at age 40, he was hired to fill his professor's vacant position. He also started his own air conditioning business.
"My income and self-esteem were raised to levels I could only dream about before returning to college," said Gregory, associate professor of Air Conditioning Applied Technology. "A bachelor's degree is important, but you have to have a solid foundation of job skills. That's what set me on the right track."
Under Gregory's guidance, his students are likely to avoid his circuitous route to success.
"AC and refrigeration is economy proof," he said. "My graduates have no problem finding a job. The demand is beyond our wildest imagination."
Photo: Leticia Cervantes (right), who holds a bachelor's degree in criminal justice, returned to college to study cosmetology. She graduated from Del Mar College in December.
Resources
Krupnick, N. (2015, October 28). Graduates of 4-year universities flock to community colleges for job skills. U.S. News & World Report. Retrieved from http://www.usnews.com/news/college-of-tomorrow/articles/2015/10/28/graduates-of-4-year-universities-flock-to-community-colleges-for-job-skills
Michael Bratten is a communications specialist at Del Mar College in Texas.
Opinions expressed in Innovation Showcase are those of the author(s) and do not necessarily reflect those of the League for Innovation in the Community College.