Creating the Workforce of the Future: SAIT's Youth Engagement Strategy
April
2019
Innovation Showcase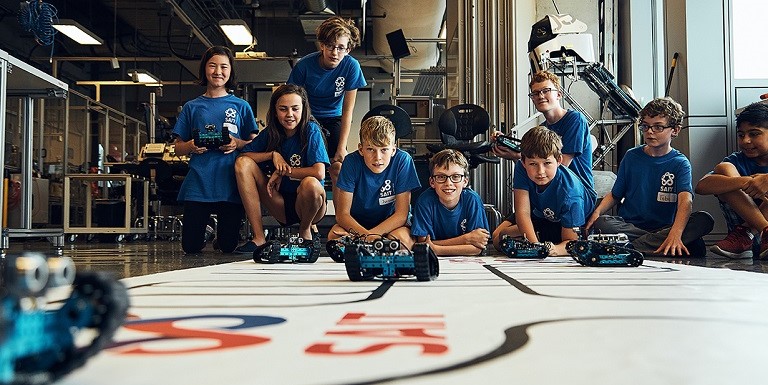 Over the past few years, Southern Alberta Institute of Technology (SAIT) has prioritized the implementation of an institutional youth engagement strategy. Reliably producing skilled, work-ready graduates in demand by industry is SAIT's core contribution to the provincial economy (SAIT, 2019).
The youth engagement strategy's overarching vision is as follows: Southern Alberta Institute of Technology is a leader in creating the future workforce by delivering life-changing experiences for youth. To achieve this mandate, the institute recognizes and embraces its unique support role in overcoming a gap. Alberta has a lower on-time high school completion rate than other Canadian provinces (Government of Canada, 2018) and only one-third of Alberta high school graduates transition directly into postsecondary institutions (Government of Alberta, 2017).
SAIT's Youth Engagement Strategy is built on innovative programming and initiatives, including SAIT Summer Camps and the Career Exploration Centre (CEC), that help assist youth with career readiness and promote postsecondary pathways into successful careers and lives.   
Youth Initiatives and Applied Education Pathways
SAIT's youth programs are designed with a big-picture focus and in consideration of a student's entire learning journey. Applied education experiences encourage young people to explore their interests; discover new skills; and make a meaningful connection between where they are now, what they can achieve, and how to get there. Perhaps most importantly, these experiences are designed to help young people find their fit.
Every youth initiative at SAIT is created with skills development goals that align with the essential skills needed for work, learning, and life identified by the Government of Canada, including reading, numeracy, and oral communication. Along with these foundational skills, programming also targets the development of resilience and adaptability in youth participants.
SAIT Summer Camps and the CEC, along with the institute's nine high school dual credit options—ranging from management, carpentry, and pharmacy assistant to engineering design and geospatial technologies—form a solid foundation for SAIT's Youth Engagement Strategy. These initiatives have helped SAIT build collaborative partnerships with local school boards and community agencies, and reflect a shift in focus toward the overall transition between K-12 and postsecondary throughout the province. These relationships allow the institute to track learner trends, identify challenges and barriers students face, and understand the changing needs of the institute's learner audience. They also inform adaptations required in SAIT's program offerings.
From 2012 to 2018, participation in SAIT Summer Camps grew from 2,143 to 4,053—an 89 percent increase (SAIT, 2019). This year, SAIT will offer 5,748 camp seats, an increase of almost 30 percent over last year. Youth in grades 1 to 12 will also have an additional 30 program options, bringing the total number of unique summer camp experiences available to more than 100. Each experience is an opportunity to explore interests; develop essential skills; and learn about SAIT program pathways in an authentic, hands-on learning environment.
Following several years of pilot operations, SAIT's Career Exploration Centre officially launched in January 2018 with a dedicated space on the main campus. A class trip or community group visit to the CEC is an opportunity for youth in grades 9 and 10 to be inspired by careers and motivated to consider next steps through the career exploration process. Last year, more than 3,100 students visited the centre—an increase of about 50 percent over the previous year (SAIT, 2019).
By addressing issues of career awareness and fit—with an overlay of accessible and flexible pathway options—youth are able to connect the dots between junior high, high school, and what comes next. SAIT's core youth initiatives are models of innovative, highly collaborative programming that help to build learner confidence through applied education principles.
SAIT Summer Camps
SAIT Summer Camps are an opportunity for young people to see a snapshot of what a career looks and feels like in a fun, safe, and encouraging environment. Youth gain skills and knowledge while experiencing what it's like to be in a classroom, shop, or lab—or what it might be like to be a crane operator, computer game designer, or engineer.
Over the past few years, camp content has been progressively aligned with STEM learning principles and increasingly connected to SAIT's applied education programs and career pathways (Dowd, 2019). By offering camp laddering, SAIT builds program pathways into skills areas.
New for 2019, SAIT is offering a baking and culinary academy for grades 9 to 12. The academy welcomes students with previous culinary summer camp experience to work alongside chef instructors to expand their knowledge of baking or cooking and the hospitality industry. For campers in grades 7 to 12 with a passion for design and technology, there is now an intermediate offering for those with previous experience in SAIT's home builder's design or drafting camps (Dowd, 2019). Through these laddered camps, participating students expand their skills with each offering and are connected to additional steps to continue their education.
SAIT has a unique focus on camps for junior high and high school students with content intentionally developed for these age groups to help students make informed decisions about class selection and dual credit options at this critical time. Almost half of all SAIT Summer Camp enrollments in 2018 were from youth in grades 7 to 9.
In an effort to remove as many barriers to camp experiences as possible, SAIT offers complimentary care before and after camp hours, as well as a bursary program. In addition, a new partnership with Between Friends Calgary will ensure that all camp leaders receive training in working with youth with unique needs, starting with the 2018-2019 season.
As an extension of its summer camp offerings, SAIT has implemented year-round programming for evenings, spring break, and Teachers' Convention as well as professional development day camp options.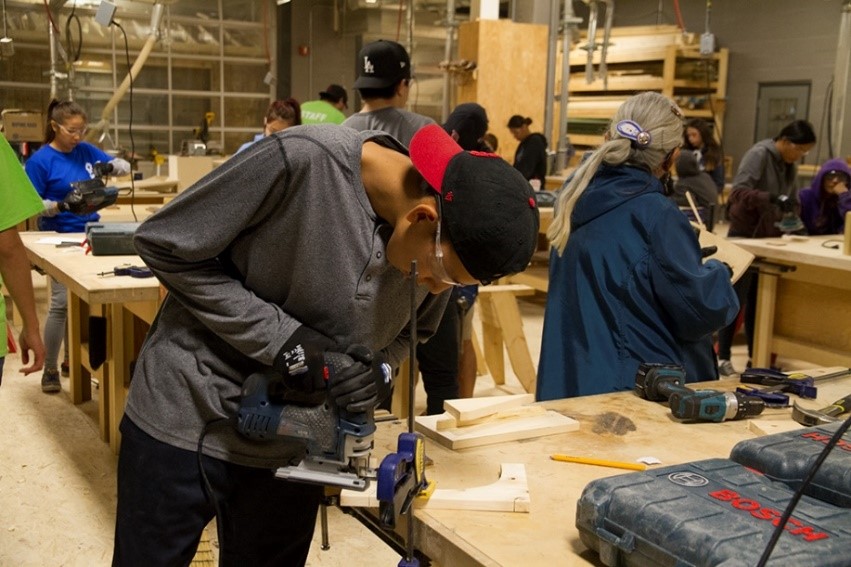 SAIT Plays Host to Unique Indigenous Youth Camp
While Alberta high school completion rates are improving overall, those of indigenous students remain low compared to their peers (Government of Alberta, 2018). For more than 10 years, SAIT, the University of Calgary, and Mount Royal University have partnered with the Meskanahk Ka Nipa Wit School, Montana First Nation, to bring indigenous youth to summer camps in Calgary as part of the Youth Education and Career Pathways program (Dowd, 2018). In July 2018, SAIT welcomed 25 indigenous youth, ages 13 to 17, to campus for a two-week experience that included living independently in residence, attending SAIT classes, and getting a feel for student life.
Students earn their spot at the camp through consistent daily attendance at school throughout the year. They can take part in the program for four years, then as a junior chaperone in a mentoring role for an additional year. "Before the program, I thought I wouldn't go to university or even finish high school," said Jakobi Rabbit, a grade 12 camp participant in his fifth year with the program. "But it let me see all the different options there are—like photography and broadcasting. That's something I want to do with my life now."
The program continues to grow thanks to a network of support ranging from funding agencies, Chief in Council, instructors, chaperones, coordinators, parents, and the students themselves (Dowd, 2018). SAIT's own Chinook Lodge Resource Centre is also a key part of the experience. The summer camp program is a well-tested and successful model for what similar summer experiences could look like.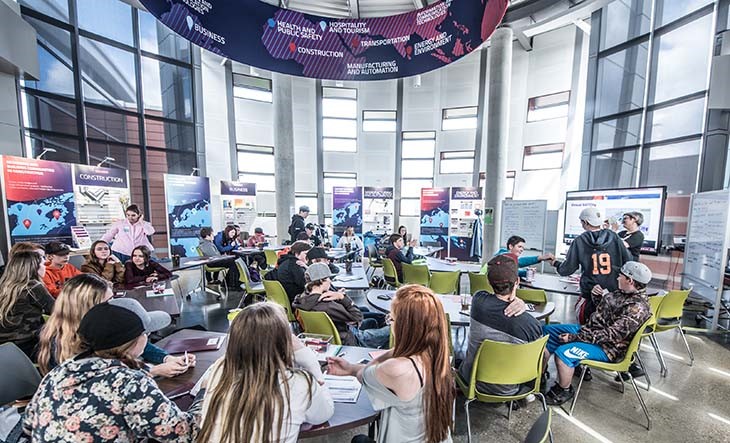 Career Exploration Centre
The Career Exploration Centre (CEC) is a unique, dedicated facility on SAIT's main campus which invites youth to find their place in the future world of work. The centre offers experiential career-connected programming to enhance student understanding of careers, the career exploration process, and the advantages of choosing an applied education (SAIT, 2019). It supports student, educator, and parental understanding of the technological skills and education that today's employers require and the importance of different occupations and careers to the economy (SAIT, 2019).
Centre activities initiate early conversations and self-reflection about career fit, preparing youth to make informed learning and career pathway choices in secondary school and beyond. Programming is closely mapped to SAIT's training and study offerings, as well as Alberta Education's Programs of Study in math, language arts, science, and career and technology foundations (SAIT, 2018). Career exploration is very much about awareness of the career options available, which of those represent the best individual fit, and how to get from "here to career" in a way that works and makes sense. During a visit to the CEC, a student might experience what it's like to power up an electrical grid, work on an airplane fuselage, or discover Web design. But the experience is as much about self-awareness and gaining the confidence to pursue a chosen pathway as it is about the myriad career options.
To increase youth access to the career exploration experience, SAIT recently launched a pilot to bring elements of the CEC's flagship program—SAITCity—out into the community. Through Career Crates, a facilitator can take up to 10 program activities from the CEC on the road and into schools. To date, the pilot has reached one indigenous community school and two local junior high and high schools. Use of the CEC will continue to grow both as a stand-alone initiative and as a component of other programs (SAIT, 2019).
Career Exploration With Turning Points
Hands-on experience shows students what they can go out into the world and do. The Turning Points program—a partnership between SAIT and Jack James High School—brings youth at risk of not completing high school to campus for a week of career exploration opportunities.
After a successful pilot program last year, this year's cohort worked on 3D computer modeling and their own projects in SAIT's welding and carpentry labs. Visiting students also met with an academic coach from SAIT's Lamb Learner Success Centre for a short course on learning strategies and an overview of what life is like as a postsecondary student at the institute. In addition, Turning Points participants have the opportunity to build their math skills and learn more about apprenticeship options.
The program is designed to get the students thinking positively about their future beyond high school and to help them set achievable goals. The skills development component aims to make them more employable and/or provide an initial pathway into further education or the workforce.
SAIT also partners with Foothills Academy to offer career exploration opportunities to students with disabilities and with United Way's All In for Youth program to offer pre-employment training in culinary and carpentry programs for at-risk youth.
What's Next: Calling All Young Originals
SAIT's Youth Engagement Strategy endeavors to expand and enhance the institute's reach in the area of underrepresented and at-risk youth programming. At the same time, SAIT will continue to grow its dual credit pathways through new collaborations, explore additional ways to engage with local and rural communities, and build on its recent entrance into year-round youth programming. With a solid foundation of both innovative programming and collaborative community partnerships in place, the Youth Engagement Strategy reflects SAIT's commitment to leading efforts to create the workforce of the future by delivering life-changing experiences for youth.
As an institutional priority in SAIT's Education Plan and Comprehensive Institutional Plan, there is a growing awareness that youth are on campus almost every day—they are, in fact, already part of the campus community. But the intended impact of the strategy, as it continues to evolve, is bigger than the institute itself. SAIT is dedicated to creating innovative programming to help youth thrive in the community as a whole.
References
Dowd, A. (2018, July 18). SAIT plays host to unique indigenous youth camp. Retrieved from www.sait.ca/about-sait/media-centre/news-and-events/news/2018-7-18-sait-plays-host-to-unique-indigenous-youth-camp
Dowd, A. (2019, January 18). Calling all young innovators, athletes, artists and entrepreneurs. Retrieved from www.sait.ca/about-sait/media-centre/news-and-events/news/2019-1-18-calling-all-young-innovators-athletes-artists-and-entrepreneurs
Government of Alberta. (2017, Fall). High school transition report. Advanced Education. Provided to SAIT July 19, 2018.
Government of Alberta. (2018). Accountability pillar online reporting initiative. Retrieved from www.alberta.ca/accountability-education-system.aspx
Government of Canada. (2018). Education indicators in Canada: An international perspective, 2018. Retrieved from www150.statcan.gc.ca/n1/en/catalogue/81-604-X
Southern Alberta Institute of Technology (SAIT). (2019). SAIT annual report, 2017/18. Retrieved from www.sait.ca/about-sait/who-we-are/publications
Southern Alberta Institute of Technology (2018, May 29). SAIT centre inspires future of skilled workers. Retrieved from www.sait.ca/donors/gifts-at-work/2018-5-29-career-exploration-centre
Amy Dowd is a Communications Specialist and Rozlynn Wick is Project Manager, Strategic Youth Initiatives, at Southern Alberta Institute of Technology in Alberta, Canada.
Opinions expressed in Innovation Showcase are those of the author(s) and do not necessarily reflect those of the League for Innovation in the Community College.