Architectural Redesign: Leveraging Technology to Enhance Student Engagement
December
2018
Innovation Showcase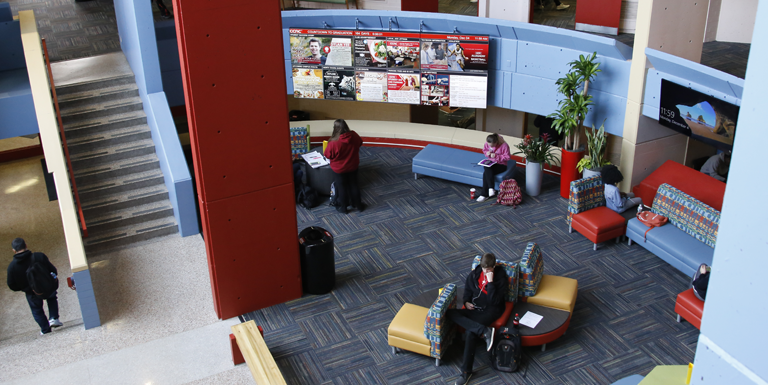 Community colleges enroll over half of the undergraduate students in U.S. higher education and increasingly serve as the gateway to a postsecondary credential, particularly for first-generation and underrepresented students. As noted by researchers (Astin, 1984; McClenney & Marti, 2006; Tinto, 1993), student engagement within and outside of the classroom setting remains central to an institution's ability to advance student success. At the same time, the growing demographic diversity of community college student bodies means there is no one-size-fits-all institutional approach to effectively engaging and supporting these students. Consequently, institutions must embrace an entrepreneurial approach anchored by a continuous improvement philosophy if they are to meet diverse student needs.
Like diversity, technology has revolutionized the landscape of the higher education ecosystem. In addition to its impact in the classroom, technology is evident in the area of student access, as seen with the proliferation of online course offerings. Additionally, we have witnessed its impact on student engagement with regards to creative approaches for communicating with prospective and current students. As this technological trend continues to grow and impact institutional policies and procedures, the interest in becoming more student-centered will challenge institutions to be more entrepreneurial beyond the classroom setting.   
The Setting
The Community College of Allegheny County (CCAC), a multi-campus institution in Pennsylvania with an annual enrollment of more than 43,000 students, recently completed a transformative space redesign project at one of its campuses aimed at enhancing student engagement outside the classroom setting. In response to student voices, this project, which was spearheaded by the Allegheny campus's Phi Theta Kappa (PTK) honor society, evolved into an aspirational initiative that expanded the campus's transactional and communication capacity to engage and better meet the needs of its student population.
The Allegheny campus, the largest of CCAC's four campuses, is situated in an urban setting on the north side of Pittsburgh. Of its student body of 6,300, 65 percent attend part-time and 84 percent are Gen Z and millennial learners (24 years old or younger) and, thus, represent the first groups of digital natives. Keeping pace with the technological preferences of this highly transient student population and becoming more responsive to meeting their needs were the challenges that drove the PTK student leaders' interest in this project.
The Problem
The Milton Hall rotunda is a majestic, high-volume student traffic space located in the largest academic building on campus. This pedestrian area is where students congregate as they transition to and from classes. In surveys and focus groups conducted by PTK student leaders, students reported that they viewed this underutilized space as a large, unappealing, and drab area that was difficult to navigate, particularly for newly arriving students. There was no way-finding system, and information sharing was limited to paper notices on entrance doors and building walls. From an institutional perspective, the space represented a missed opportunity to enhance communication with students and inform them of academic programs, career options, financial aid, or scholarship opportunities. Additionally, given its location, the space offered an opportunity to expand the campus's transactional capacity around such activities as registration. 
Planning Process                                                                                                                                     
In response to this challenge, PTK student leaders spearheaded a planning process that included the formation of a task force representing a diverse cross-section of institutional stakeholders, including student leaders, faculty working within the building, staff from the Information Technology and Facilities departments, and senior campus administrators. Based on surveys and focus group sessions the students had conducted, the consensus charge for this committee was to create a 21st century, technologically-enabled gathering space where students could socialize, study, and obtain information about club activities, internships, and career-related opportunities associated with specific academic programs. This included using technology to establish a more intuitive way-finding system and installing kiosks that would allow students to register and add or drop a class within that space.
The task force was broken into several subcommittees, one of which was dedicated to technology. The technology subcommittee investigated benchmarking facilities within and outside of higher education, looking at peer institutions and spaces (i.e., hotel lobbies, airports) that are architecturally designed to be customer friendly and creatively integrate technology to enhance operational efficiency. The IT department researched software and hardware options that would advance the overarching goals of this project and invited vendors to present their products to the IT department and the committee.

Students use interactive way-finding kiosk
Project Outcome
As a result of the eight-month planning process, the Milton Hall rotunda—which was furnished with new carpeting and soft seating—has been transformed into an inviting, colorful, and high-tech social and learning space for students. The area now boasts a state-of-the-art interactive touch-screen system that aids students and visitors in locating academic buildings and rooms on campus. The strategic location of large video walls in the rotunda has enhanced the communication system in a more visibly explicit fashion, with screens streaming live news with eye-catching graphics designed and developed through the collaborative efforts of a student intern, the Marketing department, and the Office of Student Life. In addition to the live streaming, the area offers a more diversified mode of communicating campus- and college-related materials to students. Students have easy access to a wide variety of information on academic and student life programs, from class cancellations to transfer applications to student club activities. From an institutional perspective, the redesigned space also initiated a revamped internal process for posting information in the space. News and announcements are submitted, reviewed, and edited to ensure compatibility with institutional standards prior to inclusion on the video walls. Finally, students who want to conduct college-related business while on the run, such as registering or locating classes or paying fees online, can do so at transactional kiosks.
Lessons Learned
Many learning moments occurred throughout this process and aided the college in collectively understanding what it would take to ensure sustainability, dynamic vibrancy, and quality assurance of the project. The two most visible learning takeaways were the need (1) to have a simultaneous discussion about the type of IT support system necessary to support both the software and hardware components of the systems, and (2) to establish internal procedures to guide all components of the new space. These two lessons will be essential to the sustainability and eventual impact not only for students, but for college administrators, faculty, and staff.

College President Dr. Quintin Bullock, PTK staff advisor Joy LeViere, and Campus President Dr. Evon Walters with PTK student leaders
Conclusion
This project's embrace of today's students, along with the power of collaboration and the aspiration to remain cutting edge, revealed the campus's capacity and the college's commitment to strengthening its support ecosystem to enhance student engagement. Remaining focused on the core mission of improving access and success for students, stakeholders were fully engaged in exploring all possibilities to make this space a reality. This led to an organic, nonhierarchical, and invaluable exchange of ideas, knowledge, and learning that contributed to the ultimate success of the project. As a testament to the successful construction outcome and envisioned student benefits, CCAC has committed to advancing the build out of similar student spaces on the other three campuses, thus ensuring a common student experience. Dr. Quintin Bullock, President of Community College of Allegheny County, in speaking to the importance of expanding this initiative stated,
In higher education, we often talk about student success, defining it in terms that are familiar to us as educators. Yet what makes CCAC's Milton Hall renovation project so groundbreaking and valuable for all involved is that it embodies everything that is essential to student success—thinking creatively, solving complex problems, and seeing a challenging project through to its timely completion. Viewed through this lens, this project really should be seen as the ultimate student success initiative—a project with real-world applications; one that was conceptualized, planned, and ultimately driven by and for the students of CCAC.
References
Astin, A. W. (1984). Student involvement: A developmental theory for higher education. Journal of College Student Personnel, 25(4), 297-308.
McClenney, K. M., & Marti, N. C. (2006). Exploring relationships between student engagement and student outcomes in community colleges: Report on validation research. Community College Survey of Student Engagement, Community College Leadership Program, The University of Texas at Austin.
Tinto, V. (1993). Leaving college: Rethinking the causes and cures of student attrition (2nd ed.). Chicago, IL: University of Chicago Press.
Evon Walters is Campus President at the Allegheny Campus and Homewood Brushton Center, Community College of Allegheny County, in Pittsburgh, Pennsylvania.
Opinions expressed in Innovation Showcase are those of the author(s) and do not necessarily reflect those of the League for Innovation in the Community College.