By Matthew Klingbeil
The virtual world is here and it's not going away, . . . at least not totally. Across higher education, from student recruitment and student services to career services to employee training and beyond, colleges have shifted to virtual events and engagement for their most important needs. This shift creates tremendous opportunities for institutions to engage with their audiences in new and innovative ways in virtual and hybrid settings. So, what's the best way for teams to engage with their audiences?
The key to growing engagement with your audience is to provide easily accessible live and on-demand content that they can consume on a continuous basis. In other words, create content that is mobile-optimized, that is both live and on-demand, and that allows your audience to engage with it whenever and however they want.
It's not as daunting of a task as it may sound. This is true whether your goal is to recruit students, retain students, provide internship and job opportunities to students and your community, build bridges with alumni, or onboard and train employees. The ability to engage various audiences is mission-critical as institutions think about how to provide great experiences for diverse groups.
Our partners are engaging with their audiences in different and unique ways. With student events, campus tours, information sessions, and more, there is no limit to the community-building events that you can host.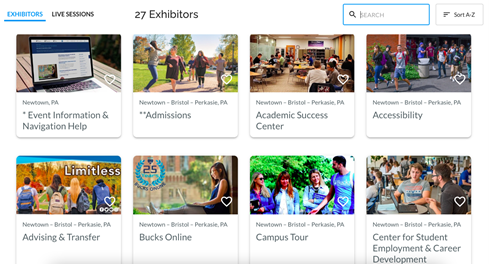 By bringing the entire campus together for these virtual events, you provide attendees the chance to become familiar with your institution by joining live sessions, booking one-on-one meetings, chatting live with a college representative, and watching on-demand videos from each campus partner. In other words, attendees can engage with your college in a variety of ways and when it is convenient for them.
Let's say you are trying to create on-demand content for your upcoming prospective and/or admitted student events. Uploading testimonials from students, faculty, and staff about the benefits of the institution are low-effort, high-impact examples of content that can put your institution ahead of the competition and make a positive impression on your audience. The impact lasts longer than just one event because your audience can come back and engage with these videos anytime and from whatever device they want, ensuring that you will always be available to them.
With so much competition in the virtual space—with other institutions or with entertainment and shopping websites—it has never been more important to provide fun and unique content to your audience. When an institution goes beyond a single meeting and provides fully branded experiences, audiences become more excited to engage with an institution.
Matthew Klingbeil is Director, Marketing, at VisitDays.
VisitDays was an Innovations 2021 sponsor and exhibitor.