Salem Community College: Meeting Industry Needs With Unique Programs
June
2013
Member Spotlight
Salem Community College (SCC) is meeting the need for unique and high-demand careers, regionally and nationally. Located in Carneys Point, New Jersey, SCC offers two-year degrees in Scientific Glass Technology and Nuclear Energy Technology which support industry's need for employees with specialized skills.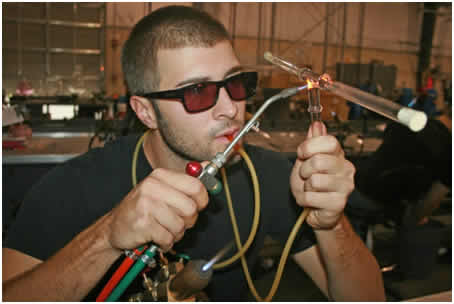 Scientific Glass Technology
SCC's flagship program is the only one of its kind in the United States, and therefore attracts students from across the country. The associate degree program—which teaches students how to create glass apparatus for scientific research in laboratories, universities, and industry—combines classroom study and hands-on laboratory experience in such areas as glassblowing, technical drawing, design, and advanced fabrication.
Many of the country's glassblowers have retired in recent years, leading to a demand for more workers with those skills, according to Dennis Briening, SCC's Chair of Scientific Glass Technology. Briening, who worked as a scientific glassblower before joining SCC full time, said he's seen a major revival in glass technology in the U.S., driven by a surge in domestic research and development and manufacturing. In fact, the College added an extra cohort of scientific glass technology students this year to meet this increased need.
Fifty-two students are now enrolled, and the job market for graduates is favorable. In the past three years, nearly 100 percent of scientific glass technology graduates were employed within six months in positions all over the U.S. and around the world. 
"This is a great field to get into," said Bob Ponton, past president and current national manager of the American Scientific Glassblowers Society, noting that a highly-skilled glassblower can earn upwards of $100,000 per year. "However, the average annual salary of someone with five years' experience is between $50,000 and $55,000," Ponton said.
Recent graduate, Kiva Ford, works at Roche Pharmaceuticals in Nutley, N.J., where chemists, researchers, and scientists rely on his unique glass apparatus to extract, distill, store, and test chemicals used in laboratory experiments.
"Every morning is like Christmas for me," said Ford, who was featured in a New York Times article last year for his unique career. "I really love what I do—it never gets old."
"The best part of my job is seeing some of the pieces I have made being used to test a brand new cancer drug or something of equal significance—it's neat to know that I play a role, albeit a small one, in the whole medical discovery process."
SCC's glass students learn in a 10,000-square-foot, state-of-art facility that uses methane gas recovered from the nearby Salem County landfill as an energy source. The green facility is only the second of its kind on the East Coast with equipment powered by landfill gas. 
Nuclear Energy Technology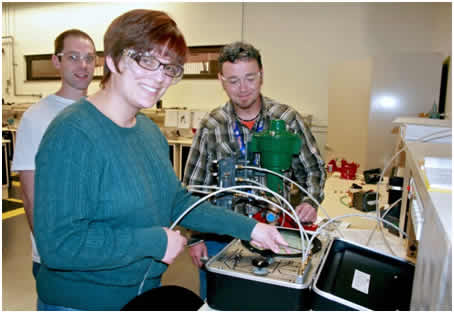 Three years ago, SCC began its Nuclear Energy Technology program in collaboration with PSEG Nuclear in response to an aging nuclear workforce coinciding with the future's high demand for qualified employees.
SCC was one of only two colleges nationwide to pilot a curriculum aligned with certification from the Institute for Nuclear Power Operations' National Academy of Nuclear Training, which employers across the country use as a hiring standard. In 2012, 81 percent of program graduates earned that certification, which gives them a competitive edge over others seeking work in the field.
Employment of nuclear technicians is projected to grow by 14 percent through 2020, because of greater demand for nuclear energy, according to the U.S. Labor of Bureau Statistics (BLS). The BLS also reports $68,090 as the median annual salary for nuclear energy technicians.
"The program is rigorous and demanding," reports Mark McCormick, SCC's Dean of Academic Affairs and Chief Academic Officer, "but the rewards are great. Besides the energy industry, the instrumentation and control training provided in the program prepares graduates for work in manufacturing."
This cutting-edge, high-tech associate degree program—which currently has 49 students enrolled—is also creating new career options for women in an industry long-viewed as male-dominated. "With license renewal of existing plants and the construction of new plants, there are many career opportunities available," said PSEG spokesperson, Joseph Delmar. "More and more young people are pursuing nuclear careers, including young women in technical and engineering positions." He continues, stating that "more women are considering nuclear careers."
"The thought of entering a male-dominated field was a little intimidating at first," said Sandra Gannon, who began working full-time at PSEG immediately after graduation. "But I quickly found out through my internship and outage work at PSEG Nuclear that it does not present any issues."