Midland College: Student, Soldier, College Professor
October
2016
Member Spotlight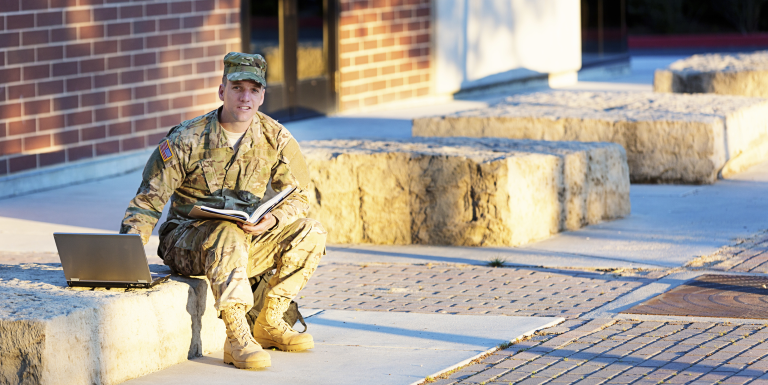 In 1998, Jessica Saenz began attending Midland College. Two years later, she became the first person in her family to graduate with an associate degree. She then transferred to Texas State University (TSU) and obtained a bachelor's degree in Criminal Justice. Saenz said,
Like most students, my initial career goals after college graduation varied, and were a far cry from joining the military. But then, during my first year at TSU, 9/11 happened, and it changed my attitude. I felt a need to do what I could to protect Americans and our way of life.
In 2003, at the age of 23, Saenz joined the U.S. Army. She was assigned to the 10th Mountain Division (L.I.) in Fort Drum, New York, near the Canadian border. During her six years of service, she participated in two deployments to Afghanistan, totaling 27 months, in support of Operation Enduring Freedom.

Jessica Saenz, Midland College English instructor and U.S. Army veteran, began her
college career as a Midland College student and is a first-generation college graduate.
Having grown up enjoying a typical middle-class life in Midland, Texas, Saenz never imagined that less than five years after her high school graduation from Robert E. Lee High School, she would be the only female member of a military intelligence team assigned to the U.S. Army's 3rd Brigade Combat Team, 10th Mountain Division (L.I.).
"My role in Afghanistan was to talk to the local people to gather intelligence and, when necessary, interrogate detainees," explained Saenz.
I established relationships with village leaders so that they would feel comfortable talking with me. I think being a woman helped. I found that people opened up more with a woman than they did with some of my male colleagues. I was considered less threatening.
During her second deployment, she was stationed at a U.S. military installation in Logar Province, south of Kabul. Her responsibilities included gathering information in support of 3-71 Cavalry and special operation groups.
In 2010, at the age of 29, Saenz was honorably discharged from the Army, but still worked for the military—this time as a civilian instructor teaching military intelligence courses at Fort Huachuca, Arizona, south of Tucson. In 2012, Saenz returned home to Midland and enrolled in graduate courses at the University of Texas of the Permian Basin.
Today, 34-year-old Saenz is putting her graduate degree to good use. She has returned to her roots at Midland College and is teaching English composition courses.
According to Saenz,
We are seeing more and more veteran students at Midland College. When those students find out that I was in the army, they are eager to visit with me and share experiences. Some of these students are having difficulty transitioning back into civilian life, and a few are suffering from PTSD. I think that they feel comfortable talking to me because of my military background. Being an English teacher, I also ask students to share their experiences in writing. Writing is a great outlet for expressing emotions and feelings. Many times, after reading a paper written by a veteran, I'll sit down and discuss the paper with him or her. It helps for the student to have someone who understands about military life.
Saenz says she still enjoys traveling, but she also appreciates being home with family. In addition to teaching English, she also volunteers with the Midland College Veterans Affairs Office and was the featured speaker at the 2015 Midland College Veterans Day Ceremony.