Lone Star College System: Commit to Complete Initiative
December
2013
Member Spotlight
Lone Star College System (LSCS) is joining colleges across Texas to encourage students to successfully complete their educational goals through participation in the Commit to Complete initiative. This initiative was created as part of Texas Completes, which brings together three community colleges and five community college systems—Alamo Colleges, Austin Community College, Dallas County Community College District, El Paso Community College, Kilgore College, Lone Star College System, Odessa College, and South Texas College—with a common vision to rethink college practices, transform community college success, and turn the tide on the achievement gap.
These colleges, led by LSCS as managing partner, have been working over the past two years to identify obstacles that hinder student success and develop solutions to mitigate those obstacles, clearing the way for increased student completion.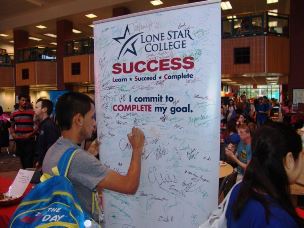 Participating colleges kicked off the 2013 fall semester with students signing banners and contracts, pledging their commitment to complete their studies. Faculty members play a key role during the semester by discussing and highlighting the importance of completing a degree or certificate and following through with their academic commitments.
Along with Commit to Complete banners signed by students throughout LSCS campuses, LSCS also created an impact wall where faculty members share their success stories to inspire students to complete their studies. Students and faculty members are also able to submit success stories online. Embraced by the entire LSC community, LSC Success is the district's commitment to the success of every student.
Other activities include giveaways at the Dallas County Community College District, and a Career & Talent Connection guest speaker series at South Texas College. El Paso Community College is hosting College Logo Days to encourage students and staff to wear college apparel to help encourage students to complete their studies.
A Texas Completion Summit, hosted by Texas Completes, the Texas Association of Community Colleges, and Educate Texas, was held in September at the LSC Community Building in The Woodlands, TX, to spotlight the challenges students face in trying to finish their studies and prepare to join today's workforce. The summit featured keynote speaker, Isa Adney, whose book, Community College Success, is used by institutions across the country to help college students succeed. There were several panel discussions including prominent state education and elected officials, addressing topics such as Promising Practices from Texas Colleges and Transforming State Policy, as well as opportunities for college officials to network and share success initiatives.
"At the Summit, we were able to share results of two years of focused effort to streamline and accelerate a student's path to completion," said Dr. Richard Carpenter, LSCS chancellor. Overall attendance was 279, with 6 universities (38 of the 50 community colleges in the state), and 6 foundations represented.
The Texas Completes cadre identified three priority areas for change:
Revising the curriculum to swiftly get students into programs of study, streamline time to degree, and facilitate transfer to four-year institutions;
Creating a comprehensive student advising and management system that ensures students a strong start and consistent feedback at each step of their way through college; and
Restructuring developmental education to reduce time spent in pre-collegiate coursework.
"We're focused on the success of our students," said Dr. Carpenter. "This statement of commitment by students early-on in the process will help provide a solid foundation as they move forward with their education."
Dr. Carpenter also said that streamlining curriculum, providing more robust advising resources to students, and reducing the time spent in developmental studies will all help speed the learning process.
Lone Star College System has been opening doors to a better community for 40 years. Founded in 1973, LSCS remains steadfast in its commitment to student success and credential completion. Today, with 78,000 students in credit classes, and a total enrollment of more than 90,000, LSCS is the largest institution of higher education in the Houston area and the fastest-growing community college system in the nation. LSCS consists of six colleges, including LSC-CyFair, LSC-Kingwood, LSC-Montgomery, LSC-North Harris, LSC-Tomball, and LSC-University Park, and five centers, including LSC-University Center at Montgomery, LSC-University Center at University Park, Lone Star Corporate College, and LSC-Online.