Laredo College: Cybersecurity Program Receives Prestigious National Recognition
January
2019
Member Spotlight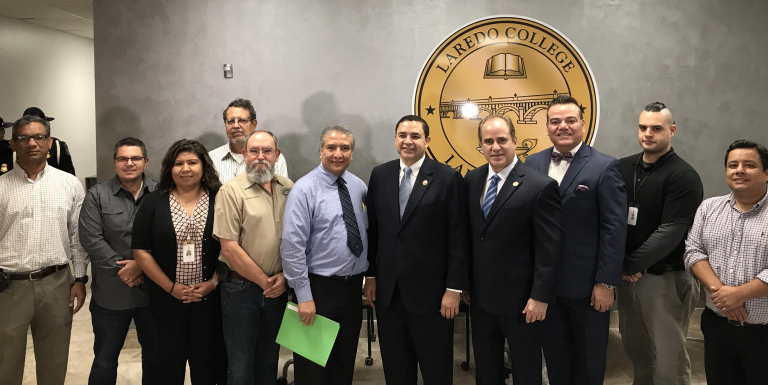 Adding to the long list of accolades it has received in its over 70 years of service, Laredo College is honored to have been designated as a National Center of Academic Excellence in Cyber Defense Education by the U.S. Department of Homeland Security. 
The National Security Agency and the Department of Homeland Security jointly sponsor the National Centers of Academic Excellence in Cyber Defense (CAE-CD) program. The goal of the program is to reduce vulnerability in our national information infrastructure by promoting higher education and research in cyber defense and producing professionals with cyber defense expertise.
"Laredo College's ability to meet the increasing demands of the program criteria will serve the nation well in contributing to the protection of the National Information Infrastructure," National CAE Defense Program Director Karen Leuschner said in a letter to Laredo College.
LC is one of only seven Texas colleges to receive this prestigious national designation.
"We are honored to receive such a recognition from the United States Department of Homeland Security," said Laredo College President, Dr. Ricardo J. Solis. "Not only do we provide high caliber academic cybersecurity programs through our Computer Technology department, we also provide short-term industry recognized cybersecurity analyst certifications through our Laredo College Economic Development Center."
Certificates were presented during a designation ceremony on November 7, 2018, at the National Initiative for Cybersecurity Education Conference in Miami, Florida, to celebrate this accomplishment.
With its cutting-edge cybersecurity technology at the forefront, Laredo College prepares students to protect themselves as well as other companies, nonprofit organizations, and institutions from cybersecurity threats.
As one of the most visible and successful programs at Laredo College, cybersecurity has remained a staple of the curriculum for many years. With the rise of digital technology, one of our nation's top priorities has been to protect its citizens from these cyberattacks.
This recognition is a testament to our faculty and program director's diligent work in pursuing only the highest academic standards and scholastic excellence.
"We are honored to have Laredo College and our Network and Cybersecurity program recognized for excellence in cyber defense," said Computer Technology Department Chair Robert P. Moore. "We now belong to an elite NSA/DHS consortium of over 265 collegiate programs that have received this designation. We will proudly and diligently contribute to the goals and mission of the organization in producing an effective national cybersecurity workforce."
Click here for more information about Laredo College's Cybersecurity Program.
Joana Santillana is a Public Relations Specialist at Laredo College in Laredo, Texas.
Opinions expressed in Member Spotlight are those of the author(s) and do not necessarily reflect those of the League for Innovation in the Community College.