Indian River State College: STEM Center Takes the Lead as Hub of Florida's Research Coast
October
2013
Member Spotlight
The William and Helen Thomas Science, Technology, Engineering, and Math (STEM) Center at Indian River State College (IRSC) creates a unique synergy between the Florida college and life science institutes to support research and high-skill jobs. Located in the region's growing biotechnology corridor in Port St. Lucie, the $19.5 million Thomas Center serves as a multi-faceted resource for scientific research, economic development, collaborative projects, and student internships. Students gain laboratory experience in the latest procedures using cutting-edge technology, preparing them for research-based positions and continued education. This skilled workforce will help to attract additional biotechnology firms to Florida's Research Coast, with well-paying career and advancement opportunities.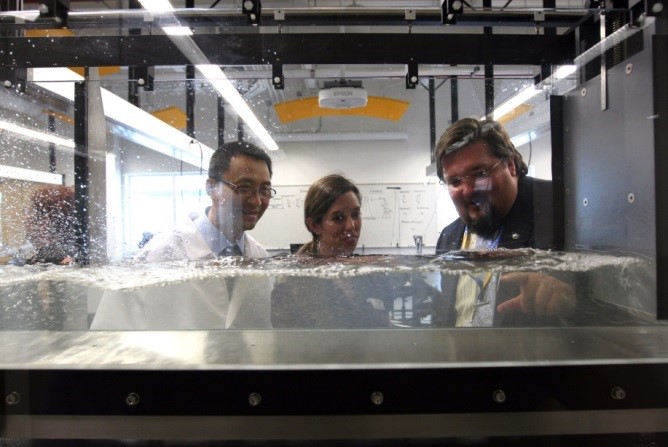 The three-story 56,000 square-foot building houses sophisticated laboratories in genetics, ecology, chemistry, molecular biology, botany, and microbiology, developed in collaboration with neighboring life science institutes, including the Torrey Pines Institute for Molecular Studies and the Vaccine and Gene Therapy Institute (VGTI). These and other life science firms provide internships for over 60 biology students in IRSC's bachelor's degree program each semester. The students work with scientists to study viruses that kill cancer cells, make chemical compounds to study methods to relieve pain, examine the ability of mosquitos to transmit dengue fever, analyze the causes of citrus greening, and study ways to combat plant diseases. A new work-study program funded by Torrey Pines enables the students to receive a paycheck and a scholarship while gaining the competitive edge for laboratory assistant positions and graduate school.   
The Thomas STEM Center is located on the Indian River State College Pruitt Campus.  Serving four counties on Florida's East Coast, IRSC has earned a statewide and national reputation for quality, innovation, and responsiveness to community needs.