Germanna Community College: Serving While Learning, Students Apply Engineering Concepts to Benefit the Community
July
2013
Member Spotlight
How do we engage students in meaningful, community service activities that reinforce classroom learning? Germanna Community College (GCC), in northern Virginia, makes a dedicated effort to engage in programs and support activities that help students connect classroom knowledge with community needs and service learning. GCC engineering students participated in the local CANstruction competition held January 18-21, 2013, in Fredericksburg, Virginia. The event was held as one of many National Day of Service events in tribute to Dr. Martin Luther King, Jr. During the CANstruction competition, teams designed and built structures using canned food which was donated to the local food bank at the conclusion of the event. CANstruction offers an opportunity for students to learn about engineering science and design concepts in a fun, yet meaningful, manner in accordance with true active service learning.
Germanna's MeCANical Engineering team, comprised of freshman and sophomore students, used graphical software to design the structure along with concepts learned from physics and statics courses to create a stable, yet visually appealing, structure. The team built a replica of the American flag using a combination of different foods, primarily soup, tuna, and vegetables, to create the structure. The faculty, staff, and students of Germanna Community College collected 748 pounds of canned food to support the project, which in turn provided 623 meals for local families.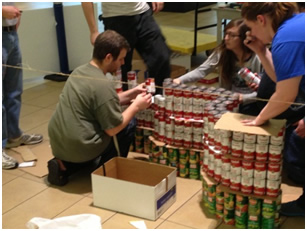 The GCC team won the Structural Ingenuity award for the structure, which was titled "Silver Linings." The name of the structure reflects the optimistic attitude the students have about their future success as engineers despite the challenging coursework. The entry displayed structural creativity with the clever arrangement of the cans to simulate the flag waving in the wind and the imaginative use of the labels to create the stripes and stars. As one of the eleven design teams that participated in the competition, Germanna's MeCANical Engineering team was the only college to be honored with an award at this prestigious event.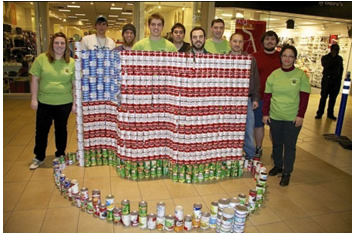 GCC staff members were proactive in creating the Engineering AS program in 2009 by partnering with local technology and engineering firms to assess workforce needs. Connections with local four-year institutions were important, and representatives from these institutions assisted with program development. GCC maintains engineering-specific transfer articulation agreements with Virginia Tech and the University of Virginia. Over 70% of students in the program transfer to four-year institutions upon graduation. The GCC Engineering AS is currently aligned with the traditional Mechanical Engineering course sequence. In fall 2013, GCC will begin offering a new concentration focused on Electrical Engineering. These are just two of several examples of GCC meeting local workforce needs and serving the community through academic enrichment activities.
Contact: Davyda Hammond, Engineering Department Chair, 541.834.1010
Click here for more information about GCC.