Georgian College: Leading the Way in Health Care Education With Sadlon Centre for Health and Wellness
February
2012
Member Spotlight
The Sadlon Centre for Health and Wellness at the Georgian College Barrie Campus is thriving. Now that the doors have opened to students and the public, state-of-the-art laboratories, study areas, and community health clinics are buzzing with activity as Georgian helps prepare Simcoe County's future health-care providers.
The largest expansion in Georgian history, the Sadlon Centre for Health and Wellness spans 172,000 square feet and houses all Health and Wellness programs at the Barrie Campus, along with six community health clinics: Oral Health, Massage Therapy, Georgian College Optical, and in partnership with the Ministry of Health and Long-Term Care, the Georgian Nurse Practitioner-Led Clinic. Two additional clinics will open in January, the Spa and Esthetics Clinic and the Harmonize for Speech, Hearing, and Language Clinic.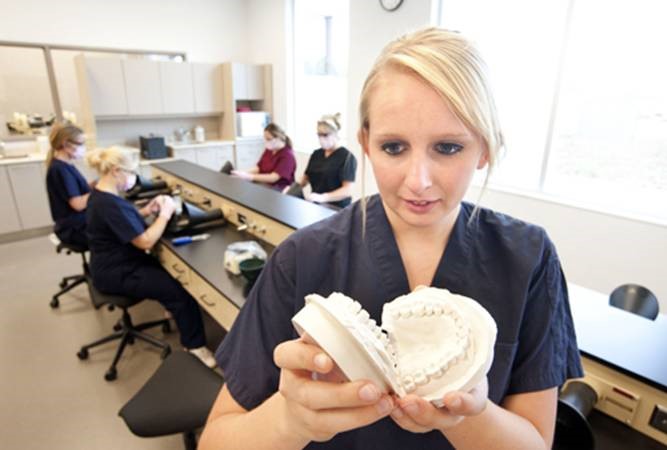 Students are gaining hands-on experience in the community health clinics, getting them a step ahead as they prepare to start their careers in health care.
Third-year Massage Therapy student Joline McAneney knows what a positive impact her time in the new Massage Therapy Clinic will have on her future career.
"The hands-on experience that I get in the clinic is absolutely key for my career," says McAneney. "It's amazing to be able to apply the skills we learn in class to a real clinical scenario."
McAneney dreams of working in a health-care facility and eventually owning her own massage business.
"I already have up to five appointments per week with clients, which is great," adds McAneney.
In addition to providing hands-on clinical experience for students, Georgian is blazing a new trail by partnering with the Barrie Family Health Team and introducing electronic medical records software training into the curriculum. Students will become accustomed to using a program called Accuro® through Optimed Software Corporation. It will be taught in the classroom and used in the community health clinics. This program is already being used by many health-care institutions in the Simcoe County region, so students in programs such as Massage Therapy, Dental Hygiene and Office Administration-Medical will already be well versed in the program before entering the health-care workforce.
"Georgian College is the first college in Ontario to partner with a nurse practitioner-led clinic and the Barrie Community Family Health Team, which represents many family health teams," says Cassandra Thompson, Dean, School of Health and Wellness. "This is truly an interprofessional initiative, which really supports the Ministry of Health and Long-Term Care's vision to bring together different health-care providers to coordinate the highest possible quality of care for patients in our communities."
Many community members in the Barrie area and beyond are already benefiting from the care provided by students and health-care professionals in the community health clinics. Kerry Pinkerton has been a client of the Oral Health Clinic, originally located at the Orillia Campus, for more than a year.
"I like coming to the Oral Health Clinic for my dental care," says Pinkerton. "It's a bright, comfortable atmosphere and the students are great. I know they need the experience, so I'm happy to help provide them with that."
It's also very affordable for those who may not have access to health benefits.
"I don't know where I would receive my dental care if not for the Oral Health Clinic at Georgian," says Pinkerton. "It's a great price for the services I receive."
The centre's $62.5-million price tag was funded by federal and provincial contributions from the Knowledge Infrastructure Program, as well as municipal, corporate, and individual donors to the college's Power of Education campaign. The new building will eventually enable enrollment in Health and Wellness programs to double, allowing 3,000 students to be accepted into these programs.
Two of Georgian's newest programs in the School of Health and Wellness are Esthetician and Pharmacy Technician. An additional program being introduced for fall 2012 is Occupational Therapy Assistant/Physiotherapy Assistant. These new programs join existing programs such as Opticianry, Paramedic, Personal Support Worker, Practical Nursing, and many others.