Delta College: Green Building Renovation Includes Rainwater Harvesting System
October
2013
Member Spotlight
Delta College, located in Central Michigan, is renovating its Health Professions Building with financial support from the State of Michigan and generous donors. The $20 million renovation will support new instructional methodologies and technologies by updating the facility that was built in the late 1970s. In keeping with its commitment to sustainability, Delta College is seeking LEED (Leadership in Energy and Environmental Design) certification for the building.
"We are confident we'll achieve LEED silver certification of the renovation, but we're still striving for the higher gold certification," said Larry Ramseyer, Director of Facilities Management. Elements to achieve certification range in technology and scale in the following categories: sustainable sites, water efficiency, energy use, materials and resources, and indoor environmental quality.
"LEED certification offers third party validation of a project's green features," added Ramseyer. "To my knowledge there are less than a dozen LEED certified buildings in our region."
One of the unique aspects of the renovation design is the new rainwater harvesting system. While rain barrels and cisterns are not new technology, rainwater harvesting systems for commercial buildings are relatively new to Michigan.
"We estimate we'll save 169,000 gallons of water each year by using filtered rainwater to flush toilets and water our three-story hydroponic green wall," said Ramseyer. "The system will benefit our facility by conserving water, saving money, protecting our watershed, and even feeding our vegetation wall."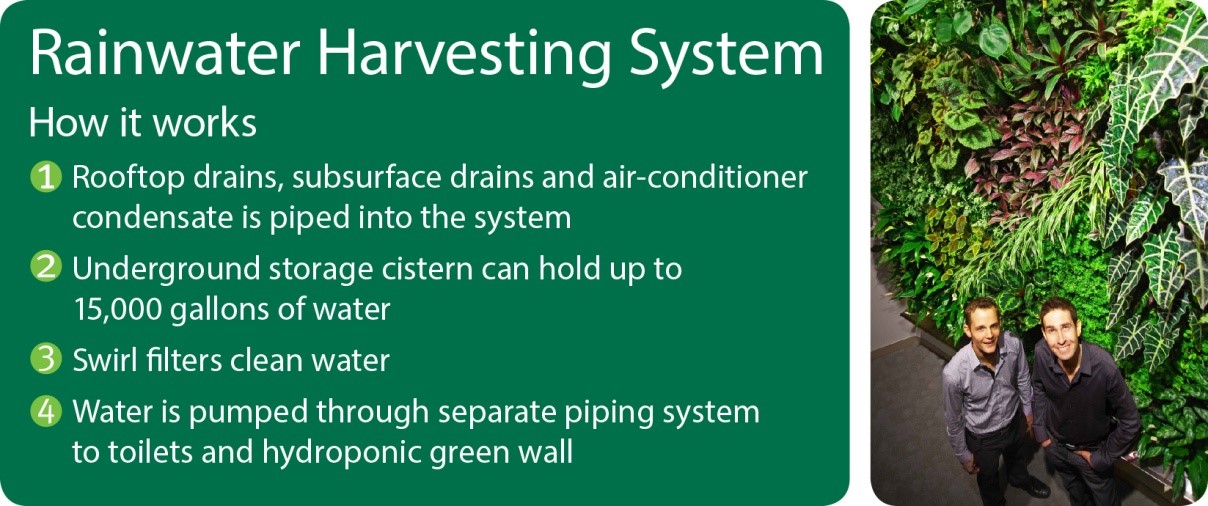 Using moist media, standard indoor plants, and harvesting rainwater, the hydroponic green wall will add an aesthetically pleasing architectural feature with a powerful bonus. The living plants and their roots act as a biofilter, removing common indoor air contaminants and improving air quality. The design offers a sustainable, energy-efficient way to control and remove impurities from the air.
"The rainwater harvesting system is a powerful way for us to lead by example," said Ramseyer. As a college that values sustainability, it's important to demonstrate that pledge in big ways and in small ways, every day.