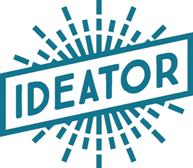 You know it's important to be innovative. But what does that mean exactly? And how do you leverage innovation to increase revenue; engage students, volunteers, or employees; and launch and scale products and services that create lasting change?
Enter the NOV8 Conference, presented by Ideator, Inc. with keynote speaker Guy Kawasaki. This one-day innovation event is being held on October 20, 2017 in San Francisco, CA. Attendees will include educators and senior-level executives in the higher education, enterprise, and nonprofit space. If you're interested in actionable strategies and lessons from top innovators and educators on how to improve the success of your organization through innovation, intra- and entrepreneurship, this is a must-attend. The event will cover:
What's happening now and next in innovation
How to create a culture of innovation
Inspiring stories of innovation at its best
How to innovate efficiently and effectively
How to create entrepreneurship and innovation virality and engagement
What people need in order to create ideas, products, processes, services, and methods that matter
And more
Ideator, Inc. is a League Platinum Partner.