Sowing the Seeds of Success at San Diego City College
June
2019
Learning Abstracts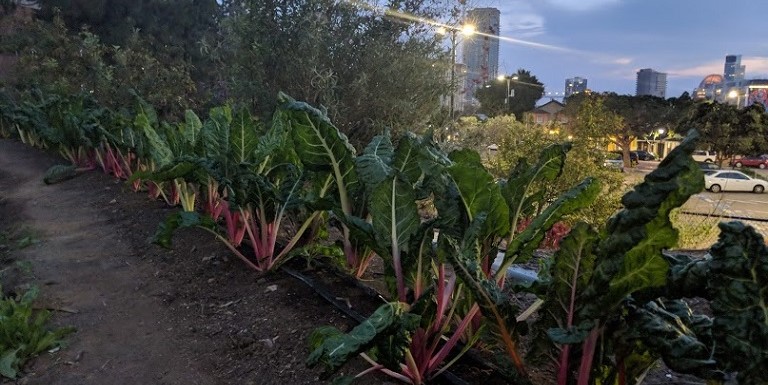 Erika Pepper's quest for a unique urban agriculture program led her to San Diego City College for a certificate in Urban Gardening after securing a master's degree in environmental studies at Tel Aviv University in Israel. She enrolled in San Diego City College's Sustainable Urban Agriculture program largely because of its Seeds@City Urban Farm, which is attracting growing attention for how it melds a science-based curriculum with a farm that doubles as an outdoor laboratory in the downtown core of California's second-largest city.
She has no regrets. According to Pepper, who is now employed as a project assistant with a Brooklyn-based company that designs and installs green roofs throughout New York City,
The program was amazing. I had never had a community college experience before, and I was really impressed with what their expectations were. The standards were high, the educational quality was high, instructors had the kind of background I was looking for, and having the urban farm right there to serve as an outdoor classroom was invaluable.
Indeed, Seeds@City Urban Farm is at the top of the class when it comes to urban agriculture programs at the community college level, and the Sustainable Urban Agriculture program is unlike any other in Southern California. All agriculture classes—which range from Introduction to Soil Science and Sustainable Urban Agriculture Practice to Drip Irrigation Basics, Food Preservation, and Starting a Small Business—combine classroom study with hands-on experience at the farm, marking City College as the only two-year institution in the region offering laboratory experience on an operating farm.
Pedagogical literature has long shown that learning is enhanced by applying lessons learned from the classroom (Lynch, 2016). At City College, students collectively spend up to 800 hours each year taking care of the farm.
"You'll be taking a class in soil fertility and then you go outside and practice what you learned on the farm," said Zach Spain, who earned certificates in Urban Gardening and Urban Gardening Professional, and now manages sustainable farms on corporate campuses in San Diego and Orange counties for San Diego-based Urban Plantations. Those farms, which are no more than a half-acre in size, grow up to 40 percent of the vegetables served in company cafeterias and underscore the impact City College's Sustainable Urban Agriculture program is having. "This is the future, and City College is right there," Spain said.
In the Beginning
The Sustainable Urban Agriculture program was the brainchild of professors determined to establish a farm that could support the college community and a new apprenticeship program. The program's pioneers noted how sustainable agriculture had been gaining attention and respect, not to mention the growing demand for professionals trained in that approach. Southern California was especially lacking in training opportunities for those interested in pursuing a career in sustainable agriculture.
The result: Seeds@City, created in 2008 through a partnership between San Diego City College and the San Diego Roots Sustainable Food Project. In 2010, the Sustainable Urban Agriculture program was launched, and Seeds@City Urban Farm became the outdoor classroom. The goal: to train the next generation of urban farmers in sustainable agriculture to build a food-secure city and region. The Sustainable Urban Agriculture program later became part of the college's Department of Life Sciences, and significant upgrades were made to the curriculum to boost scientific rigor, improve job readiness, and prepare students for transfer to university programs.
Demand for Sustainable Urban Agriculture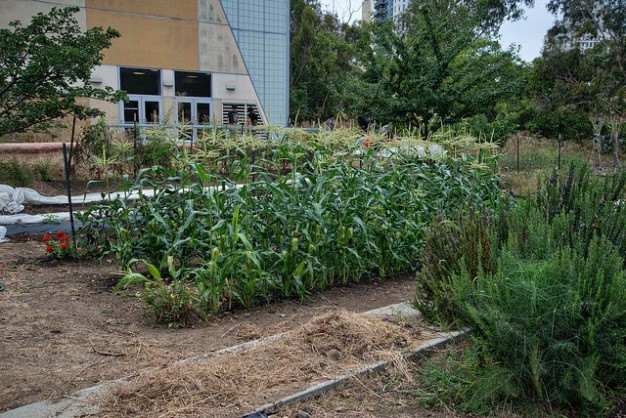 Urban agriculture has become increasingly prominent, with some estimates placing the growth of urban farms at more than 30 percent in the past 30 years (Altieri, 2019), prompting the U.S. Department of Agriculture to produce an Urban Agriculture Tool Kit covering everything from business planning and risk management to soil quality and production strategies.
San Diego County touts itself is being at the forefront of organic farming, with nearly 400 registered organic producers growing more than 150 unique crops and more than 320 unique crop varieties (County of San Diego, 2017). In all, San Diego County's agriculture industry yields more than $1.77 billion in crops annually, with fruits and nuts ($336.1 million) and vegetables ($136 million) comprising more than 25 percent of that amount (County of San Diego, 2017).
"The need for sustainable agriculture programs in colleges and universities is increasing as society begins to understand that sustainable agriculture not only contributes to our health and our environment's health, but is also an important part of a community's economy," states a City College grant application from 2015. "Sustainable agriculture programs give students the knowledge and skills necessary to meet the many agricultural and environmental challenges that we face in the 21st century."
The U.S. Department of Agriculture (Goecker, Smith, Fernandez, Ali, & Goetz Theller, n.d.) projects that, "U.S. college graduates will find good employment opportunities if they have expertise in food, agriculture, renewable resources, or the environment. Between 2015 and 2020, we expect to see 57,900 average annual openings for graduates in these areas" (para. 1).
Down on the Farm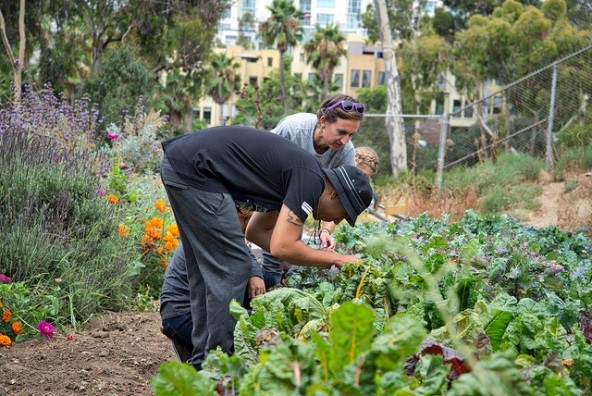 The Sustainable Urban Agriculture program offers two associate degrees (an Associate of Science Degree for Transfer in Agriculture Plant Sciences and an Associate of Science Degree in Sustainable Urban Agriculture) and three certificates (Urban Farming Professional, Urban Gardening, and Urban Gardening for the Culinary Arts). The program also includes a Viticulture Technician Apprenticeship initiative that addresses a burgeoning San Diego County wine producing industry.
The Associate of Science Degree for Transfer in Agriculture Plant Science is tailored for students interested in a career as a plant biologist, plant researcher, soil scientist, greenhouse manager, or related position. The Associate of Science Degree in Sustainable Urban Agriculture is aimed at those seeking an associate degree but who are not interested in transferring to a university to study plant science. This degree can help students to prepare for careers ranging from nursery or farm manager to crop consultant or organic certification specialist.
Seeds@City Urban Farm comprises three plots where students grow a diverse array of seasonal fruits and vegetables, including kale, collards, Swiss chard, broccoli, cabbage, and sugar snap peas. Produce is sold to the campus community at a farm stand throughout the year. A plant and soil science laboratory, a kitchen laboratory, and classroom space are housed in a modernized building at the center of campus, and a modern rooftop greenhouse was installed in November 2018.
Seeds@City is located just a few blocks from three major freeways and a 10-minute walk from Petco Park, home of the San Diego Padres. The main plot sits near the college's Saville Theatre. An orchard is tucked behind the Harry West Gym. Several raised vegetable beds are nestled on a patio next to the Science Building.
Besides the educational benefits Seeds@City provides, faculty members have found that it also contributes to a strong sense of community on a campus with a diverse student body.
Student Reviews
Zach Spain originally came to City College in spring 2013 to get on a track leading to a career as a biologist. Those plans soon changed. "I hit a wall when it came to math," Spain said. He continued,
I had heard about the Seeds@City program, so I just randomly took a class and just fell in love with it. I love how the program incorporates science with agriculture, and I knew right away that I wanted to make a career of it. I started taking all the classes I could, I volunteered at Seeds and elsewhere, and I just soaked in as much as possible. My career is a direct result of Seeds@City and the Sustainable Urban Agriculture program," he continued. "I would not have the position I have in a profession that I love were it not for this program. It set me up for success in a really big way.
Erika Pepper's track was more direct. She moved to California from Israel and enrolled in the spring of 2017. She explained,
I chose City College because of its location. I had just gotten a master's in environmental studies and wanted to work in the green roof industry. I felt that learning more about plants and plant care would help me to thrive in this industry. It has absolutely helped me in several ways—client communication, job security, and when I went to get my professional green roof certification, I did not have to study for the plant section because I had already learned everything at San Diego City College. The most helpful parts of the programs were the on-site farm training that we were required to participate in many of the classes I took. I also found the plant science topics very helpful. I believe that City College has a great urban farm and orchard and thought it was really cool that they had a program to sell the produce that we grew.
Next Steps
City College isn't letting the Sustainable Urban Agriculture program or Seeds@City lie fallow. New initiatives being launched or planned included the following:
Partnering with the campus food pantry to donate fresh produce to students facing hunger or food insecurity
Working with local high schools to increase enrollment
Involving courses unrelated to sustainable agriculture, including sociology, biology, and more, to utilize Seeds@City as an outdoor learning space on topics of sustainability and life sciences
Providing field trips for children at the San Diego City College Child Development Center for lessons on farming and food
Ramping up yields to bolster access to fresh food
Assistant Professor Erin McConnell, who manages the program, said, "I moved to San Diego from Zambia, where I lived for three years teaching agriculture and fish farming, and I never expected that I would be able to continue to teach agriculture in this type of urban space."
References
Altieri, M. (2019, February 22). How urban agriculture could improve food security in U.S. cities. Retrieved from www.greenbiz.com/article/how-urban-agriculture-could-improve-food-security-us-cities
County of San Diego. (2017). County of San Diego crop statistics and annual report 2017. Retrieved from www.sandiegocounty.gov/content/dam/sdc/awm/docs/AWM_2017_Crop_Report.pdf
Goecker, A. D., Smith, E., Fernandez, J. M., Ali, R., & Goetz Theller, R. (n.d.).
Employment opportunities for college graduates in food, agriculture, renewable natural resources, and the environment, United States, 2015-2020. U.S. Department of Agriculture. Retrieved from www.purdue.edu/usda/employment
Lynch, J. (2016, October 25). What does research say about active learning? Retrieved from www.pearsoned.com/research-active-learning-students
Erin McConnell is Assistant Professor, Sustainable Agriculture, and Agriculture Program Manager at San Diego City College in San Diego, California
Opinions expressed in Learning Abstracts are those of the author(s) and do not necessarily reflect those of the League for Innovation in the Community College.