Serving Students With Undiagnosed Disabilities: A Case Study
December
2017
Learning Abstracts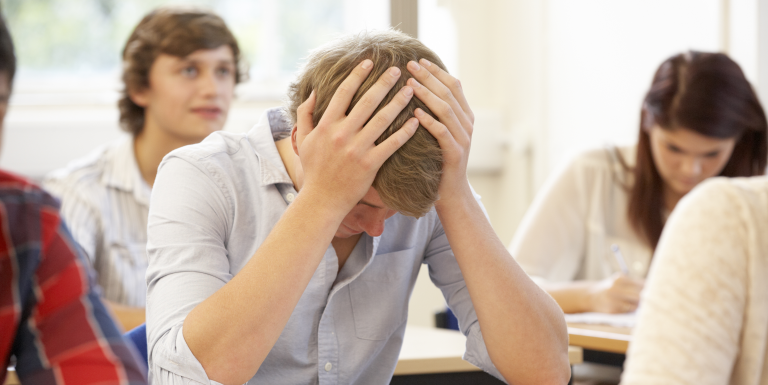 One of the primary goals of community colleges is to provide education equality and opportunity through an open admission policy. This requires diligence on the part of both faculty and administrators to provide opportunity to all students, particularly those whose needs for assistance in learning are invisible.
In order to determine how these students are being served in Illinois community colleges, a case study of five colleges was conducted in the suburbs of Chicago. Two Directors of Disabilities Services and one Assistant Vice President of Transfer and Developmental Education were interviewed for an administrative perspective. Five full-time and adjunct faculty members from diverse disciplines—ESL, Business and Social Science, Math and Science, Liberal Arts, and Career and Technical Programs—were also interviewed.
Challenges
Making education available to all requires institutions to reflect on how to best serve students with undiagnosed and invisible disabilities. An undiagnosed disability includes a disability with which an individual has not been officially diagnosed or a known disability the individual consciously does not acknowledge. An invisible disability is any disability that is not immediately apparent. In higher education, examples of these disabilities can be, but are not limited to, mental health disorders, anxiety, learning disabilities, attention deficit disorders, autism, or dyslexia.
Growing Population
Students with undiagnosed and invisible disabilities are a growing segment of community college populations because of the laws enacted to help them to obtain a high school diploma. The Individuals with Disabilities Education Act (IDEA) states that all students with disabilities must be given a free, individualized, appropriate education. IDEA includes age limits, and therefore, these provisions do not apply to postsecondary education. However, IDEA does influence postsecondary education in that it substantially increases the number of students with disabilities who are eligible to enroll at the community college level (Rothstein & Johnson, 2014).
In the last two decades, the number of high school graduates with a learning disability who move to higher education has tripled (Lightner, Kipps-Vaughan, Schulte, & Trice, 2012). Approximately 11 percent of college students have some kind of disability, and two-thirds of this group are represented by invisible disabilities (Gose, 2016). Students with disabilities have lower graduation rates than those without disabilities. Part of the problem is that students do not seek assistance for a variety of reasons.
Students Do Not Seek Accommodations
Nationwide, only 17 percent of students with learning disabilities receive accommodations (Gose, 2016). At the community college level, it is the students' responsibility to seek accommodations. Marshak, VanWieren, Ferrell, Swiss, and Dugan (2010) state various reasons students do not seek the services available to them:
Students finally have an opportunity to lose the stigma of having a disability and needing help.
Students want to be more self-sufficient.
Students want to avoid negative social reactions related to receiving special accommodations.
Students have difficulty explaining their disability, as they may have never done so on their own before.
Students do not have knowledge about how to receive services.
Students question the usefulness of the accommodations received.
Students have had past negative experiences.
Providing Guidance
The very nature of invisible disabilities may cause students' issues to go unnoticed until it is too late. Traditional students in the first years of college do not have the emotional maturity needed to recognize that they need help and seek advice. Chickering (1993) developed a model for assessing student maturity that includes vectors associated with developing competence, managing emotions, moving through autonomy toward interdependence, developing mature interpersonal relationships, establishing identity, developing purpose, and developing integrity. According to this model, students do not realize when it is appropriate to seek help until they advance through the third vector—moving through autonomy toward interdependence. It is in this vector that students may realize they have a problem, have the ability to rationalize a solution, and take action to fix it (Chickering, 1993). However, in many situations, it is too late. At this point, students have most likely thought about dropping out or are doing so poorly they need to. Older students may face similar challenges. Undiagnosed and invisible disabilities are common in nontraditional students because they did not have the benefit of early detection and privileges of IDEA or other laws that were more recently introduced (Van Noy, Heidkamp, & Kaltz, 2013). Older students may not be aware of their disability and, as a result, do not know they need to seek help. Students of all ages are, therefore, often dependent upon administration and faculty to ensure that they are aware of services available and that their needs are being met.
Universal Design for Learning
A growing trend in education is the use of Universal Design for Learning (UDL). This model meets the needs of a variety of students, including those with different abilities, disabilities, and learning styles (DO-IT, 2012). The model's success is based on using multiple means of representation, action and expression, and engagement. UDL specifically assists students with invisible disabilities and alleviates the need for accommodations for many students. Research has noted that in higher education, UDL promotes a feeling of community and interaction among students that leads to increased success (Rao, Ok, & Bryant, 2014).
The importance of training is noted in the Higher Education Act of 1965 and the RISE Act of 2017. Included in this Act is funding of $10,000,000 to carry out initiatives to improve services provided for students with disabilities and increase training for faculty on best practices, including Universal Design for Learning (S. 1295, 2017-2018).
Case Study Findings
Bringing about awareness of services to students is facilitated in the much same way across participating colleges. A non-mandatory orientation in community colleges covers all services available, including disability services. An abundance of information is provided at this time and disability services can be lost in the pool of information. Students tend to focus on more urgent needs, such as financial aid support or the registration process.
Administrators tend to rely on the website to provide students with information about the disability services that are available. The interviewed college personnel acknowledge that this method requires advocating on the student's behalf. Websites generally are not updated to be user-friendly or to include services that are provided for all disabilities.
All participating colleges rely heavily on faculty to bring awareness to students about services available. The syllabus is the primary communication that disability services exist. The disability statement in the syllabus is often technical and informs students of the laws. Unfortunately, some students may not realize that these laws even apply to them and ignore this information in the syllabus.
Training
Some disability training is made available at each of the colleges, but on a voluntary, as needed basis. Essential training, such as safety standards, is mandatory, but time and resources are limited for disability training. The college representatives interviewed did not have any specific guidelines or procedures to follow when identifying or directing students who may qualify for disability services.
Faculty Perception
Faculty are aware that disability services exist, but acknowledge they are unsure of the procedures to obtain services. Only two of the faculty make it a point to mention disability services the first day of class, but none of them read the syllabus in detail, including the disability language. A disconnect exists between administration relying on faculty to get this information out to students and faculty being knowledgeable about different types of disabilities, services offered, and what is expected.
All but one of the faculty interviewed has received some kind of request for varying accommodations outside of a formal disability request. These faculty members express compassion toward students, want them to succeed, and make reasonable accommodations without an approved plan. The one faculty member who had not received any requests attributes this to the fact that she uses the UDL model in her classroom.
Best Practices to Serve All Students
In order to further increase the number of student completers, community colleges need to improve the number of students with disabilities who are successful. Recognizing and accommodating the needs of this population of students will go a long way toward achieving the mission of the community college. Recommendations include:
Universal Design for Learning
Community colleges can better serve diverse learning needs of students by implementing UDL. Universal Design for Learning is mentioned in various pieces of legislation, referencing the importance of training teachers to use this model to build an inclusive environment. Training on the use and implementation of UDL should be available to all faculty and supported by administrators. Communities of practice can be utilized to support faculty who wish to explore this model.
Proactive Student Training
Aligning with Chickering's vector theory, training is needed for younger students to help develop independence. Students at this stage in their life need guidance on how to recognize their needs and seek the appropriate help. Older students may not be aware of their disability or that there are accommodations that could help. Although the request for accommodations is voluntary, targeting students who do not do well on placement testing and ensuring that these students are aware of the services that are available and how to obtain them may guide them in the right direction. This proactive approach may entice students to seek services before they begin to struggle.
Proactive Faculty Training
To increase awareness, additional training should be accessible to faculty. A procedural manual should be available that would highlight how students obtain services, what services are offered, and what to expect from students with various disabilities. This also may include appropriate reactions to disabilities and when and how to seek additional guidance. Expectations of faculty involvement in noticing and reporting students who may need to seek help should be noted.
Climate Centered on Respect
All students experience their disabilities uniquely. Colleges need to respect students' privacy while providing opportunities to gain knowledge about services. Through online chat features connected to the disability website, students should be able to get additional information anonymously. The disability services office should be located with all other academic services so that students will not be immediately associated with disability services by their peers.
The most effective and powerful application for student success is personal connection. Relationships built on mutual respect can build confidence in students. Providing an environment of inclusion on campus where students, staff, and faculty value students with disabilities enables students to feel more open about their disabilities and accommodation issues. This should be a campus initiative and classroom goal.
Students often struggle to recognize and seek help. Faculty should, therefore, strive to make the first connection with a student. It is the job of the instructor to provide a space of comfort and acceptance. A simple act of caring and acknowledgement can translate to success for a student.
Conclusion
There are many reasons why students do not complete college, some of which cannot be controlled. Improving and enabling the success of students with undiagnosed disabilities is one thing the administrators and faculty can do to increase the chances of completion and retention. Using these best practices will provide opportunity and education equality to all students. It is time to get started.
References
Chickering, A. W., & Reisser, L. (1993). Education and identity (2nd ed.). San Francisco, CA: Jossey-Bass.
DO-IT. (2012). Invisible disabilities and postsecondary education. University of Washington. Retrieved from http://www.washington.edu/doit/invisible-disabilities-and-postsecondary-education
Gose, B. (2016). Disability experts debate the merits of universal design. The Chronicle of Higher Education, 63(4).
Lightner, K., Kipps-Vaughan, D., Schulte, T., & Trice, A. (2012). Reasons university
students with a learning disability wait to seek disability services. Journal of Postsecondary Education and Disability, 25(2), 145-159.
Marshak, L., VanWieren, T., Ferrell, D., Swiss, L., & Dugan, C. (2010). Exploring barriers to college student use of disability services and accommodations. Journal of Postsecondary Education and Disability, 22(3), 156-175.
Rao, K., Ok, M., & Bryant, B. (2014). A review of research on universal design education models. Remedial and Special Education, 35(3), 153-166.
Respond, Innovate, Succeed, and Empower Act of 2017, S. 1295, 115th Cong. (2017-2018).
Rothstein, L., & Johnson, S. (2014). Special education law (5th ed.) Thousand Oaks, CA: Sage Publishing, Inc.
Van Noy, M., Heidkamp, M., & Kaltz, C. (2013). How are community colleges serving the needs of older students with disabilities? NTAR Leadership Center. Retrieved from https://www.dol.gov/odep/pdf/CommunityCollegesOlderStudents.pdf
Cammy Wayne is a faculty member at Harper College, Illinois, and a student in the Doctorate in Community College Leadership program at Ferris State University, Michigan.
Opinions expressed in Learning Abstracts are those of the author(s) and do not necessarily reflect those of the League for Innovation in the Community College.