Yamilée Toussaint Beach to Provide Tuesday Keynote at Innovations Conference
November
2018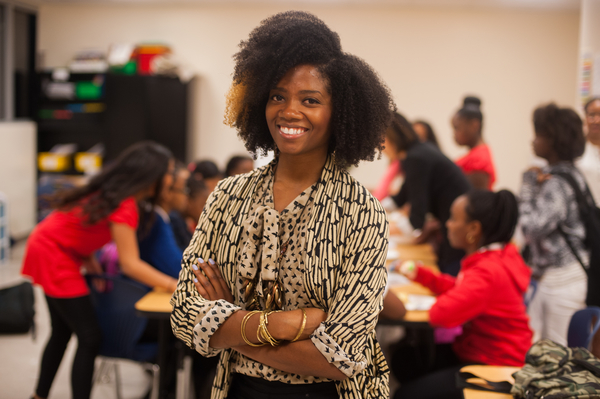 Yamilée Toussaint Beach, Founder and CEO of STEM From Dance, will provide the keynote address on Tuesday, February 26 at the League's 2019 Innovations Conference. Toussaint Beach has personally experienced the extraordinary benefits of a STEM education and dance. After studying mechanical engineering at MIT and dancing for over 20 years, she switched gears to teach high school algebra in an underserved Brooklyn community. She later started STEM From Dance to help increase the number of underrepresented minority girls pursuing a STEM undergraduate education.
In her presentation, Toussaint Beach will share how dance can be used as a tool to unlock girls' potential in the STEM fields. She, along with some of her students, will speak about experiencing STEM in this innovative way and the impact on the next generation of engineers, scientists, and technologists.
"Yamilée Toussaint Beach's approach to STEM education invites us to see, in an innovative way, what student success means in the changing context of education," said League President and CEO Rufus Glasper. "In her keynote address, she will demonstrate how STEM From Dance serves as a medium for systemic change and helps to foster equity, diversity, and inclusion in STEM fields."
The League's 2019 Innovation Conference will take place February 24-27 at the New York Marriott Marquis. Set in the heart of Times Square on West 46th Street and Broadway, this iconic hotel lets you experience all the magic of New York from the moment you arrive. The conference is hosted by Borough of Manhattan Community College, Guttman Community College, and LaGuardia Community College. Over 400 event sessions will focus on community college learning and teaching, leadership and organization, workforce preparation and development, student success, and basic skills and developmental education.
The Innovations Conference, now in its 21st year, is the foremost convening for professionals dedicated to improving and enhancing teaching and learning, leadership and management, and the community college experience. This international event provides a forum for collaboration among academic experts and thought leaders, while granting participants exclusive access to the most inventive and inspirational community college programs from around the world.
The Innovations 2019 early registration deadline is December 1, 2018. League Board and Alliance members receive an additional registration discount. Click here to register.
League Platinum Partners and organizations that wish to gain access to the community college market are encouraged to participate as exhibitors and sponsors.