Excellence in Community College Education Celebrated at League's Innovations Conference
March
2020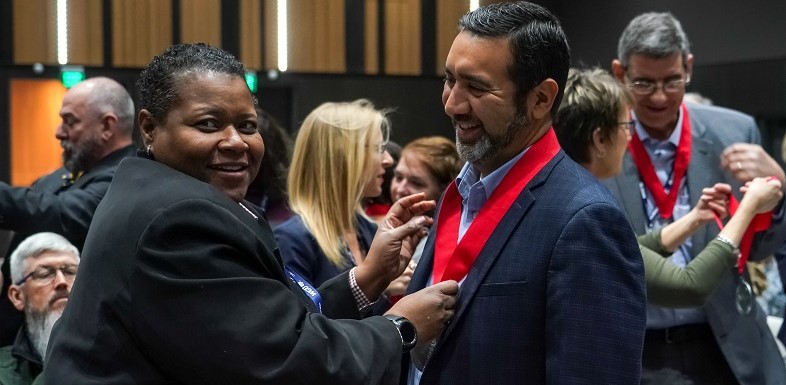 Outstanding technology students; innovative projects, initiatives, and programs; and significant contributions to teaching, learning, and leadership were recognized at the League for Innovation in the Community College's Innovations Conference, March 1-4, at the Hyatt Regency in Seattle, Washington.
Educational Testing Service O'Banion Prize
Andrew L. Meyer, Founder, Meyer Global Associates LLC, and Vice President Emeritus, Anne Arundel Community College, was presented with the ETS O'Banion Prize for his role as a leading expert and advocate for adult learning and workforce development. After working for over 30 years in Maryland community colleges, he helped launch Global Corporate College, a frame-breaking delivery model for incumbent worker training. He also served as Vice President for Workforce Development for the League, securing two major grants totaling $6.5 million dollars.
Rufus Glasper, President and CEO, League for Innovation in the Community College, accepted the award on behalf of Meyer at the general session on Monday.
Terry O'Banion Student Technology Awards
Two of three community college technology student awardees were presented with Terry O'Banion Student Technology Awards at Monday's general session. Each student received a plaque and a $2,500 scholarship in acknowledgement of his or her achievements. The Student Developer Champion award, presented annually to a student preparing for a career in software development, went to Thomas Soteros, a full-time computer science student at Johnson County Community College in Overland Park, Kansas. One of two Student Technology Champion awards was presented to Sandra J. Roman, Morton College, Cicero, Illinois. Ibrahim Sackey, Cuyahoga Community College, Cleveland, Ohio, who was unable to attend, was recognized during the session and will receive his plaque and scholarship award in the mail.
Innovation of the Year Awards
Innovators from 58 institutions were recognized with a seven-foot sign, including college names and innovation titles, and the League Awards Reception on Monday. Recipients received a certificate when the awards were announced in spring 2019. In addition, 29 Innovations Conference sessions were presented by award-winning teams or individuals, at our invitation. Established over 30 years ago, Innovation of the Year Awards are designed to recognize innovative programs, practices, partnerships, and activities at League member colleges that improve the ability of institutions to serve students and the community, and to honor the faculty, staff, and administrators who have created and implemented them. Visit www.league.org/node/20352 to learn more about 2019 award winners.
League Excellence Awards
Recipients of League Excellence Awards were celebrated throughout the Innovations Conference. The awards are presented annually for excellence in teaching and leadership, and 384 community college faculty, staff, and administrators from 100 colleges received awards for 2019. Award recipients were honored with a sign with every recipient's name and college; the League Awards Reception on Monday evening; and a medallion donning ceremony during the closing session on Wednesday, which was keynoted by Mary S. Spilde, President Emeritus, Lane Community College.