2018 John & Suanne Roueche Excellence Awards: Celebrating Community College Faculty and Staff
October
2018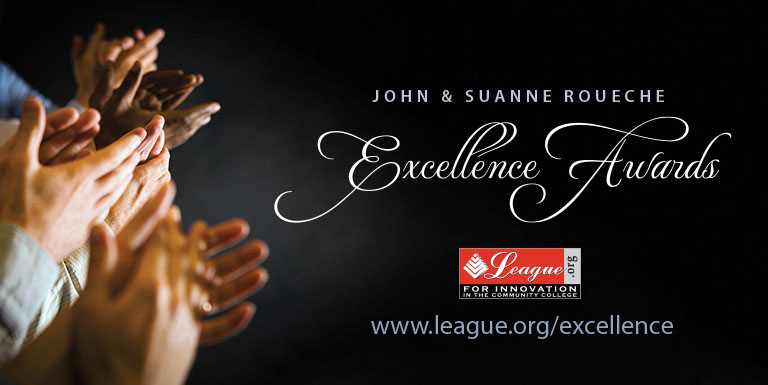 In 2012, the League for Innovation in the Community College, a consortium of almost 500 community colleges dedicated to cultivating innovative practice and excellence in community colleges, established the John & Suanne Roueche Excellence Awards as a tribute to outstanding contributions and leadership by community college faculty and staff.
The awards are open to League Board and Alliance member colleges, and recipients are recognized with activities throughout the League's annual Innovations Conference. Member institutions determine the criteria and selection of those nominated based on their ideals of faculty and staff excellence. Recipients receive commemorative medallions, award programs, and certificates in recognition of their distinguished status. 
The League looks forward to saluting the 2018 John & Suanne Roueche Excellence Award recipients at the 2019 Innovations Conference in New York City, February 24-27. On Monday, February 25, a special League Awards Reception is planned to congratulate honorees for their exemplary achievements. During the keynote address by John Roueche on Wednesday, February 27, recipients will stand to have their specially cast medallions donned as part of the Closing Session. Recipients will also be acknowledged in a special Excellence Awards Program listing their names, titles, and college affiliations and featuring congratulatory comments from their home colleges.
League Board and Alliance member colleges are invited to submit the names of those at their institutions who exemplify exceptional teaching and leadership for 2018 John & Suanne Roueche Excellence Awards through December 14, 2018.
To further highlight and congratulate recipients, the League encourages participating institutions to place an ad in the 2018 commemorative Excellence Awards program. The deadline to submit congratulatory ads is also December 14, 2018.
To learn more about the Excellence Awards, visit www.league.org/excellence.
For additional information about the Innovations Conference and to register, visit www.league.org/inn2019.
John and Suanne Roueche
John E. and Suanne D. Roueche, leaders in the community college field and early proponents of the idea that educators have major responsibility for how well students perform in the classroom, have been partners and friends of the League for over forty years. What began as a working relationship with League founders has evolved into a full-fledged partnership through collaborative efforts on projects of mutual interest and national concern. We were saddened by Suanne Roueche's passing in December 2017 but are heartened by the fact that her service to community colleges and, specifically, to teaching and learning will continue to serve as a beacon for student success.
Click here to view the press release.