Who Is in Today's Community College Classroom? A Case for Flipped and Blended Learning
October
2018
Learning Abstracts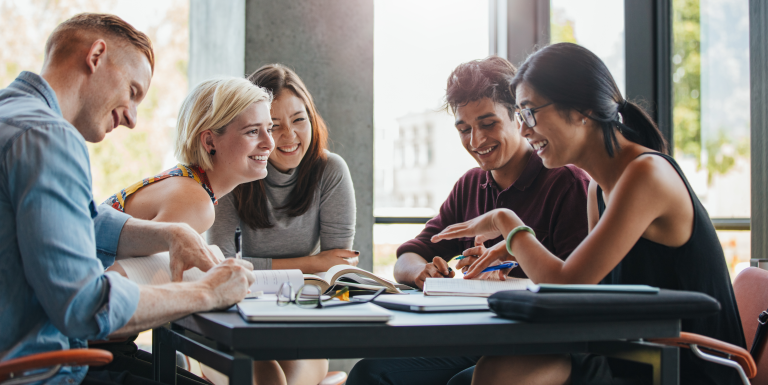 As community college faculty ponder what to do with their newest batch of assigned courses, their thoughts may drift back to the lecture halls and classrooms of their own time in college. How many hours did they spend listening intently to the "sage on the stage" while scribbling notes as fast as they could write? How much time did they spend reviewing those notes, memorizing facts and figures, and completing study guides?
As they begin planning a new semester, faculty members are faced with the realization that they are professional educators whose own time in the classroom was spent mostly in hours and hours of lecture. Whether this is their first time teaching in the college environment or they've spent many years behind the lectern, the fact remains that the students who are staring back at them from the seats in their classrooms are not the same type of student they studied beside.
A new generation has started college and is taking classes right beside (a) an increasing number of older students returning to college after time in the workforce, (b) high school students getting early college credits, and/or (c) many first-generation college students. Today's community college students are more diverse than ever, in every way. Add to this the fact that a greater number of students are facing challenges—both visible and invisible—that make college a very different experience from that of past students. Mental health challenges, learning disabilities, and other potential barriers are a more pervasive part of college than educators may have ever seen before. These are only a few of the changing aspects of our diverse student population, but let's explore them a bit further.
College enrollment has increased dramatically in the past decade, but few demographic groups of students have increased as quickly as first-generation college students. Researchers estimate that as many as 30 percent of today's college students are the first in their families to attend college (Opidee, 2015). These students face a number of challenges, including straddling two worlds (home and school) that don't always understand each other, poverty, and life circumstances that make finding the time for college difficult.
Nontraditional students, or those aged 24 and older, may be the majority in some community colleges depending on location, the surrounding population, and even the time of day courses are offered. Nontraditional students may also differ from traditional students related to marital and parental status, race, gender, level of employment, and enrollment in occupational programs (National Center for Education Statistics, 2018). Early college and other high school dual enrollment programs now serve tens of thousands of students across the United States. These students bring unique experiences and perspectives to classrooms, and levels of maturity may vary widely.
The most common generations community college faculty will encounter in their classes are Generations X, Y, and Z. Generation X students were born between 1961 and 1980. They were raised to be independent and entrepreneurial, and though their generation gave birth to much of the technology we enjoy today, they themselves probably didn't use it much in college if they graduated before the mid-1990s (Novak, 2010).
Generation Y, also known as the Millennials or Echo Boomers, have been the largest cohort of students at most colleges and universities until recently. Millennials have graduated or are graduating and moving into the workforce, but much of the current educational literature involves classroom adaptations for their generation. Millennials were born between 1981 and 1995 and are comfortable working in teams and with technology. They tend to have high expectations for themselves (Novak, 2010).
The newest generation in our classrooms is Generation Z, or iGen, who were born between 1995 and 2010 (Novak, 2010). As with Millennials, iGen college students have been raised on technology, and do not know a world without it. Both Millennials and iGen are, therefore, considered digital natives, with an inherent understanding of technology and an expectation of its use both inside and outside of the classroom. In contrast, Generation X students are likely to be less familiar with technology, and, thus, considered digital immigrants.
What these generational differences mean to community college faculty is that varied instruction, active learning, and collaboration are becoming more and more important. Generation Z students, for example, have grown up in the age of the search engine and being able to find any piece of information they want in seconds. What they have not experienced, though, is the expectation of critical thinking that can help them to determine the accuracy and value of the information they find.
Let's add another layer to the equation. Community colleges and universities across the United States and the world are reporting more students with mental health and learning challenges that can affect their college experiences. Approximately one-fourth of Americans live with a diagnosable mental disorder, and it should be expected that the prevalence on college campuses will mirror that (Kesler, Chui, Demler, & Walters, 2005). This includes not only emotional challenges, but also attention and impulse control difficulties as well as diagnosed learning disabilities.
We know that every student faces challenges in college. We certainly faced our own when it was our time in the lecture hall. What we need to keep in mind, however, is that the variety and severity of challenges has changed. Whether it is age, technological comfort, emotional or learning barriers, poverty, or other challenges we haven't even touched on here, faculty must try to understand the experiences of their students.
Here, then, is the essential question: Can a traditional lecture-based course truly meet the needs and challenges associated with educating the modern student? We hope that the reader is beginning to understand that the answer is, "No."
The ideal instructor and course for all of these students will have training, support, and flexibility. Institutions need to be prepared to offer training on new pedagogies that allow for new and different types of engagement. Faculty must be trained to be less of the sage on the stage and more of an active partner in learning. Support must also be offered from colleagues, libraries, educational technologists, and others who can connect educators with effective tools, resources, and each other. Finally, flexibility is necessarily a key characteristic of the community college faculty member. Switching back and forth among different pedagogies, understanding the needs of students, and being able to offer more than just a textbook and printed slides are essential.
Flipped and blended learning is an excellent fit for a diverse, multigenerational classroom. Blended learning blends education and technology, and the available resources are growing exponentially every day. Faculty no longer have to create their own tech tools from scratch, and an exploration of the Internet using a search engine or even a discussion with a textbook's publisher can sometimes locate hundreds of tools, videos, websites, interactive activities, and lesson plans for faculty to consider. For example, within a few seconds on YouTube, one can find documentaries, lecture videos, demonstrations, and tutorials to inspire teaching.
The use of technology is expected in nearly every job now, and our students have the expectation of using it as an essential tool for learning. The authors' favorite way to blend technology and learning is through flipped classroom course design. No longer considered a fad or yet another fleeting pedagogical concept, the flipped classroom creates an environment that allows for that essential flexibility mentioned before and serves each student's strengths individually while minimizing the impact of learning barriers.
Flipped classroom design essentially flips the location of learning as it occurs in a traditional lecture classroom. The acquisition of basic knowledge—the basic levels of remembering and understanding in Bloom's Revised Taxonomy—no longer takes place in the classroom. These learning activities are completed outside of the traditional classroom, while higher level learning that involves analysis, application, and creation occur inside the classroom. For example, lectures in the classroom run at one speed: the lecturer's. However, lecture videos watched at home can be stopped and started, can be closed captioned, and can include interactive questions to monitor learning as the information is presented. To facilitate learning, lectures can be enhanced using worksheets, interactive websites and activities, adaptive quizzing, webquests, and other, similar resources. Students who learn best through hearing information can listen to lectures; students who learn best by reading can read texts or original sources; students who learn best in context can use interactive exercises; and the online learning environment can be set up ahead of time to offer the variety needed to reach each and every student. Nearly anything previously done in the classroom can now be adapted for online delivery through a learning management system.
Now that class time is free of lecture, it is possible to move the more in-depth projects and learning activities into the group space of the classroom, where students not only have each other but dedicated faculty to guide them as they work. Instead of sending students home to complete an outline for a paper, an annotated bibliography, a media presentation, or another potentially time-consuming and complex project on their own, faculty can facilitate this type of work in an active learning environment. This gives students access to support and faculty the ability to ensure that students are on track and exploring topics in a deep and meaningful way.
For example, during a team-based project involving both of their courses, the authors were able to circulate among student teams and pose thought-provoking questions to urge them to go deeper into the research and exploration of their topics. The students involved produced higher quality work and showed more critical thinking and application of the concepts than students in previous classes. In a flipped classroom, student teams work together to find avenues to contribute in a valuable way. Mini-lectures and reviews can help to clear muddy points while still allowing time to actively use and apply the information. Students can create games that are then played by the class. The possibilities are legion.
The modern student is very different from the students who were in community college classrooms as recently as five years ago, and they have different needs when it comes to an effective learning environment. Faculty not only have a responsibility to provide learning experiences that are relevant and effective, but also an opportunity to explore and enrich their own experiences as educators. The authors have found that the move toward flipped and blended learning has revitalized their teaching and opened them to understanding their students better than they ever did as sages on stages.
Incorporating active learning into community college courses will be more and more essential to the educational process as a new generation of students moves into higher education, and the authors have found a pedagogical home in flipped learning. Though admittedly not the only way to integrate the essential elements of learning into the college environment to meet the needs of college students, it is a well-tested and successful model of education in many college classrooms around the world. If you choose to flip a course, or even a single lesson, you will be in good company, ... and your students will likely thank you for it.
This subject is explored in depth by the authors of this issue of Learning Abstracts in Blended Learning & Flipped Classrooms: A Comprehensive Guide.
Resources
Kessler, R. C., Chui, W. T., Demler, O., & Walters, E. E. (2005). Prevalence, severity, and comorbidity of 12-month DSM-IV disorders in the National Comorbidity Survey Replication. General Psychiatry, 62(6), 617. doi:10.1001/archpsyc.62.6.617
National Center for Education Statistics. (2018). Nontraditional Undergraduates: Definitions and Data. Retrieved from nces.ed.gov/pubs/web/97578e.asp
Novak, J. (2010). The six living generations in America. Retrieved from www.marketingteacher.com/the-six-living-generations-in-america
Opidee, J. (2015, March). Supporting first-gen college students. University Business. Retrieved from www.universitybusiness.com/article/supporting-first-gen-college-students
Happy Gingras is Director of Teaching and Learning and Patricia Adams is the lead psychology instructor at Pitt Community College in Winterville, North Carolina.
Opinions expressed in Learning Abstracts are those of the author(s) and do not necessarily reflect those of the League for Innovation in the Community College.