Using Design Thinking to Enhance the First-Year Student Experience Course at Lakeland Community College
June
2020
Learning Abstracts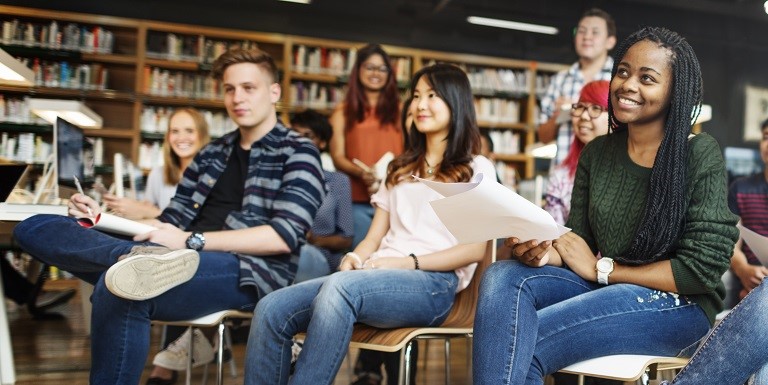 In an environment where many community colleges are facing declines in enrollment, decreases in funding, and demands to produce more graduates, it is essential that these institutions equip their students with the tools they need to successfully navigate the higher education ecosystem. One way to do this is for colleges to critically evaluate their processes of onboarding new students via first-year experience (FYE) courses.
The goals of FYE courses are to help new students to successfully transition to a college environment, improve academic performance potential, and encourage student retention (Alvarez & Towne, 2016). In 2008, the American Association of Colleges and Universities' list of high-impact practices included first-year seminars or experiences; following their lead, many colleges and universities incorporated them into their curricula (Sullivan & Haller, 2018). FYE courses generally focus on teaching new undergraduate students success skills such as time management, college-level research and writing, connecting with campus resources, and effectively communicating with faculty (Sobel, 2018). In addition, "participation in a first-year experience program has a notably positive relationship with three SENSE (Survey of Entering Student Engagement) benchmarks: early connections, effective track to college readiness, and engaged learning" (CCSSE, 2013, p. 14).
Turning Ideas Into Action in an FYE Course
To increase student retention and completion rates, Lakeland Community College launched its FYE course in fall 2015. The course is required for any first-time college student or transfer student with fewer than 15 college-level credits. In 2018, the college assembled a First-Year Experience Advisory Committee comprised of faculty, administrators, and staff; one of the goals of the committee was to examine ways Lakeland's FYE course could be improved using design thinking strategies. Design thinking is a human-centered approach to problem-solving that can be employed to improve an organization's products, services, and processes (IDEOU, n.d.). The following five stages of design thinking were used in the committee's efforts to improve students' experiences in the FYE course:
Empathize: Research the users' needs.
Define: Identify the users' needs and problems to design an actionable plan.
Ideate: Generate ideas and solutions related to the problem.
Prototype: Create iterative solutions.
Test: Collect and apply feedback to refine prototypes. (Institute of Design at Stanford, n.d.)
Applying Design Thinking Stages
Empathize
To assess the effectiveness of and student satisfaction with the FYE course, the committee read end-of-semester course evaluations, conducted one-on-one interviews, and facilitated a student focus group. They also interviewed FYE faculty to learn about their experiences teaching the course. The most prominent theme discovered through this process was that the students and faculty did not like the required course textbook. Students reported that the textbook included "common sense" information that was not worth the money. Several FYE faculty echoed the students' feedback, stating that they had difficulty integrating the content of the book into their lectures and assignments. 
Another theme that emerged based on student and faulty feedback was that some faculty were veering away from the outline and outcomes of the FYE course, resulting in a lack of consistency. In addition, students reported that some of the FYE faculty had a tendency to include discipline-based content in lectures and assignments. This led students to relate feeling like they were enrolled in a course focused on the faculty member's content expertise (e.g., math, psychology) rather than an FYE course. Some of the FYE faculty interviewed confirmed students' sentiments about the lack of course consistency.
Define
The First-Year Experience Advisory Committee applied the second stage of design thinking by defining student and faculty needs to create an actionable plan. Based on feedback, the FYE textbook was replaced with open educational resources (OER). OER are teaching and learning materials that are in the public domain or have been made available under an open license to access, adapt, and redistribute at no cost (Creative Commons, n.d.). In addition, the committee decided to create a resource site to support FYE faculty with the transition to OER and to improve course congruity.
Ideate
The committee then applied the third step of design thinking, generating ideas and solutions related to using OER materials and ensuring curricular consistency. With over 20 faculty members teaching more than 35 sections of the FYE course in fall 2019, it was essential that they felt supported through this change. In addition, the committee did not want faculty to think they had to redesign their courses from scratch. To ensure a seamless transition to OER for all FYE sections, the committee created an FYE Instructor Resource Site in the institution's learning management system, Blackboard. The site was made available to all of Lakeland's FYE faculty in summer 2019. The materials in the resource site are in line with the FYE course outline and ensure that what is taught across all sections is more consistent.
Prototype and Test
The fourth stage of design thinking, prototyping, was used in the creation and design of the First-Year Experience Instructor Resource Site. The site includes sample syllabi, recommended videos, OER chapters and articles, assignments, in-class activities, and other resources that can be used to facilitate a successful FYE course. The fifth stage, testing, was used in tandem with the prototyping stage. It was important to the committee that the resource site was user-friendly, so a wide range of people were asked to test it prior to making it available to FYE faculty. Test users included full-time and part-time faculty as well as staff members who had no previous exposure to Blackboard. Based on tester feedback, the committee changed the resource site to make it more intuitive and easier to navigate. The committee also provided in-person group training for FYE faculty to learn how to use the resource site toward the end of the spring 2019 semester; faculty who were unable to attend had the opportunity to participate in one-on-one training.
Next Steps
End-of-semester course evaluations from fall 2019 indicated students' positive reception of the transition to OER. In addition, comments regarding course inconsistency were absent from the evaluations. Faculty reported satisfaction with how the resource site helped them design their course using OER. The FYE Instructor Resource Site will continue to be updated based on the feedback and recommendations from faculty. The committee is currently creating in-person and online professional development workshops for FYE faculty. In addition to training faculty how to use the resource site, the workshops will give them an opportunity to collaborate and share ideas about best practices for teaching the course.
According to Sobel (2018), teaching FYE courses creates a sense of belonging to a community of instructors and provides opportunities to support and share teaching techniques with other FYE faculty. To avoid encroaching on academic freedom, faculty training and use of the resource site is optional. However, Lakeland hopes the availability of a site that includes information needed to successfully facilitate an FYE class, in addition to a supportive community of FYE instructors, will not only improve current faculty course facilitation, but also recruit quality faculty who had not previously considered teaching an FYE course.
Ongoing Support for First-Time College Students
While marketing campaigns that recruit students to attend a community college can be helpful in increasing enrollment, getting students to enroll is only part of what is needed for the college to be successful. Butt and Rehman (2010) noted that, in addition to increasing enrollment, institutions must properly manage and retain their students. This is the unmet need Lakeland's First-Year Experience Advisory Committee is attempting to address. While it's too early to tell if these changes have made a significant impact on students' FYE course experience, the college is striving to help learners to establish a connection with the campus community early on so they are encouraged to enroll in subsequent semesters.
Based on the success skills that can be developed from taking an FYE course, this intervention has been identified as a best practice for supporting first-time college students (CCSSE, 2013). Widespread implementation of FYE courses across higher education institutions and resulting empirical evidence supports their effectiveness (Koch & Gardner, 2014; Young & Keup, 2016). Because community colleges serve high proportions of students from various racial/ethnic and socioeconomic backgrounds as well as older or returning students and veterans (National Center for Public Policy and Higher Education, 2011), understanding how to improve an educational environment with FYE courses can also do wonders for the equity agenda (Young & Keup, 2016). The FYE Advisory Committee at Lakeland Community College will continue to collect feedback from students and faculty so experiences in the course are meaningful for all students, particularly those from nontraditional populations.
References
Alvarez, R. R., & Towne, V. S. (2016). Academic advisors as adult educators: First-year experience instructors. MPAEA Journal of Adult Education, 45(1), 9-19.
Butt, B. Z., & Rehman, K. (2010). A study examining the students' satisfaction in higher education. Procedia - Social and Behavioral Sciences, 2(2), 5446-5450. doi.org/10.1016/j.sbspro.2010.03.888
Center for Community College Student Engagement. (2013). A matter of degrees: Engaging practices, engaging students (High-impact practices for community college student engagement). Austin, TX: The University of Texas at Austin, Community College Leadership Program. Retrieved from www.ccsse.org/docs/Matter_of_Degrees_2.pdf
Creative Commons. (n.d.). Education/OER. Retrieved from creativecommons.org/about/program-areas/education-oer
Koch, A. K., & Gardner, J. N. (2014). A History of the first-year experience in the United States during the twentieth and twenty-first centuries: Past practices, current approaches, and future directions. The Saudi Journal of Higher Education, 11, 11-44.
IDEOU. (n.d.). What is design thinking? Retrieved from www.ideou.com/blogs/inspiration/what-is-design-thinking
Institute of Design at Stanford. (n.d.). An introduction to design thinking: Process guide. Retrieved from s3-eu-west-1.amazonaws.com/ih-materials/uploads/Introduction-to-design-thinking.pdf
National Center for Public Policy and Higher Education. (2011). Affordability and transfer: Critical to increasing baccalaureate degree completion. Policy Alert. Retrieved from files.eric.ed.gov/fulltext/ED521330.pdf
Sobel, K. 2018. First-year seminar faculty: Recruitment, supports, motivators, and challenges. Teaching & Learning Inquiry, 6(1), 67-78. doi.org/10.20343/teachlearninqu.6.1.7
Sullivan, C. J., & Haller, C. A. (2018). First-year seminar program evaluation: A focus group study. Currents in Teaching & Learning, 10(1), 109-118.
Young, D. G., & Keup, J. R. (2016). Using hybridization and specialization to enhance the first-year experience in community colleges: A national picture of high-impact practices in First-Year Seminars. New Directions for Community Colleges, 2016(175), 57-69. doi.org/10.1002/cc.20212
Rick Amster is Assistant Professor, Counseling, at Lakeland Community College in Kirtland, Ohio, and a student in Ferris State University's Doctorate in Community College Leadership program.
Opinions expressed in Learning Abstracts are those of the author(s) and do not necessarily reflect those of the League for Innovation in the Community College.