Shifting Views of Developmental Education Lead to Fully Scaled Success
April
2020
Learning Abstracts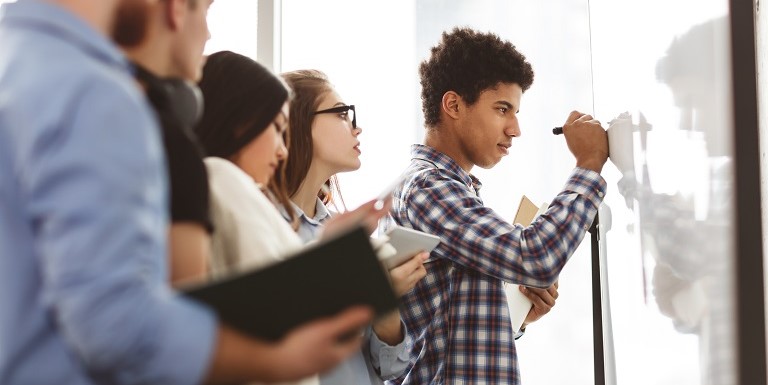 Jackson College (JC) serves three, largely rural counties in southcentral Michigan, educating approximately 6,000 students per year. Like most open enrollment community colleges, about 70 percent of the students arrive at our door challenged by one or more developmental education (DE) holds in reading, writing, and/or math. This issue of Learning Abstracts describes our collective effort to serve these students better by moving our developmental education course offerings to a corequisite model. At Jackson College, we have embraced a design thinking methodology to advance how we innovate to support the success of our students in big, bold ways. The four steps include shift, conceptualize, prototype, and scale. We tell our corequisite story through the lens of these design thinking phases.
Corequisite Writing
Shifting Our Perspective and Testing Assumptions
The important first step of our design thinking model was to shift our perspective, test our assumptions, and better understand the student experience from our students' points of view. The shift in how we deliver Foundation Studies (a.k.a. developmental education) first occurred when a JC team attended an Achieving the Dream conference many years ago and met Peter Adams, an English professor from the Community College of Baltimore County (CCBC). He challenged us to really look at data showing how many of our developmental writing students ever enrolled in and passed college-level writing.
What we found was that the path for developmental students was worse than we had ever imagined. We assumed that students who passed both their DE and college-level writing classes did well in the remainder of their college classes and graduated. Data told an entirely different story. Only about half of developmental writing students attempted a college composition course in their second semester. That number held true for reading students progressing to college-level classes and was even worse for developmental math students. As it turned out, only 3 percent of our Foundation Studies students graduated. With urgency, we called our legacy approach into serious question.
Upending Tradition: Conceptualizing and Prototyping
The next two steps of our design thinking methodology were to conceptualize and prototype a new way to better support students. A team of JC faculty began the college's corequisite journey in fall 2011, basing our model on the success of the Accelerated Learning Program (ALP) developed at CCBC.
Structure. Following the research-backed ALP model, students who place in developmental writing at Jackson College enroll in both college-level and DE-level composition classes. The same faculty member teaches both sections. This supports the development of strong faculty-student relationships, which we know are key to advancing student success. Ten DE students typically take the college course with 14 students who place into college-level writing. Students always start with the college-level class, then, after a small break, the Foundation Studies students reconvene with the same instructor and the developmental class begins.
REAP™. The core of our corequisite education model is the REAP (review, evaluate, apply, preview) approach. In the ENG 091 class, the instructor and students review what was just covered in the college class. This helps students clarify the concepts they just learned. Next, students evaluate their level of understanding and how the instruction went for them. Students then move into the application stage, where they practice what was covered in the college course. Finally, and we believe importantly, the instructor previews what will be covered the next time the college class meets. As our instructors are quick to point out, "We used to tell students to remember this skill for the college class next semester. Now we tell them they will need it for Wednesday." This is an obvious benefit to students.
Teaching Load and Professional Development. Instructor load is calculated based on three credits for each class. While the Foundation Studies class supports the college class, it has separate and distinct activities and assignments. All instructors teaching ALP courses receive extensive onboarding and ongoing professional development support by the lead instructor. All of JC's adjunct faculty are compensated for the internal professional development we offer, including ALP onboarding and workshops.
Results and Scaling. The results of our prototype pilot amazed us. By virtue of the corequisite model, 100 percent of Foundation Studies students enroll at the college level. At the prototype pilot stage, 77 percent succeeded in the college composition course compared to 43 percent in the traditional model. After fully scaling our ALP approach, we still have about a 67 percent success rate and the success gap has decreased for low-income students and students of color.
Graph 1: Higher Pass Rates in College Writing With ALP vs. Traditional DE Writing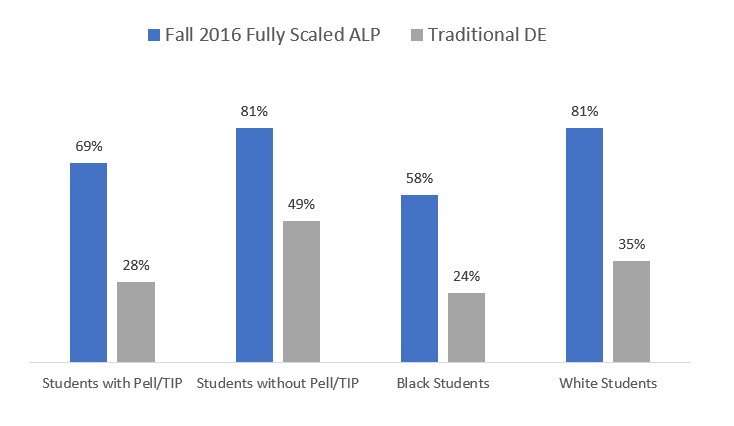 Student surveys show that one of the most important aspects of this approach is more time with the instructor and more time to practice. Students value the relaxed setting and feeling supported but challenged.
Corequisite Reading
Historically, JC offered two levels of developmental reading. Many institutions were integrating reading with composition, but our ALP model for Foundation Studies writing was working well and we did not wish to endanger the excellent outcomes we were seeing by adding the not-so-small task of teaching reading strategies in the already crowded writing curriculum. Instead, we focused on helping students develop reading strategies in the context of their general education or introductory college-level courses. We launched our corequisite model for reading students in fall 2013 by adapting ALP and incorporating reading strategies described by Cris Tovani (Tovani, 2000, 2004) and by Reading Apprenticeship at WestEd (Morris & Zarubin, 2011), linked to specific college-level content courses.
Structure. JC conceptualized how a reading course would interact with a content course in a meaningful and significant way for students, and still be achievable with staffing. The reading course enrolls up to 16 students, who also enroll in a specific section of a content course, such as Introduction to Psychology, with another 24 students who do not have a reading requirement. The psychology instructor teaches the psychology course with the reading instructor sitting in, as if he/she were a student. The reading instructor is then able to refer to materials from the content course and better understand the needs of students. Almost all the material in the reading course is from the content course and the two instructors meet regularly to discuss student progress and experiences. After prototyping the concept with Introduction to Psychology, the model expanded to include Contemporary Business and Communication Fundamentals. Reading students make up no more than 40 percent of a content course.
Teaching Load. The reading instructor load is the full three credits for the reading course plus half of the credit for the associated content class. Data has shown that students do better in the content course in which the reading instructor attends as well.
Reading Class. Students learn about reading strategies and develop skills in the context of a content course. As in the writing class, we use the REAP model of reviewing, evaluating, applying, and previewing material for the next class.
Results and Scaling. The Foundation Studies reading students succeeded at higher rates in the corequisite model than former DE reading students, with Introduction to Psychology pass rates increasing from 64 percent to 70 percent. Based on these results, we fully scaled ALP Reading.
Graph 2: Higher proportion of ALP Reading Students Earn Cumulative 2.0 GPA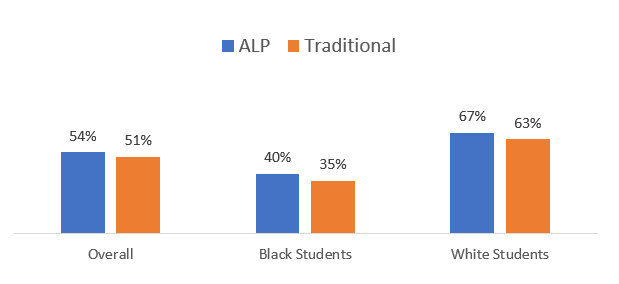 It All Adds Up to Math
More than a decade ago, Jackson College used three levels of Foundation Studies math. Even with the advent of the Carnegie Math Pathways in 2010 and our development of Algebra and Statistics pathways, our research showed that most students who started in the lowest DE math never graduated: Students who started two levels below college math had a 7 percent graduation rate for the Statistics track and 2 percent graduation rate for the Algebra track. As a result, we restructured the curriculum.
Our journey to the corequisite model in math began by studying Tennessee's removal of all DE math courses and learning more about the approach offered by San Jacinto College in Houston, Texas. A team of five faculty and administrators visited San Jacinto in early February 2018 and came back inspired. The visit allowed us to see a successful team-taught program that was yielding results.
In fall 2018, we offered our first co-enrolled sections for Quantitative Reasoning. Unlike writing and reading, where Foundation Studies students blend with other students in the college-level courses, the entire DE section of MAT 040 is co-enrolled in MAT 130 with no other students.
Structure. Each section enrolls up to 24 students. All students who enroll in the DE level also enroll in the college-level class. Each student, then, registers for three credits in DE and four credits of college-level math for a total of seven math credits as a cohort. Similar to the San Jacinto model, classes are held Monday to Thursday. Each session starts with the college-level class, then, after a short break, students move into the Foundation Studies class.
Teaching Load. Two instructors are involved with each cohort—an instructor who teaches the college-level course, and an instructor who teaches the DE-level course and provides instructional support in the college-level course. The Foundation Studies instructor observes and actively assists student groups working in an active, collaborative environment using a modified inquiry-based learning technique. 
Results and Scaling. The initial results for Quantitative Reasoning exceeded everyone's expectations. Typically, less than 20 percent of a DE cohort pass the college-level QR math course. Furthermore, half do not even enroll in math the next semester and about a third of the fall students do not return to college at all. By contrast, with the corequisite model, 100 percent enrolled and 64 percent passed the college-level math course. Recently, we implemented the corequisite model for Statistics and for Algebra for heath occupations. The following table shows the results across our three math pathways.
Table 1: DE Students in College-Level Math

Graph 3: More Corequisite Math Students Enroll in and Pass College Math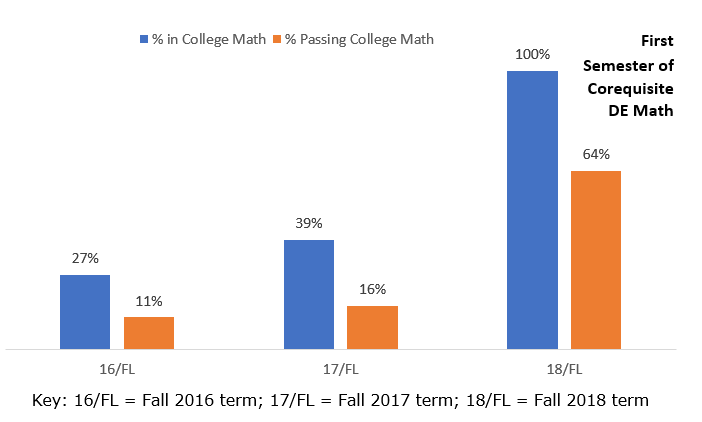 Lessons Learned
We learned many lessons throughout our journey to eliminate standalone developmental education and embrace, pilot, and scale corequisite models. First, do not assume that questions asked by faculty and staff about a certain innovation are indicators of a strong resistance to change. We all want to be sure that innovations do not further harm students; hence, be prepared for many questions, and listen. Second, do not be distracted by anecdotes—let data make the case for change and disaggregate the data. Nothing is more compelling than showing how the credit-completion needle is moving in big, bold ways across your student body.
Third, scale quickly. For writing courses, even though all the data from us and a hundred other ALP schools showed its effectiveness, we piloted the prototype for too many years before converting all traditional stand-alone Foundation Studies writing classes to the corequisite model. Finally, faculty leadership is key. At Jackson College, the drive for corequisites became a faculty-led initiative. Composition faculty worked all summer to develop the curriculum that ties DE into the college-level course. For reading, the instructors wanted to teach students reading strategies in the context of a college class and recruited those partner instructors in content classes. For math, the department took the initiative to bring in several instructional consultants and designed the corequisite paths with amazing results.
While we are thrilled by the results seen so far across our corequisite models, we continue to analyze data to gauge how we should revise our approach to support student success in ways we haven't before with questions such as the following: What assumptions are guiding our work that we have yet to test? What routines are in place that we need to question? How do we continue to shift, conceptualize, prototype, and scale innovative ideas in support of student success? At Jackson College, we continue to consider these questions as part of our Total Commitment to Student Success (TCS2).
References
Morris, H., & Zarubin, E. (2011, May). Reading apprenticeship for first year experience. Reading Apprenticeship at WestEd.
Tovani, C. (2000). I read it, but I don't get it: Comprehension strategies for adolescent readers. Portsmouth, NH: Stenhouse Publishers.
Tovani, C. (2004). Do I really have to teach reading? Content comprehension, grades 6-12. Portsmouth, NH: Stenhouse Publishers
Daniel J. Phelan is President and CEO of Jackson College in Jackson, Mississippi.
Opinions expressed in Learning Abstracts are those of the author(s) and do not necessarily reflect those of the League for Innovation in the Community College.