Rethinking Dual Enrollment to Reach More Students
July
2018
Learning Abstracts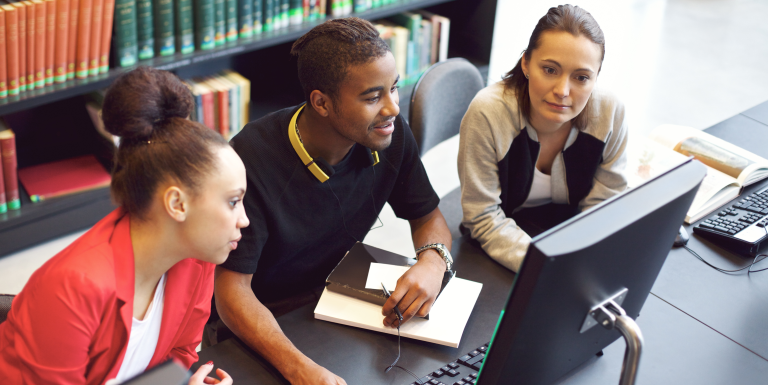 A substantial and growing body of research indicates that, all other factors being equal, students who dually enroll are more likely than their non-dually enrolling peers to finish high school, matriculate in a postsecondary institution and experience greater postsecondary success.1 Spurred by this, states are increasingly viewing dual enrollment as a strategy to promote postsecondary attainment and workforce readiness, and taking steps to broaden student access to dual enrollment coursework.
Yet, by and large, state-set eligibility requirements limit dual enrollment access to only the most academically advanced students, who are likely to pursue college after high school regardless. In many states, middle-achieving students can't participate in dual enrollment courses; and in other states, their options are limited, according to a 2016 analysis of state-set dual enrollment eligibility requirements.
However, there may be ways to provide dual enrollment and other experiences that put students on the road to college, without running afoul of state and local eligibility requirements. This may include ensuring access to options with lower eligibility expectations or requesting exemptions from current requirements in order to try out alternative eligibility criteria.
This brief proposes state approaches to systematically:
Broaden dual enrollment access to middle-achieving students, including students who are college-ready but uncertain about their post-high school plans, and students who are not college-ready but would succeed in a dual enrollment course with some support.
Provide pre-collegiate experiences to middle- and lower-achieving high school students that will either prepare them for dual enrollment by the final semester of their senior year or help them set their sights on enrolling in college after high school graduation.
What Does the Research Say?
In contrast to state policies largely limiting dual enrollment participation to high-achieving students, research indicates that middle-achieving high school students (whose grades or assessment scores fall just short of college readiness measures) not only can be successful in dual enrollment coursework, but also can reap substantial benefits from program participation.
In one example, two Utah high schools — one metro, one rural — developed alternate dual enrollment eligibility criteria for middle-achieving students to determine if dual enrollment participation might increase students' postsecondary aspirations and enrollment.2 The study defined middle-achieving students as those "who qualify academically but don't participate in an accelerated program" (such as concurrent enrollment, Advanced Placement [AP], International Baccalaureate or honors) or "students who miss eligibility by a small margin where counselors and teachers see other indicators that the student, if motivated, could improve performance and continue on to college."
The two high schools developed alternate eligibility criteria, which they used to identify and recruit middle-achieving students into a dual enrollment personal finance course. Recruited students in both high schools also participated in other pre-collegiate experiences, such as college tours, advising, financial aid counseling, etc.
Final course grades in both high schools did not differ significantly between the higher-achieving students who had self-selected into the course and the middle-achieving students. Pre- and post-survey data likewise indicated an increase in middle-achieving students' self-reported behaviors associated with postsecondary success, such as academic motivation and skills (reading and writing skill/interest and critical thinking skills, among others); academic behaviors (perseverance, setting and completing goals, and problem-solving); and self-advocacy.
Additional research suggests middle- and lower-achieving students can be successful in dual enrollment courses. A 2011 report on a foundation-funded California initiative to engage struggling students in career and technical education (CTE) dual enrollment coursework notes, "In Redding, … students with low grades in their high school classes are earning better grades in their Shasta College renewable energy courses. In another example, a Los Angeles City College film instructor who had been concerned about his students' results on the midterm test was later impressed with their final projects, all of which were well-executed films completed on time. All the students ended up passing the course, and the instructor came out of the experience with a strengthened belief that it is important to give students the option of excelling in an area other than test taking."3
A widely-cited study of New York City and Florida students in academic and CTE dual enrollment programs found that for some measures, Florida students "with lower high school grades … benefited [from dual enrollment participation] to a greater extent than students with higher grade point averages."4
Other pre-collegiate experiences may offer similar benefits. For example, an experimental study of summer bridge programs found that participating students were more likely to pass college-level math and English courses and accumulate credits in their first year of college.5 Participation in a student success or College 101 course — a college course that typically has lower requirements for participation — increases the likelihood that students will complete college.6

Endnotes
Ben Struhl and Joel Vargas, Taking College Courses in High School: A Strategy for College Readiness (Boston: Jobs for the Future, October 2012), http:// www.jff.org/sites/default/files/publications/ TakingCollegeCourses_101712.pdf); and "Postsecondary Outcomes of Dual Enrollment Students" (board meeting, South Dakota Board of Regents, October 9-10, 2013), https://www.sdbor.edu/administrative-offices/academics/ accountabilityReports/Documents/Postsecondary_ Outcomes_Dual_Enrollment_Students.pdf.
Cynthia Grua and Moya Kessig, "Middle Performing Students' Eligibility for Concurrent Enrollment Program" (board meeting, Utah Board of Regents, updated May 2014).
Linsey Edwards, Katherine L. Hughes, and Alan Weisberg, Different Approaches to Dual Enrollment: Understanding Program Features and Their Implications (San Francisco: The James Irvine Foundation, October 2011), https://ccrc.tc.columbia. edu/media/k2/attachments/dual-enrollmentprogram-features-implications.pdf.
Melinda Mechur Karp et al., The Postsecondary Achievement of Participants in Dual Enrollment: An Analysis of Student Outcomes in Two States (New York: Community College Research Center, Teachers College, Columbia University, October 2007), https:// ccrc.tc.columbia.edu/publications/dual-enrollmentstudent-outcomes.html.
Elisabeth Barnett et al., Bridging the Gap: An Impact Study of Eight Developmental Summer Bridge Programs in Texas (New York: Community College Research Center, Teachers College, Columbia University, June 2012), https://ccrc.tc.columbia.edu/ publications/bridging-gap-impact-developmentalsummer-bridge.html.
Matthew Zeidenberg, Paul Davis Jenkins, and Juan Carlos Calcagno, Do Student Success Courses Actually Help Community College Students Succeed? (New York: Community College Research Center, Teachers College, Columbia University, June 2007), https://academiccommons.columbia.edu/catalog/ ac:172377.
This issue of Learning Abstracts contains select contents from a brief of the same name published in April 2018 by Education Commission of the States. Click here to access the full report.
Jennifer Zinth leads high school policy and STEM efforts at Education Commission of the States. Elisabeth Barnett is Associate Director of the National Center for Restructuring Education, Schools, and Teaching and serves as a Senior Research Scientist at the Community College Research Center, both at Teachers College, Columbia University, New York.
Opinions expressed in Innovation Showcase are those of the author(s) and do not necessarily reflect those of the League for Innovation in the Community College.