Professional Trades Crisis: An Opportunity for Community Colleges to Take a Leadership Role
December
2019
Learning Abstracts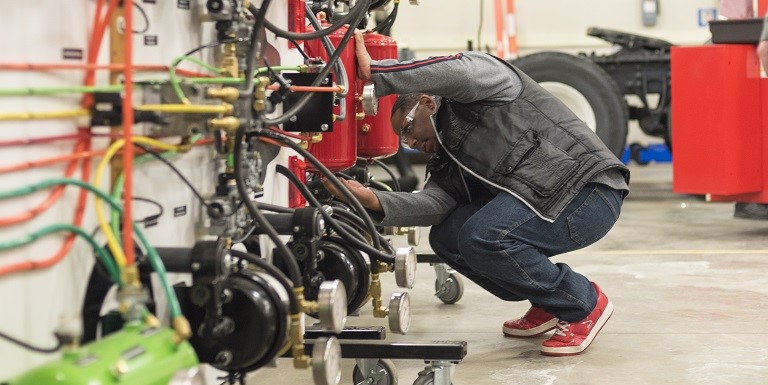 About 12 years ago, I discovered that a handful of students in my fiction writing courses each semester wanted to be screenwriters. I'd always been interested in film myself, so, recognizing an opportunity for students, Delta College, and my own growth, I attended Gotham Writers Workshop to learn scriptwriting. When I offered Introduction to Screenwriting for the first time in the winter of 2008, the course filled in six days. Clearly, I had discovered a topic in which students had an interest.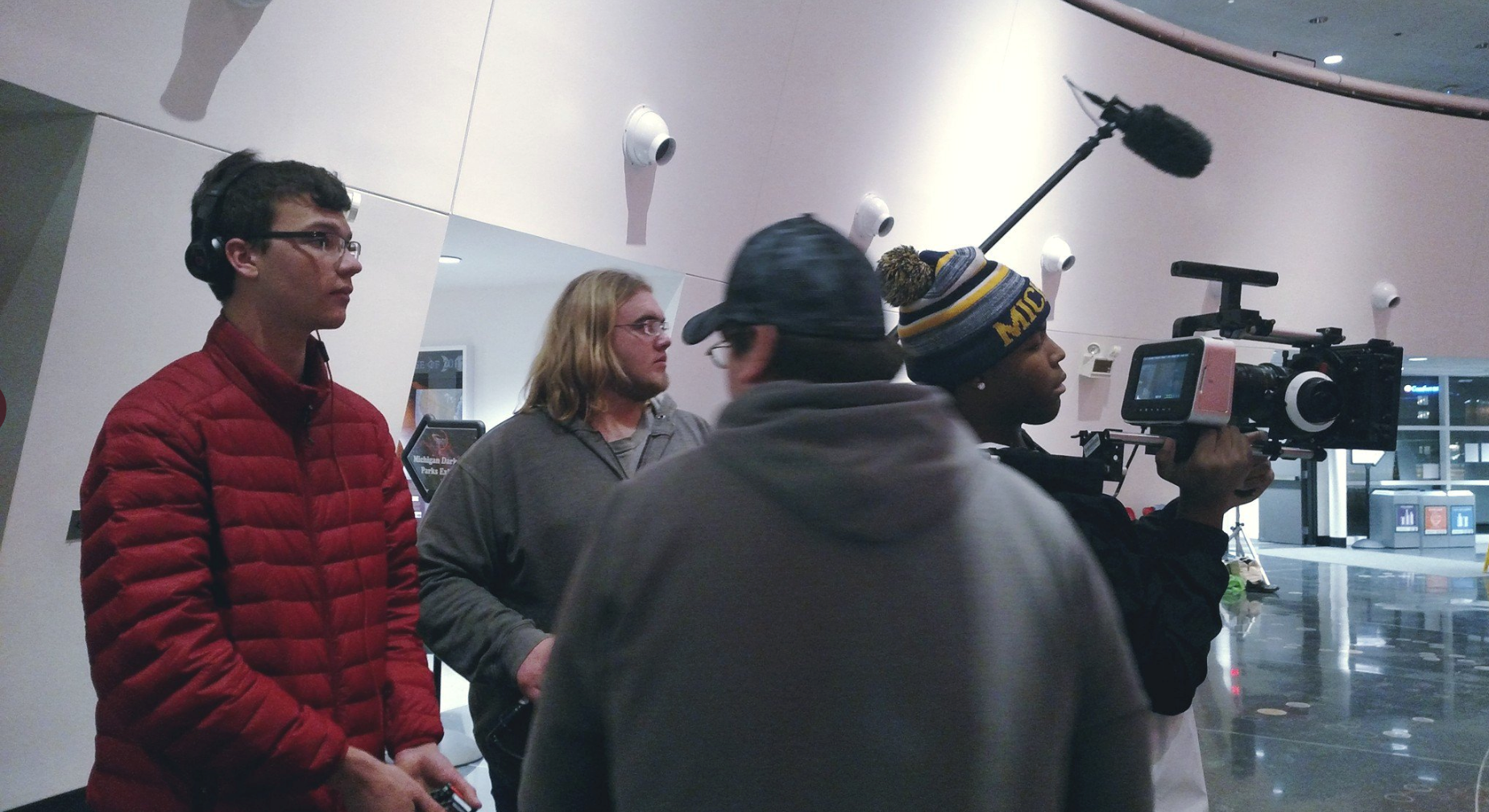 Between 2008 and 2012, Delta College developed Advanced Screenwriting, Introduction to Digital Cinematography, and Digital Film capstone courses, in which students work in teams to make their own short films for film festival submissions. The college now offers a thriving advanced certificate in Digital Film Production and an associate's degree in Independent Filmmaking. Our students' films have screened at regional and national film festivals and many of the students have transferred successfully into four-year programs. Others choose to use what they learn at Delta College to go directly into the workforce. Some have created independent video production companies and find themselves filming weddings, local commercials, and music videos.
As a practicing filmmaker, I made short films that screened at regional, national, and international film festivals. Then, in fall 2018, I had a revealing conversation with my auto mechanic that turned my eye toward documentary filmmaking. After an auto repair, for which he went to a scrapyard to get parts less expensively, he mentioned that in the near future there would not be many mechanics left who would work with scrapyards. When I asked him why, he said, "There aren't enough people going into the auto mechanic field, and those who do are going to get snatched up by dealerships . . . and dealerships aren't going to work with scrapyards." He went on to explain the impending shortage in the skilled trades, and my interest was piqued. At that moment, I decided to tell this important story via film.
The people I interviewed for the documentary, including tradespeople, skilled trades educators, and scholars in sociology, used the same word over and over: perception. Their opinion is that the perception of the trades has deteriorated over the last 30 years. Young people perceive the trades as low-paying and physically demanding jobs that take place in poor working environments. Parents perceive trades jobs as dead-ends with limited opportunity for advancement. Parents who worked in the trades themselves want better for their children, even if, in reality, they are steering them away from rewarding, noble, and well-paid work. According to those I interviewed, secondary schools and parents have a resounding message for young people: Working in the trades is not a viable career option for today's world; you are going to college to get a four-year degree.
Skilled Trades Crisis
According to Sarah Chamberlain, in Forbes (2019),
America is facing an unprecedented skilled labor shortage. According to the Department of Labor, the U.S. economy had 7.6 million unfilled jobs, but only 6.5 million people were looking for work as of January 2019 and it is more apparent than ever that our country is suffering because of it. (para. 1)
"How big is this problem?" Maggie Ginsberg (2019) asks in an Entrepreneur article. "Here's one way of looking at it: A Deloitte study found that the skills gap may leave an estimated 2.4 million positions unfilled between 2018 and 2028, with a potential economic impact of $2.5 trillion" (para. 7). In short, young people are barely trickling into the trades, and seasoned tradespeople are retiring" in droves" (Friedberg, 2019).
In the coming five to ten years, the U.S. will truly begin to feel the full impact of this crisis. Manufacturers are faced with questions such as, Who will operate our machinery? Who will install and troubleshoot the machinery? How, ultimately, will we stay competitive and profitable? If the country cannot attract enough people with professional trade skills to sustain a thriving manufacturing sector, more companies may move their operations elsewhere to find the people they need to run their businesses.
The implications are also frightening for homeowners. Imagine a leak in your roof and, after calling several roofers, you find you not only have to wait three weeks before someone can assess the problem, but that you have to pay nearly three times what it usually costs for a roof repair. Or, you get a company quickly, but it is a fly-by-night operation that does a poor repair job.
Delta College Responds to Professional Trades Shortage
On a more positive note, the shortage of professional tradespeople provides an opportunity for community colleges to fulfill their mission to serve communities by meeting local workforce needs. As I was making the documentary, I interviewed professionals in Delta College's Skilled Trades program and learned that the college was already making efforts to meet the needs of some area businesses. More often than not, companies approach Delta with a needs shortage and help the college design a program that quickly gets students ready to fill any shortfall. These Fast Start™ programs increase the rate at which future tradespeople can be educated for and enter the workforce. For example, Delta partnered with Dow Chemical Company, a major employer in Michigan's Great Lakes Bay Region, to form a thirteen-week Fast Start program for future Chemical Process Operators. The institution also offers Fast Start programs in Computer Numeric Control, Diesel Technician, and Manufacturing Assembly. To date, over 1,110 people have been trained through the Fast Start programs, with full-time job placement rates over 90 percent. Not only are industry partners pleased that the college is able to meet their hiring needs in an effective and timely fashion, the program is attractive to students interested in entering the workforce quickly.
With this foundation, Delta College has positioned itself to meet other professional trades' requirements. The college now reaches out to area industry leaders to gauge their current and future needs. The Fast Start model will likely be integral to Delta College's approach to the crisis in the trades, and that same model can be used by other community colleges to grow enrollment and meet their own areas' industry needs quickly and effectively.
Community Colleges Key to Addressing Trades Crisis
Much like it took Delta College faculty and administrators nearly five years to develop its digital film offerings, the institution's approach to the trades crisis will also take time and retooling. What's certain, however, is that community colleges must address the current deficit of trained professionals in the trades for the sake of the communities they serve. The growing crisis in the trades is an opportunity for colleges to recruit and educate the tradespeople of the future.
Of course, partnerships and programs alone won't be enough to rectify the crisis. Genuine interest in the skilled trades needs to be grown. When I approached my mechanic about the documentary, he made it clear that he wouldn't be a part of something that only sensationalized the crisis. He didn't just want to talk about auto repairs lasting three months and people's frozen pipes bursting because there is nobody to fix their furnaces. Instead, he insisted that we talk about opportunity. He wanted the documentary to play a part in reversing the perceptions of the trades so more young people might discover the good living that can be made as well as the importance of the work to be done.
And so, another challenge lies at the feet of community colleges. What are these institutions going to do to attract more people to the trades? What part will community colleges play in changing the perception of the skilled trades? The time to act is now and community colleges must take the lead.
I invite college leaders and faculty to use The Skilled Trades: Crisis & Opportunity to initiate conversations about the problem, and, more importantly, feasible solutions. This documentary is available free of cost for educational purposes. Please contact Jeff Vande Zande with questions.
References
Chamberlain, S. (2019, August 21). Addressing the skilled labor shortage in America. Forbes. Retrieved from www.forbes.com/sites/sarahchamberlain/2019/08/21/addressing-the-skilled-labor-shortage-in-america/#46c0b60c181d
Friedberg, B. A. (2019). Are we in a baby boomer retirement crisis? Investopedia. Retrieved from www.investopedia.com/articles/personal-finance/032216/are-we-baby-boomer-retirement-crisis.asp
Ginsberg, M. (2019, October 9). There's a skilled trade labor shortage. Can we fix it? Entrepreneur. Retrieved from www.entrepreneur.com/article/339978# 
Jeff Vande Zande is an English professor at Delta College in Bay County, Michigan.
Opinions expressed in Learning Abstracts are those of the author(s) and do not necessarily reflect those of the League for Innovation in the Community College.